Bringing 49 new jobs, United Kingdom company picks Danville for first US plant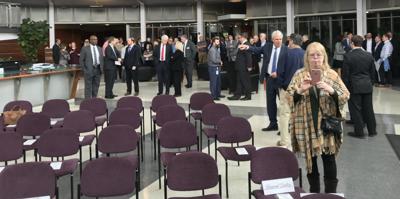 A United Kingdom-based manufacturer plans to locate its first United States plant in Danville, a move expected to bring 49 new jobs.
Virginia Gov. Ralph Northam visited Danville on Thursday to join local officials for the announcement at the Institute for Advanced Learning and Research.
The company, Harlow Group Ltd., manufactures highly engineered assemblies, fabrications and precision metal work services, according to a news release.
It plans to op erate here as Harlow Fastech, and expects to invest $8 million to build a manufacturing plant. The project is expected to create 49 jobs over five years.
"After a two-year process looking at a number of alternative possibilities to expand into the U.S., we are delighted to finally conclude our decision to investment into Danville, Virginia," Alan Pearce, CEO and founder of Harlow Fastech, wrote in a statement. "Virginians have been amongst the most welcoming and friendly people and their appetite to make things work and overcome obstacles is second to none."
Pearce also cited the workforce development programs in place as a major factor.
The company plans to build a 30,000 square-foot facility in the Cyber Park. While construction takes place, it will operate out of the Hawkins Building at the Institute for Advanced Learning and Research.
This story will be updated.
Source:
Google News United Kingdom
|
Netizen 24 United Kingdom