UK government orders review of post-Brexit farm funding

Scotland politics Scotland politics UK government orders review of post-Brexit farm funding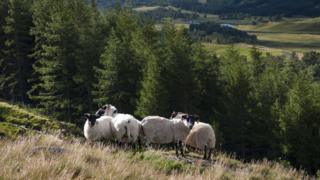 The UK government is to set up an independent review into how farm funding shoul d be distributed around the United Kingdom after Brexit.
An independent advisory panel will look at subsidies going to England, Scotland, Wales and Northern Ireland to ensure they are "fairly split".
NFU Scotland has said it was "bitterly disappointing" that it would not address previous funding decisions.
The Scottish government said farmers should receive the £160m they are due.
According to the UK government, the Barnett formula alone will not be used as a basis for distributing funds to farmers after 2022.
The review is to recommend how cash will be shared out after the UK has left the EU's Common Agricultural Policy (CAP).
Convergence funding
The recommendations will be "informed" by previous allocations of convergence funding but "will not revisit these decisions or redistribute money that has already been committed", the Department of Environment, Food and Rural Affairs (D efra) said in a statement.
Scottish farming organisations and the Scottish government have argued that Scotland is owed about £160m of EU convergence uplift payments to the UK for the period 2014-2020.
Environment Secretary Michael Gove said the review would consider each country's circumstances, including environmental, agricultural and socio-economic factors, including farm numbers and sizes.
The review will be led by Lord Bew, the former chairman of the Committee on Standards in Public Life.
The panel will include representatives from each of the devolved administrations.
Mr Gove said: "This important review, led by Lord Bew, will explore how we can deliver funding for farmers that supports the individual needs of England, Scotland, Wales and Northern Ireland.
"We are committed to making sure that future funding is fairly allocated, and are also confirming that the government won't simply apply the Barnett formula to Defra& #039;s funding beyond this parliament.
"Meanwhile our funding commitment up until the end of the Parliament gives more certainty for UK farmers than any other EU member state."
'Bitterly disappointing'
A spokesman for NFU Scotland said: "Today's announcement is long overdue.
"Whilst it is an important step forward in recognising that there is an equitable intra-UK allocation of domestic farm support funding to the end of this parliament, it is bitterly disappointing that the review will not redress the funding which Scottish farmers and crofters have lost out on since this decision was implemented in 2014."
He added: "This review must be about agreeing the baseline for future funding allocations beyond the current parliament and existing UK Government commitments to 2022.
"This baseline is an essential cornerstone on which Scotland will build its future agricultural policy."
A Scotti sh government spokesman said: "We are disappointed that the terms of the review have been announced before the Scottish government has received a response to our concerns.
"This review must not simply be an exercise in playing for time in delivering funding to Scotland's farmers which is rightfully theirs.
"The only reason the UK, as the member state, qualified for an uplift is because of Scotland - therefore, the only fair funding solution for Scottish farmers and crofters is for them to receive the £160m in convergence funding due to them. Anything less than this is completely unacceptable."
Top Stories
Pompeo to meet Saudi king over writer
The visit comes as Turkish officials search the Istanbul consulate where Jamal Khashoggi was last seen.
16 October 2018
Cabinet meeting kicks off crucial 48 hours for Brexit
16 October 2018
Would you eat slaughter-f ree meat?
15 October 2018
Features
Video
Where families buy rotten meat to eat
Donald Trump's good month
How New Zealand is tackling child poverty
US mid-terms: You choose what happens
Would you eat slaughter-free meat?
Was Lewinsky affair an 'abuse of power'?
How chemical weapons have helped Assad
Is this the end of Saudi prince's honeymoon?
BBC Travel: The tiny 'nation' you've never heard of
Elsewhere on the BBC
Football phrases
15 sayings from around the world
Full article Football phrases Why you can trust BBC News
BBC News Services
On your mobile
On your connected tv
Get news alerts
Contact BBC News
Source:
Google News United Kingdom
|
Netizen 24 United Kingdom