United Kingdom Cost of Living is 103 Percent of Average Household Income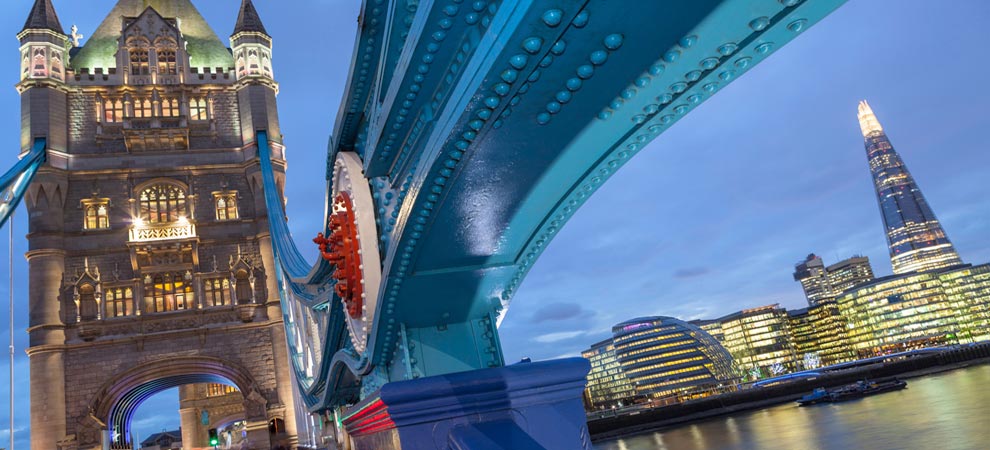 United Kingdom Cost of Living is 103 Percent of Average Household Income
UK housing and utility costs have risen by 13 percent annually
A new research by price comparison website MoneySuperMarket reveals that the UK is the most expensive location to raise a family in Europe. The running costs associated with a four-person family in the UK exceeded those of Spain, USA, Germany and Sweden due to the high costs of rent, utility bills and groceries.
The data is based on the average monthly cost of property, utility bills and grocery shopping for a family with two children in 10 locations. These locations a re some of the most popular destinations for the British public to emigrate to MoneySuperMarket also ranked the costs against the countries' average full time salary, to reveal the percentage of salary two working adults must put towards household expenses. In the UK, the average cost of a four-person family is more than twice the combined total of two adults' salaries.
Popular expat destinations with lower living costs
With lower utility bills (£94.41 per month), heavily subsidized pre-school costs (£230.34) and a standard average monthly rent of £1,149.40, Sweden is the only country analyzed where a single parent can comfortably afford to have two children, working out as 87 per cent of the average working salary. Based on two adults with two children it's even more affordable, eating into less than half (43 per cent) of the combined salaries.
The full ranking of the affordable global cities to raise a family, including a breakdown of all metrics, can be seen below: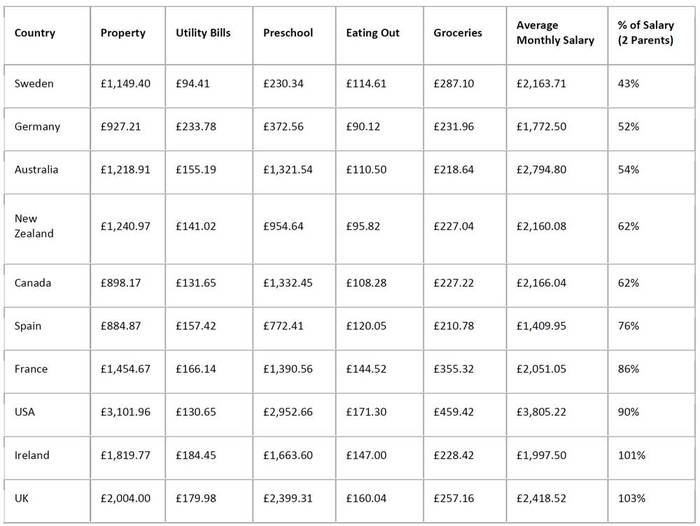 Changing costs over time
On average, the weekly food shop has lowered in price for families over the last 16 years, from £236 to £232. However, spending on both housing and utilities, and household goods and services, has increased by 11 per cent overall. In 2001, the average monthly cost of housing and utilities per person in the UK was £277.77, but by 2017 this figure had risen by 13 per cent to £314.826. Due to these rises, the cost of raising a family in the UK has become more expensive.
Kevin Pratt, consumer affairs expert at MoneySuperMarket commented, "Raising a family is a huge challenge, and many parents find themselves struggling to meet the costs they face. On top of that, they are often time-poor, which means they don't want to contemplate an overhaul of their family finances. But y ou can potentially save a significant amount of money in a short period with a bit of shrewd online shopping around.
"Take gas and electricity bills. Around 60 per cent of households are languishing on expensive standard variable rate tariffs, and it is highly likely they could save up to £250 by moving to a cheap fixed-rate deal. That's particularly important as growing families consume large amounts of energy. And it only takes a matter of minutes to trigger a switch.
"Then there's insurance. The temptation is to allow car and home insurance to roll over with the same firm each year, but again this is squandering potentially significant savings - over £280 with car insurance alone. Again, it's straightforward to run a quote and find a better deal.
"Parents should also check they're on a good deal with their credit cards, perhaps moving their balance to a 0 per cent deal to give them a chance to clear existing debt without racking up more interest. Any opportunity to squeeze more out of their income while minimizing expenditure on household bills should be leapt upon."
Related News Stories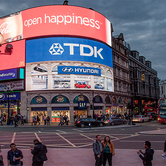 London West End Commercial Property Investment Down 64 Percent in 2018
£765 million ($1.04 billion USD) of real estate transactions took place in the West End in the first quarter of 2018 compared to £2.13 billion ($2.89b USD) in Q1 2017 -- a 64 percent annual drop.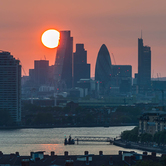 Global Commercial Property Investment Hits 10-Year High i n Q1
According to a new report JLL, despite trade tensions and elevated stock market volatility, investors are still seeking value in real estate with global investment in the first quarter of 2018 hitting the highest Q1 level in 10 years at $165 billion.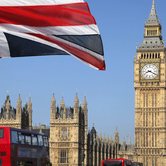 UK Remains Europe's Top Hotel Investment Target in 2018
UK, Germany and Spain are the three most attractive hotel investment destinations in Europe, with more than two-thirds (69%) of investors identifying these markets as the preferred countries for hotel investment in 2018.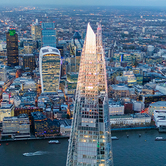 Global Hotel Inventory Grows 18 Percent Over Last 10 Years
According to global hotel industry consultant STR, there are 184,299 hotels comprising 16,966,280 million rooms around the world in the first quarter of 2018. That number of rooms represents a 17.7% increase over the last 10 years.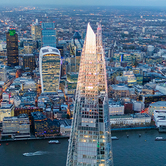 Knight Frank Makes 2018 Commercial Market Predictions for U.K.
This week global real estate consultant Knight Frank made its UK commercial real estate predictions for 2018.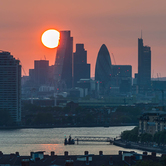 European Hotel Investment Spikes 17 Percent Annually, London Top Target
Total European hotel investment volumes increased by 33% year-on-year, for the third quarter of 2017. This contributed to a 16% year-on-year increase on the year- to-date.
Follow Us
Advertisement
News Search Go Real Estate Advertising
Tap into WPJ's global real estate audience! >>
Luxury Property Spotlight
Reader Poll Advertisement
Marketplace
Douglas Elliman
Cap Maison Resort
The Landings in St. Lucia
Huntsman Springs
Christophe Harbour
Vertropolis - City in the Sky
Albany, Caribbean Luxury
Lake Nona Golf & Country Club
Featu red International Listings × WORLD PROPERTY JOURNAL
Free News Alerts
Sign up now to receive the latest local & global real estate news in your inbox.
GOSource:
Google News United Kingdom
|
Netizen 24 United Kingdom