Scotland's police chief praises officers injured in alleged stabbings

UK news Scotland's police chief praises officers injured in alleged stabbings
Man arrested after two officers injured while responding to incident in Greenock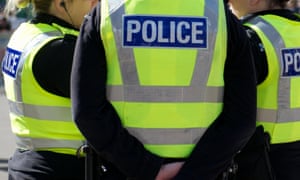 Colleagues have praised the "incredible bravery" of two police officers who were allegedly stabbed while responding to a call-out in a residential street in Scotland.

A 43-year-old man has been arrested after the incident in Greenock, Inverclyde, which left a male police officer in a serious condition after being stabbed in the neck and a fem ale officer with minor arm injuries.
A spokesperson for Police Scotland said: "Two officers were injured during the incident and have been taken to hospital for treatment. The officers' families have been made aware. There is no further detail on injury. Officers are at the scene and inquiries are continuing."
Police were called to Gateside Gardens at about 8.45am on Friday. The two injured officers were taken to the nearby Inverclyde Royal hospital.
Police Scotland said the incident was not terror-related. Officers remain at the scene with a large section of Gateside Gardens cordoned off. At one point, 15 emergency vehicles were reported to be in attendance.
Police Scotland's deputy chief constable, Iain Livingstone, who is the force's interim chief, praised the officers.
Andrea MacDonald, the chair of the Scottish Police Federation, said: "Our thoughts are with the injured officers and their families. Once again we see how difficult and dangerous a job it is.
"Police officers put themselves between other professionals and the public and dangerous individuals, sometimes with life-changing consequences for themselves and their families. We wish our colleagues a speedy and full recovery."
The first minister, Nicola Sturgeon, tweeted her best wishes for a full recovery to the officers, adding: "This is a reminder of the vital but often dangerous job our police men and women do, and what a huge debt of gratitude we owe to them."
Topics
Share on Facebook
Share on Twitter
Share via Email
Share on LinkedIn
Share on Pinterest
Share on Google+
Share on WhatsApp
Share on Messenger
Source:
Google News