Donald Trump says North Korea summit on 12 June is back on

Kim Jong-un Donald Trump says North Korea summit on 12 June is back on
Trump reverses previous position after visit of Kim Jong-un's top aide and says talks will go ahead in Singapore as planned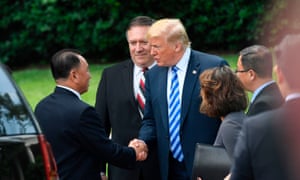 Donald Trump has announced that a 12 June summit with Kim Jong-un will go ahead as planned in Singapore, saying it would mark the beginning of a negotiating process with North Korea that cou ld involve several such meetings.
Trump was speaking to reporters after meeting Kim's top aide, Kim Yong-chol, in the Oval Office. It had been billed as a brief courtesy visit but it continued for more than an hour and 20 minutes. In a lavish show of hospitality, Trump escorted his visitor, a former spy chief and general who is under US sanctions, outside the White House for more informal talks and to pose for photographs with the North Korean delegation.
Kim Yong-chol: the ultimate North Korean regime insider Read more
Trump also appeared to accept the North Korean position that its denuclearisation would be a drawn-out process, and not an all-in-one surrender of the regime's nuclear arsenal.
"The big deal will be on June 12," Trump said. "It's a process. We are not going to go in and sign something on June 12."
He went on: "I've never said it happens in one meeting â€" you're talking about years of hostility, years of problems, years of hatred between so many different nations. I told them today, take your time we can go fast, we can go slowly."
But in a dramatic downgrading of expectations from the summit, Trump said the Singapore meeting would be "getting to know you, plus".
The president added that although existing sanctions would stay in place, no new measures would be added, ditching the slogan that has defined his policy towards North Korea up to now.
"I don't want to use the term maximum pressure any more," Trump said.
The president said that North Korea's human rights record was not discussed in the meeting.
Kim, the first top North Korean official to visit the White House in 18 years, was met outside the West Wing by the White House chief of staff, John Kelly, and the head of the CIA Korea department, Andrew Kim, who ushered the 72-year-old regime veteran into the Oval Office to meet Trump.
Far from being hustled in through the bac k door of the White House, Kim was welcomed at the south lawn entrance in front of massed ranks of cameras and escorted to the Oval Office, where the secretary of state, Mike Pompeo, was waiting with Trump.
The ceremonial arrival represented a propaganda coup for a regime that has endured decades of isolation.
The content of the letter was not immediately apparent. Trump at one point described it as "interesting" and then claimed not to have opened. it. The Wall Street Journal reported it simply expressed Kim's interest in going ahead with the Singapore summit, and does not change North Korea's negotiating positions.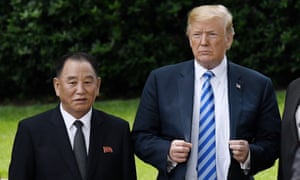 Trump's national security adviser, John Bolton, and Mike Pence, the vice-president â€" both hawks on North Korea â€" did not take part in the meeting and were nowhere to be seen before and after.
The North Korean leader laid his position out during a visit by the Russian foreign minister, Sergei Lavrov, on Thursday. Quoted by the state news agency, KCNA, Kim said "the denuclearisation of the Korean peninsula will be solved on a stage-by-stage basis" in which each party addressed the interests of the other.
That "stage-by-stage" process involving packages of reciprocal concessions, had been explicitly ruled out by the Trump administration, which has insisted on "complete, verifiable, irreversible disarmament" of the North Korean nuclear weapons programme.
However, Trump on Thursday conceded for the first time that the negotiations with Pyongyang might require more than one summit. Pompeo also appeared to lower expectations of what might come out of a summit, after a New York meeting with Kim.
Their job, Pompeo said, was putting Trump and Kim "in a place where we think there could be real progress made by the two of them meeting". US officials had previously insisted that the North Koreans would have to be ready to surrender their nuclear arsenal at the meeting.
"The two key words that Secretary Pompeo used were 'process' and 'progress' … and that is very different from a few weeks ago when he talked about: let's all do it in one go, " said Joseph Yun, a former US negotiator with North Korea and now a senior adviser to the US Institute of Peace.
"It does indicate to me clearly that the conversations they have had so far have somewhat narrowed the gap ."
The only other senior North Korean official ever to visit the White House was vice-marshal Jo Myong-rok, who delivered a letter to Bill Clinton from Kim Jong -un's father, Kim Jong-il. That peace effort collapsed with the election weeks later of George W Bush, who cut off contacts with Pyongyang.
Topics
Donald Trump
North Korea
Mike Pompeo
Asia Pacific
news
Share on Facebook
Share on Twitter
Share via Email
Share on LinkedIn
Share on Pinterest
Share on Google+
Share on WhatsApp
Share on Messenger
Source:
Google News