UK man who died at Turkish airport seemed 'nervous' before flight

UK news UK man who died at Turkish airport seemed 'nervous' before flight
Fellow passenger at Dalaman hub describes scenes before Andrew Westlake's death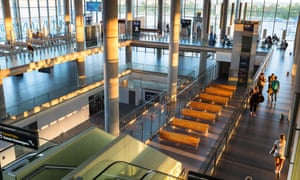 A man who died at a Turkish airport after being escorted off a plane home was nervous before the flight but not aggressive, another passenger has said.

Andrew Westlake, 30, from Annfield Plain in County Durham, died early on Tuesday morning at Dalaman airport. He had been due to fly home after a holiday with his girlfriend and their daughter.
His shocked family s aid they were still waiting for answers amid conflicting reports of how he died.
A fellow passenger, Perry Sheldon, from Dudley in North Tyneside, said he spoke to Westlake before they boarded.
"I was stood next to him and he seemed a bit strange at first, I think he was just nervous. I asked if he was all right and he said they had kicked him off a previous flight, and the reason he said to me was he had blisters on his feet from sunburn," he said.
"He said there were signs up saying people should not wash their feet and when they questioned him about it, they said it was an insult to their culture."
Sheldon said passengers underwent an intensive search at Dalaman, including being swabbed for explosives, before they were allowed to board.
Westlake had received his boarding pass and passport and was allowed on to the plane, Sheldon said, but after about 20 minutes he was removed from the flight.
Sheldon said: "He didn't act aggre ssively in any way, he just stood up and got off. All he did was say to the man next to him 'I told you that would happen'."
Sheldon said Westlake did not appear drunk and was not shouting, but he described him as appearing "on edge" and keen to get home.
The airline Jet2 said Westlake died after an incident in the airport.
Westlake's aunt Pauline Butler, sister of his mother, June, said: "We are still in the dark about what has happened. We have not heard from the Foreign Office. All we have heard is rumours, it's not fair."
She said it was Westlake's first family holiday with his girlfriend and baby, on whom he doted.
The family appealed for anyone on the flight to come forward with information.
A Jet2 spokeswoman said: "We understand that a customer sadly passed away on Tuesday morning, following an incident inside the terminal building at Dalaman airport. Contrary to some reports, we can confirm the customer was not injured on our aircraft or in the vicinity of our aircraft.
"As investigations are ongoing it would be inappropriate for us to comment any further, however we would like to extend our sincere condolences to the customer's family and friends at this very sad time."
A spokesman for Durham police said: "We were informed by the Foreign and Commonwealth Office of the death of British citizen, Andrew Westlake, in Turkey. Our officers passed the devastating news to the family who we are supporting. Our thoughts are with Andrew's family and friends."
A FCO spokeswoman said: "We are supporting the family of a British man following his death in Turkey and we are in touch with the local authorities."
Topics
Share on Facebook
Share on Twitter
Share via Email
Share on LinkedIn
Share on Pinterest
Share on Go ogle+
Share on WhatsApp
Share on Messenger
Source:
Google News