Theresa May says speaker John Bercow's alleged 'stupid woman' comments are unacceptable


Theresa May has heaped pressure on speaker John Bercow following accusations that he referred to a female cabinet minister as a "stupid woman" in the Commons.
The prime minister's official spokeswoman told reporters Ms May believes that if the words had been used, they are "unacceptable" and should be investigated.
The remark allegedly came after a debate on Wednesday, when Mr Bercow is said to have berated cabinet minister Andrea Leadsom.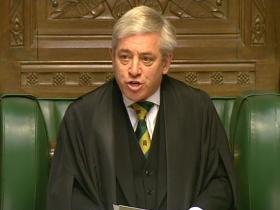 Speaker John Bercow compared to Harvey Weinstein by former Black Rod
It also comes after an inquiry was blocked by MPs, in the wake of other allegations that Mr Bercow bullied two former staff members from the Speaker' s office.
Ms May's spokesman said: "We've seen the alleged remarks and clearly the PM thinks they are unacceptable and if an official complaint is made, then it should be fully investigated."
The spokeswoman said that it would be up to those involved to make any complaint and that the House itself should lead on any probe if it was to take place.
Asked if the PM had confidence in the Speaker, she said: "She has confidence in the work that he is currently doing.
James Duddridge criticises John Bercow during urgent question on bullying
"But he was elected by MPs…so questions of confidence are a matter for Parliament to decide."
Following the alleged incident after prime minister's questions on Wednesday afternoon, one unnamed MP who claimed they caught Mr Bercow's aside told the Daily Telegraph: "He said 'stupid woman' and went on to say either 'f****** useless or f****** outrageous.
We've seen the alleged remarks and clearly the PM thinks they are unacceptable and if an official complaint is made, then it should be fully investigated
Prime Minister Theresa May
"But I am clear that the words 'stupid woman' were said, and I am clear that the word 'useless' was said.
"I thought what I was witnessing was entirely outrageous."
Commons Leader Ms Leadsom was reported not to have heard the comment herself, but MPs who claimed to have caught his remarks were said to have told her about it later.
In a statement, the Speaker's Office said: "Wednesday was an unusual and controversial day in how business was handled in the House by the Government and some strong and differing views were expressed on all sides on the subject.
House of Commons Speaker John Bercow: 'I am not myself involved and never have been' in non-disclosure agreement s for Parliament bullying
"The Speaker treats his colleagues with respect and strives at every turn to facilitate the House of Commons."
The Commons Standards Committee recently voted three-two against allowing parliament's watchdog to investigate allegations made by ex-private secretaries Angus Sinclair and Kate Emms, which he has consistently denied.
Mr Sinclair was private secretary to Mr Bercow's predecessor Michael Martin, and retained the position when the new speaker took over in 2009.
He told BBC's Newsnight that Mr Bercow undermined him in front of other staff, shouted, swore and attempted to physically intimidate him.
The speaker was prone to "over-the-top anger", he claimed, adding: "I'm not sure he was completely in control of it."
More about:
John Bercow
Theresa Ma y
Reuse contentSource:
Google News