Several injured after bus crashes into 25 vehicles in Kent

Road transport Several injured after bus crashes into 25 vehicles in Kent
Incident, which occurred in early evening in Dartford, leaves 14 people as 'walking wounded'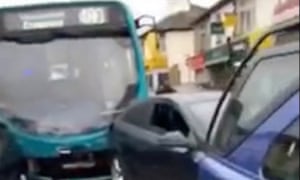 More than a dozen people have been injured in a collision involving a bus and 25 other vehicles, police have said. The incident happened shortly before 7pm on Tuesday in of Dartford, Kent.
Officers classified the 14 people who were hurt as "walking wounded" and said they wer e receiving medical attention at the scene. "A man has been arrested on suspicion of careless driving and remains in police custody," Kent police said.
Ben Clements, 21, was unhurt, but said his father had been injured in the incident. "The bus was sitting behind me and my family's car, we were the first car the bus hit and it hit us so hard it forced us out the way and smashed through 20-odd cars," he said on Tuesday evening.
The Kent fire and rescue service confirmed that the injuries were minor and said one person needed oxygen after the incident. Police officers said Hythe Street, where the incident took place, was closed while recovery work went on. But they expected it to reopen later on Tuesday evening.
Oliver Monahan, the area managing director for the bus operator Arriva Kent and Surrey, said: "Arriva can confirm that a bus has collided with a number of vehicles on Hythe Street in Dartford on Tuesday evening. There have been some reported in juries and at the moment our priority is supporting the emergency services. Our thoughts are very much with all those affected."
Topics
Share on Facebook
Share on Twitter
Share via Email
Share on LinkedIn
Share on Pinterest
Share on Google+
Share on WhatsApp
Share on Messenger
Source:
Google News