Head of Italy's M5S rekindles negotiations to form a government

Italy Head of Italy's M5S rekindles negotiations to form a government
A bitter row over the country's future in the eurozone had divided populist parties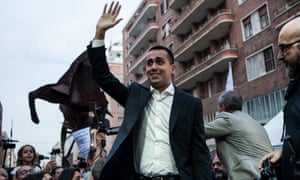 The head of Italy's anti-establishment Five Star Movement has rekindled negotiations to form a government, days after a bitter row over the country's future in the eurozone ended a fledgling deal for populist parties to take power.
Luig i Di Maio, the 31-year-old head of M5S, Italy's largest party, indicated on Wednesday he was prepared to compromise on his controversial choice of a eurosceptic economist, Paolo Savona, for finance minister. But he insisted that his pick for prime minister remained political newcomer Giuseppe Conte.
In the absence of an agreement between Di Maio , the president of Italy, Sergio Mattarella, and the far right leader Matteo Salvini, Di Maio said he favoured snap elections.
"There are two paths ahead. Either we launch the Conte government with a reasonable solution or we vote right away," he said.
New elections loom in Italy amid calls for Mattarella to be impeached Read more
Italian markets, which have been hit hard by the political crisis, rallied on the news of a potential new deal, which would at least temporarily put plans for a new election on hold.
While markets have also been worried about the prospect of a populist government t aking over the eurozone's third-largest economy, the new government that would be formed between an alliance of the M5S and the far-right League would have a relatively narrow majority in the Italian Senate, limiting their ability to take any dramatic action.
But the promise of a new government was hit by complications almost as soon as it was floated. Salvini, the bombastic and xenophobic head of the League, who has proposed plans to detain and deport hundreds of thousand of migrants as part of his election campaign, indicated he still favoured snap elections.
"Di Maio is open [to a deal]? We are not at the market. Let's go vote right away. We have tried to do a government but it is never good enough for Mattarella, so then you give up. The president should explain how we get out of this impasse," Salvini said.
The latest development was another twist in a complicated tangle of news as the parties have tried and failed, several times, to reach a power-s haring deal.
The M5S and the League are Italy's biggest populist parties, but differ significantly on policy. An agreement reached earlier this month for a shared agenda was focused on plans to increase spending, slash taxes, and take a far tougher approach on migration than the previous centre-left government, including the creation of new detention centres across Italy.
Sergio Mattarella: the Italian president at the heart of a political crisis Read more
Di Maio and Salvini reached a deal to nominate Conte to serve as prime minister last week, even though the law professor has no political experience. Mattarella agreed on the choice, despite questions over whether he had padded out his CV.
But the president on Sunday night vetoed the populists' choice of Savona as finance minister, saying the nomination would send a message to markets and investors that Italy was prepared to default on its obligations to Brussels and might even contemplate an exit from the eurozone. Leaving the euro, Mattarella said, posed a risk to all Italians and their financial security.
It was a controversial move, with both Di Maio and Salvini arguing that Mattarella had overstepped his constitutional authority and made a political decision, even though he is meant to be apolitical. However presidents have the constitutional authority to block such nominations, and have done so in the past.
On Monday, Mattarella nominated a former official at the International Monetary Fund, Carlo Cottarelli, to serve as interim prime minister. Italian markets were in free fall on Monday and Tuesday, amid heightened fears that new elections were imminent, and that anti-euro parties were poised to make gains in the next poll. The market reaction is one factor that likely forced Di Maio back to the negotiating table.
Topics
Europe
Five Star Movement
news
Share on Facebook
Share on Twitter
Share via Email
Share on LinkedIn
Share on Pinterest
Share on Google+
Share on WhatsApp
Share on Messenger
Source:
Google News