Gove casts doubt on merits of customs partnership proposal

Brexit Gove casts doubt on merits of customs partnership proposal
Criticism of May's preferred model brings cabinet customs union breakthrough into question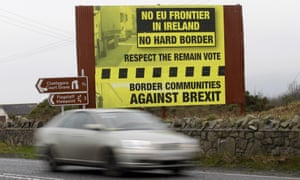 Michael Gove has cast fresh doubt on the possibility of a breakthrough in the cabinet customs deadlock, saying there were "significant question marks† about proposals for a customs partnership.
The environment secretary expressed scepticism about the merits of Theresa May's preferred customs partnership model, saying the proposal had flaws and needed to be tested.
Gove indicated he had some sympathy for the foreign secretary, Boris Johnson, who called the proposal"crazy" this week.
"Because it's novel, because no model like this exists there have to be significant questions about the deliverability of it on time," Gove told the BBC's Andrew Marr Show.
"More than that, the NCP [new customs partnership] requires the British government to in effect act as the tax collector and very possibly the effective deliverer of regulation for the EU," he added.
Brexiters prefer an alternative model, the so-called "max fac", which uses technology to do customs checks with limited friction on the Northern Irish border.
Gove admitted cabinet ministers remained conflicted about both proposals, saying "there is agreement that neither of these two models is absolutely perfect".
The cabinet's Brexit subcommittee will meet again on Tuesday but is not expected to emerge with a compromise. A government source suggested the two working groups of cabinet ministers, set up last week to thrash out arguments for both proposals, needed to be given time to work through the two options.
Jeremy Hunt, the health secretary, expressed some frustration with the deadlock and the counter-briefings. Asked if he was one of the ministers threatening to block the new customs partnership, which appeared to be the prime minister's preferred model, he said: "I'm backing the prime minister. I think that we have to trust Theresa May."
"You can't iron out every single detail of a negotiating position in public," he told LBC. "It's going to be bumpy of course because it's a different course to the way we were going to go but we've got to have s ome confidence and trust in her."
The former cabinet minister Stephen Crabb also said MPs were becoming increasingly disturbed by the deadlock. "I am not alone in saying there is a growing concern on the backbenches about how entrenched some of the positions in the cabinet seem to have become," he told the BBC. "The vast majority of Conservative MPs don't see this question of a customs union as some kind of ideological cage fight."
He added that cabinet ministers who refused to budge may find that "parliament will be making the decisions for them".
Customs union only way to prevent hard border in Ireland, says Major Read more
Under the customs partnership model, the UK would collect tariffs on behalf of the EU and its backers believe it would go some way to solving the issue with the Northern Irish border.
Brexiters prefer the "maximum facilitation" model that relies on technology to minimise border checks, which critics say cannot resolve the Irish border issue and would require lengthy development of sophisticated new technology.
On Sunday, Gove said he would not back any delay to the UK leaving the customs union beyond the transition period to allow new border technology to be developed.
"In delay there lies no plenty," he said. "The critical thing is to meet that deadline. My experience in government reinforces my belief that we need to make sure we deliver things at pace."
Ireland's deputy prime minister and foreign minister, Simon Coveney, said there had been a clear commitment from May that there would be no border infrastructure. He said any backtracking would mean "a very difficult summer for these negotiations if that happens".

Though the EU has been widely reported to have rejected both of May's customs options, Coveney indicated a softening of approach to the customs partnership, saying he was open to a solution "as long as it achieves the outcome of there being no physical infrastructure on the island of Ireland and no related checks or controls".
Coveney said the Irish government "don't take our lead from Boris Johnson in relation to Brexit. We take our lead from the prime minister. She has signed up to very clear commitments."
Johnson has been excluded from the two working groups examining the merits of both optio ns, as has the chancellor, Philip Hammond, who is most in favour of the customs partnership.

Gove will examine the customs partnership alongside Liam Fox and David Lidington, while David Davis will examine the "max fac" model with Karen Bradley and Greg Clark, who have expressed scepticism about that model's negative effects on business and on its workability at the Northern Irish border.
Topics
Michael Gove
Northern Ireland
Ireland
European Union
Europe
news
Share on Facebook
Share on Twitter
Share via Email
Share on LinkedIn
Share on Pinterest
Share on Google+
Share on WhatsApp
Share on Messenger
Source:
Google News