Dame Tessa Jowell was 'brave' and 'inspirational'

Dame Tessa Jowell was 'brave' and 'inspirational'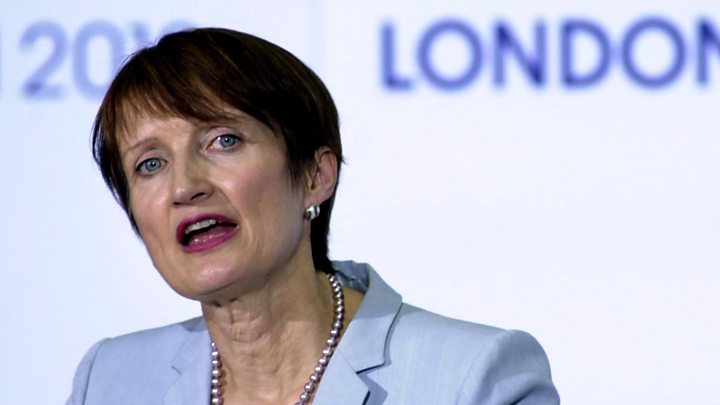 Tributes have poured in from across the political spectrum for ex-Labour cabinet minister Dame Tessa Jowell, who has died aged 70.
Dame Tessa, who played a major role in securing the 2012 London Olympics, was diagnosed with brain cancer in May last year and died on Saturday.
Ex-PM Tony Blair she was a "committed public servant" who was "always true and loyal and decent and wise".
He praised the campaigning she did for more NHS cancer treatments.
She earned a minute-long standing ovation in the House o f Lords in January for speaking about the issue.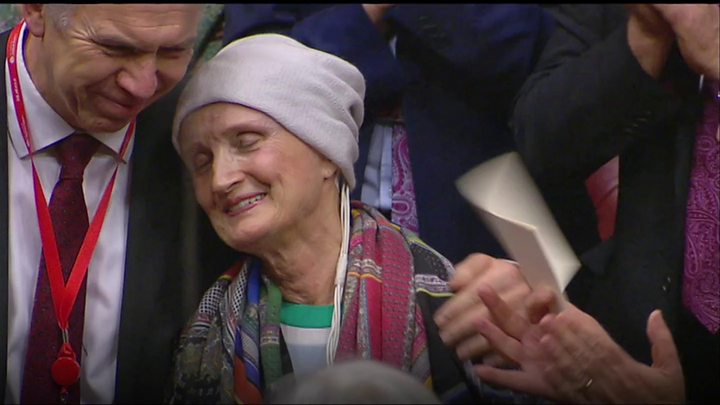 Leading the tributes to Dame Tessa, Mr Blair said: "She knew she was dying and yet she was prepared to give everything she had in order to help people in the future.
"If anyone wants to know what politics can achieve they can just look at her life and how she lived it, and how she ended it as a testimony to all that's best in politics."
He said her impact on politics was enormous and "everything she touched turned to gold in some way, whether it was advancing equal pay for women, starting Sure Start - which is an immense programme for children in our country - or of course bringing the Oly mpics to Britain".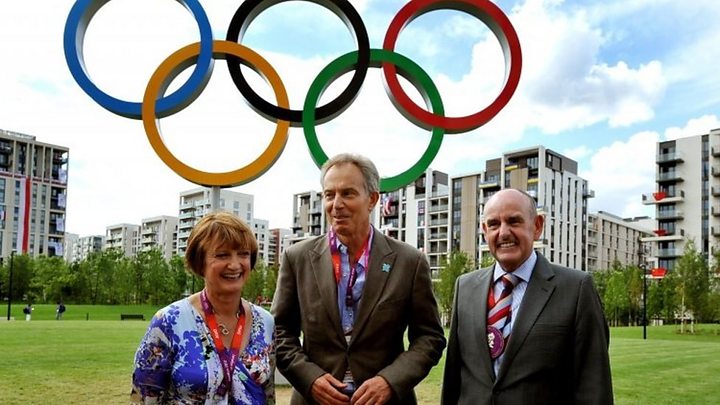 Prime Minister Theresa May said the dignity and courage with which Dame Tessa had confronted her illness was "humbling" and "inspirational", and her campaigning was a "lasting tribute to a lifetime of public service".
Former prime minister Gordon Brown said Dame Tessa would be remembered for her "courage, strength and compassion for others".
His successor David Cameron said he was "devastated" to hear of the death of the "dedicated and passionate campaigner" and "wonderful human being".
Obituary: Dame Tessa Jowell
'No London 2012 without Tessa Jowell'

Sarah Lindsell, CEO of the Brain Tumour Charity, said the charity had started working with "wonderful ambassador" Dame Tessa towards the end of last year, and she praised her campaigning for cancer patients.

"Despite going through all of that and wanting to spend precious time with her family... she gave up so much of that time to continue to campaign, to ask for change, because it really matters," she told the BBC.

Media playback is unsupported on your device

Media captionTessa Jowell opens up about living with brain cancer

Figures from the world of sport praised her involvement as culture secretary in bringing the Olympic Games to London.

Lord Sebastian Coe, president of the IAAF and former chairman of the London organising committee of the Olympic Games, said London 2012 wou ld not have happened without Dame Tessa.

"She showed unflinching tenacity in persuading the prime minister and the cabinet that the government should throw its full weight behind the bid," he said.

Footballer David Beckham, who was an ambassador during the Olympic bid, posted on Instagram that "amazing woman" Dame Tessa "will be missed by so many".

Image Copyright davidbeckham davidbeckham Report

Four-time gold medal winning rower Sir Matthew Pinsent also paid tribute to Dame Tessa's determination to bring the Olympic Games to London.

Skip Twitter post by @matthewcpinsent

RIP Tessa Jowell - absolutely central to the effort to win and stage the Olympics and Paralympics in 2012. Her determination and sense of humour surrounding them was infectious.

â€" Matthew Pinsent (@matthewcpinsent) May 13, 2018

Report

End of Twitter post by @matthewcpinsent

Elsewhere, tributes have flooded in from Dame Tessa's colleagues in Westminster.

Former acting leader of the Labour Party Harriet Harman said Dame Tessa was "clear and tough", a woman who "follow ed her personal instinct" and "nurtured personal relationships".

Skip Twitter post by @HarrietHarman

For Tessa Jowell the personal and the political were intertwined - from Sure Start to the Olympics. Befriending people & persuading them to back progressive causes. A politics of smiling not shouting! True Labour but reaching cross party. RIP pic.twitter.com/ZG7gwr93CH

â€" Harriet Harman (@HarrietHarman) May 13, 2018

Report

End of Twitter post by @HarrietHarman

Labour leader Jeremy Corbyn praised her "huge achievements" and her "strength in raising awareness of her illness".

Skip Twitter post by @jeremycorbyn

Devastating to hear the news of Tessa Jowell's death. From Councillor to Cabinet Minister, her achieveme nts were huge, including helping to bring the Olympics to London. Her strength in raising awareness of her illness and fighting for better treatment for others inspired us all

â€" Jeremy Corbyn (@jeremycorbyn) May 13, 2018

Report

End of Twitter post by @jeremycorbyn

Media playback is unsupported on your device

Media captionAlastair Campbell paid tribute to "incredible human being" Dame Tessa Jowell

Wes Streeting, Labour MP for Ilford North - the first seat that Dame Tessa attempted to get elected to in 1978 - said she had been "determined to make a real difference".

Skip Twitter post by @wesstreeting

Tessa Jowell was the very best of us - and brought out the best in all of us. So kind, generous and determined to make a real difference. What a legacy she leaves. Sending lots of love to Tessa's family and other friends x pic.twitter.com/KnMGr4c9na

â€" Wes Streeting MP (@wesstreeting) May 13, 2018

Report

End of Twitter post by @wesstreeting

Media playback is unsupported on your device

Media captionSpeaker John Bercow paid a glowing tribute to Baroness Jowell in April

And other MPs talked about the sadness they felt on hearing of her death.

Skip Twitter post by @JonAshworth

Desperately sad heart rending news to wake up to. It was a privilege to meet Tessa a few weeks ago to discuss what more can be done to tackle rar e cancers - a remarkable kind generous woman always campaigning for change. An inspiration to many, our thoughts with all her family

â€" Jonathan Ashworth (@JonAshworth) May 13, 2018

Report

End of Twitter post by @JonAshworth

Skip Twitter post by @Jeremy_Hunt

Devastated to hear we have lost @TessaJowell. She was quite simply the bravest and the best & brought magic to whatever she touched whether SureStarts, London 2012 or campaigning for those who like her were battling with incurable cancer. RIP

â€" Jeremy Hunt (@Jeremy_Hunt) May 13, 2018

Report

End of Twitter post by @Jeremy_Hunt

Skip Twitter post by @patmcfaddenmp

The death of @TessaJowell is desperately sad news. A wonderful warm beautiful person. A great friend full of love. She was so proud of what Labour did and was a huge part of our story. I will forever remember our lovely car shares home after Commons votes. RIP xx

â€" Pat McFadden (@patmcfaddenmp) May 13, 2018

Report

End of Twitter post by @patmcfaddenmp

Skip Twitter post by @HackneyAbbott

So sad to hear about the death of Dame Tessa Jowell. Will never forget her incredibly moving last speech in the House of Lords #RIPTessaJowell pic.twitter.com/qxFeVYJeB1

â€" Diane Abbott (@HackneyAbbott) May 13, 2018

Report

End of Twitter post by @HackneyAbbott

James Brokenshire, who stepped down as Northern Ireland secretary after being diagnosed with lung cancer, said Dame Tessa had "unstinting passion".

Skip Twitter post by @JBrokenshire

Tessa Jowell's ability to bring people with her to effect lasting change is something we will rightly remember. But it was also her basic kindness, dignity & her ability to cut through to what it is to live a life well that should make her an inspiration to us all. pic.twitter.com/24Qfita7YN

â€" James Brokenshire (@JBrokenshire) May 13, 2018

Report

End of Twitter post by @JBrokenshire

'Committed to her cause'

Tessa Jowell once said she'd "jump under a bus" for Tony Blair. She was probably only half-joking. However, her loyalty to New Labour was more than simply tactical or careerist.

She was pro-European and in favour of a mixed-economy when both were deeply unfashionable on the left. Her belief that Labour should "modernise" was passionately held - forged at the coal face of a decade of Labour local activism.

Dame Tessa will be remembered at Westminster as someone who managed to be ideologically committed to her cause without overt sectarian bitterness.

Obituary: Dame Tessa Jowell

Dame Tessa, a former social worker, first stood for Parliament in a 1978 by-election in Ilford North on the Essex-London border. She lost to her Conservative rival and was defeated again the following year.

She made it to Westminster in 1992, as MP for Dulwich and West Norwood. In 1997, she was one of the 101 female Labour MPs on the benches following the party's landslide victory.

Dame Tessa was employment minister and minister for women, before joining the cabinet as culture secretary in 2001, during which she helped bring the Olympic Games to London.

In 2012 she was made Dame Tessa Jowell in the Birthday Honours for political and charitable services. After stepping down from the Commons at the 2015 general election, she was made Baroness Jowell of Brixton.

Source: Google News