Syria strikes: May tells MPs Britain could not wait for UN approval

Foreign policy Syria strikes: May tells MPs Britain could not wait for UN approval
Delay would have meant Russia having a veto on UK foreign policy, PM says in Commons
May on Syria airstrikes: 'We have not done this because Trump asked us to' â€" politics live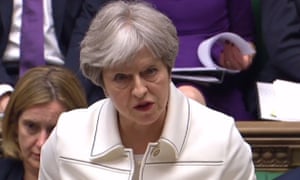 Theresa May has told MPs that waiting for UN authority to take action over chemical weapons attacks in Syria "would mean a Russian veto on our foreign policy."
Theresa May on Syria airstrikes: 'We have not done this because Trump asked us to' - Politics live Read more
Speaking to MPs after Saturday morning's missile strikes against chemical weapons facilities, May called chemical attacks in Syria "a stain on our humanity" and said the UK had needed to act rapidly to stop the possibility of further attacks.
The Labour leader, Jeremy Corbyn, said the strikes were "legally questionable" and called for a renewed diplomatic effort by the UK government and its allies, insisting along with some other party leaders that parliament should have been given a chance to approve the action.
In turn, May attacked Corbyn's arguments that diplomatic efforts had not been exhausted, citing the 2013 agreement where the Syrian regime committed to dismantle its chemical weapons programme.
"At the weekend, the leader of the opposition cited this diplomatic agreement as precedent that this process can wo rk," May said. "This process did not work. It did not eradicate the chemical weapons capability of the Syrian regime. It did not stop the Syrian regime from carrying out the most abhorrent atrocities using these weapons."
Syria: chemical weapons inspectors denied access to Douma site Read more
The prime minister also denied Corbyn's claims in a Guardian article, where he described the attacks as "a demolition of what appear to be empty buildings".
"These were not empty buildings," May said, saying the targets included a scientific research centre developing chemical weapons, a chemical weapons bunker and command post and a missile base, assessed to be a location of sarin gas.
"Very careful scientific analysis was used to determine where best to target these missiles to maximise the destruction of stockpiled chemicals and to minimise any risk to the surrounding area," she said.
May's statement to the House of Commons o n Monday was the prime minister's first opportunity to face MPs, amid widespread anger from opposition politicians that parliament was not recalled during the Easter recess to hold a vote on extending UK military action in Syria.
May said she was clear it was "parliament's responsibility to hold me to account", but insisted there was not the chance to seek approval from MPs before the strike.
"It is my responsibility as prime minster to make these decisions. And I will make them," she said.
"This was a limited, targeted strike on a legal basis that has been used before. And it was a decision that required the evaluation of intelligence and information, muc h of which was of a nature that could not be shared with parliament."
Labour releases advice casting doubt on legitimacy of Syria strikes Read more
The prime minister called the attack on Douma, which killed up to 75 people, "haunting" and said reports of chemical weapons exposure, from aid workers, NGOs and intelligence, could not be falsified on such a scale.
She told MPs that Britain had "acted because it is in our national interest to do so", saying the UK had to "uphold and defend the global consensus that these weapons should not be used".
May has pledged a further diplomatic push to bring the Assad regime back to the negotiating table in Geneva, and ensure chemical weapons attacks are fully investigated.
She said that while the attack was "limited and targeted" further action was a possibility. "Nobody should be in any doubt of our resolve to ensure that we cannot see a situation where the use of chemical weapons is normalised."
Responding to May, Corbyn accused the prime minister of being drawn into the action at the behest of the US. "This statement reminds us that the prime minister is accountable to this parliament, not to the whims of the US president," he said, bringing some shouts from the Conservative benches.
"Acting through the UN, the prime minister should now take a diplomatic lead to negotiate a pause in this abhorrent conflict," he said.
"This means engaging with all parties that are involved in the conflict, including Iran, Israel, Russia, Saudi Arabia, Turkey and the US to ensure there is an immediate ceasefire."
Corbyn also reiterated his view that it was not yet confirmed that the Assad regime launched the attack, and said inspectors from the Hague-based Organisation for the Prohibition of Chemical Weapons (OPCW) should be "allowed to do their work".
"While suspicion, rightly, points to the Assad government, chemical we apons have been used by other groups in the conflict," he said.
Corbyn said there was a need for a law to force the government to seek the approval of parliament before launching military action. "There is no more serious issue than the life and death matters of military action. It is right that parliament has the right to support or stop the government from taking planned military action."
Corbyn was backed by both the SNP and Lib Dems over his demands for a future parliamentary debate on military action. The SNP's Ian Blackford said the timetable meant a vote had been "perfectly possible".
"Once again we have been dragged into military action with little regard for the humanitarian [situation] on the ground and no long-term strategic plan."
The Lib Dem leader, Vince Cable, said he regretted that the prime minister had not sought parliament's approval, but hinted his party would have given its backing, calling some of her arguments comp elling.
Topics
Syria
United Nations
Chemical weapons
Theresa May
Jeremy Corbyn
news
Share on Facebook
Share on Twitter
Share via Email
Share on LinkedIn
Share on Pinterest
Share on Google+
Share on WhatsApp
Share on Messenger
Source:
Google News