London stabbing: man killed in Forest Gate

Knife crime London stabbing: man killed in Forest Gate
Case adds to more than 50 murder investigations opened by Metropolitan police so far in 2018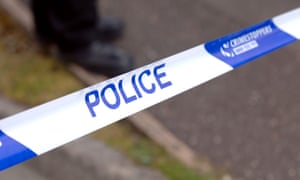 Police are investigating another fatal stabbing in the capital after the death of a man in east London.
Officers, paramedics and London's Air Ambulance were called to Chestnut Avenue, Forest Gate, at about 10.50pm on Monday.
The victim â€" believed to be an 18-year-old man â€" was pronounced dead at the scene jus t before 11.30pm.
The case adds to the more than 50 murder investigations launched by the Metropolitan police in 2018. Amber Rudd, the home secretary, has launched a serious violence strategy to clamp down on violent crime, which has been rising since 2014.
With the Press Association
Topics
Share on Facebook
Share on Twitter
Share via Email
Share on LinkedIn
Share on Pinterest
Share on Google+
Share on WhatsApp
Share on Messenger
Source:
Google News