Amber Rudd's Windrush apology does not to impress

Amber Rudd Amber Rudd's Windrush apology does not to impress Readers respond to the Guardian's reporting on the Windrush affair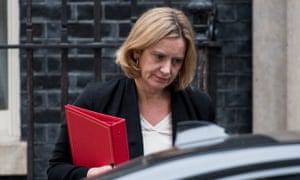 Amelia Gentleman's article (Rudd's U Turn: At last an end to the staggering heartlessness, 17 April) rightly welcomes the belated government U-turn over the Hom e Office's appalling treatment of the Windrush generation. But I doubt if this will mark an end to the Home Office's "staggering heartlessness".
In 2012 David Cameron set up the "Hostile Environment Working Group". Sarah Teather, then a Liberal Democrat minister, was outraged by this title and it was changed. But ministers have continued to use of this kind of language and I fear it has moulded Home Office attitudes. Out of this working group came the Immigration Act 2014, which Labour supported at second reading. This act required all sorts of public and private bodies to bear down on people without appropriate immigration documentation. Those of us who warned that it would have a pernicious effect were ignored.
Amber Rudd's U-turn will only help the Windrush generation. There will be many thousands of people in later generations who will lack "appropriate documentation" and whose situations are complex and need sensitive understanding. My fear is th at they will face the same arbitrariness and lack of sensitivity that the Windrush generation have experienced.
David Price
Sheffield
• Would the government's abrupt and abject about-turn over the Windrush affair have taken place at all if the Commonwealth heads of government meeting was not currently in progress in London? This allowed a critical mass of senior Caribbean politicians to form and lean heavily on the government. Up to the start of this week the Home Office had completely ignored the looming crisis with its usual poisonous mix of indifference, intransigence, incompetence and inhumanity. The current urgency makes me wonder if Her Majesty had not "advised" the prime minister that she did not wish to have her favourite parade rained on.
John Hurdley
Birmingham
• Can I assume that the government's apparent U-turn and apology for their treatment of the Windrush generation will now mean that NHS trusts all over the country will stop asking these same people to prove their entitlement to free treatment? Only last week my 79-year-old husband â€" who came here from Trinidad in 1962 and has lived here legally since then, worked hard, raised a family and paid taxes and NI â€" was sent an appointment letter for a kidney specialist accompanied by a long form to fill in asking for documentary proof of his immigration status and right to treatment. We are both outraged. It is time to rein in the insulting treatment being handed out to people like my husband by many government departments, not just put a stop to deportations.
Celia Burgess-Macey
London
• I just love the way Amber Rudd deftly passes blame to the abstraction of "the Home Office" (Rudd tells MPs: we were wrong over Windrush citizens, 17 April) rather than to the real flesh-and-blood politicians responsible for the inhumane policy in the first place â€" hersel f and her predecessor, Theresa May. Civil servants don't set policy, politicians do, and it is they who should take responsibility by doing the traditional thing and resigning.
Roy Boffy
Sutton Coldfield, West Midlands
• An understaffed Home Office should keep it simple, and fair. Anyone who has had a national insurance number and a tax account at HMRC for more than, say, 10 years should have indefinite leave to remain, as should their immediate families. They have contributed to our society â€" and it's easy to check, and document.
Hugh Burkhardt
Nottingham
• Massive congratulations on your Windrush coverage. Theresa May called the Tory party the nasty party and is making sure it stays that way. Thank heavens there is some opposition in this country.
Dee Thomas
Sandridge, Hertfordshire
• Join the debate â€" email < em>guardian.letters@theguardian.com
• Read more Guardian letters â€" click here to visit gu.com/letters
Topics
Commonwealth of Nations
Immigration and asylum
Theresa May
NHS
Health
letters
Share on Facebook
Share on Twitter
Share via Email
Share on LinkedIn
Share on Pinterest
Share on Google+
Share on WhatsApp
Share on Messenger
Source:
Google News