Amber Rudd resigns hours after Guardian publishes deportation targets letter

Amber Rudd Amber Rudd resigns hours after Guardian publishes deportation targets letter
PM accepts Rudd's resignation after 200 MPs sign letter accusing her of making up immigration policy 'on the hoof'
Home secretary Amber Rudd quits as immigration crisis grows â€" politics live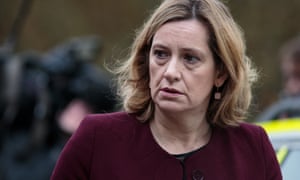 Home secretary Amber Rudd quits as immigration crisis grows â€" politics live Read more
Amber Rudd has resigned as home se cretary after repeatedly struggling to explain her role in the unjust treatment of Windrush generation migrants.
The home secretary had faced mounting pressure over her role in setting the culture and policies that led to long-term residents of Britain from Caribbean countries being denied healthcare, pensions and benefits, and in some cases being threatened with deportation.
Rudd had been due to appear before parliament on Monday to explain apparent discrepancies between her evidence to the home affairs select committee last week and a memo leaked to the Guardian that linked her to targets for removing migrants.
Amber Rudd letter to PM reveals 'ambitious but deliverable' removals target Read more
Challenged repeatedly about such targets by Labour MP Yvette Cooper at the home affairs select committee, Rudd had insisted: "That's not how we operate."
Downing Street sources said that in preparing for her Commons statement, new information had become available that convinced her she must resign. However, they continued to insist that the "ambition" for a 10% increase in removals mentioned in a separate leaked letter was not a formal target.
Rudd spoke to the prime minister by telephone on Sunday evening to tender her resignation.

More to follow …
Topics
Commonwealth immigration
Race issues
Immigration and asylum
news
Share on Facebook
Share on Twitter
Share via Email
Share on LinkedIn
Share on Pinterest
Share on Google+
Share on WhatsApp
Share on Messenge r
Source:
Google News