Alfie Evans' parents return to court amid Alder Hey protests

Court of appeal Alfie Evans' parents return to court amid Alder Hey protests
Couple to challenge ruling that doctors can withdraw life support treatment for toddler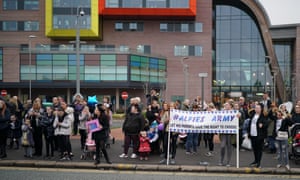 The parents of a boy at the centre of a life-support treatment battle are to launch another legal challenge.

Tom Evans, 21, and Kate James, 20, will ask court of appeal judges on Monday to allow their 23-month-old son, Alfie Evans, to continue to receive treatment.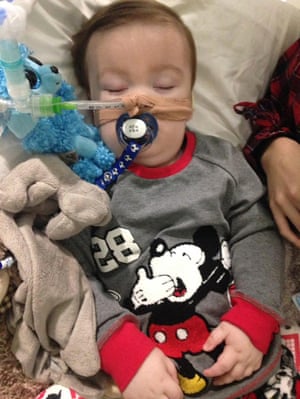 The couple, from Liverpool, have already lost cases in the high court, court of appeal, supreme court and European court of human rights.

The latest challenge came as the hospital where Alfie is being treated for a rare degenerative brain disease said it had employed extra security personnel because of demonstrations in support of the toddler's parents.
Evans has said doctors at Alder Hey children's hospital, in Liverpool, refused to let him remove Alfie from the premises. The parents want to move him to a hospital in Rome or Germany.
Alder Hey said noise from protesters outside the hospital on Sunday night had disturbed other young patients.
"We would ask that noise levels outside the hospital are kept to a minimum and for example car horns are not sounded," it said in a statement. "Loud and constant noise, such as from car horns, affects sleep and raises anxiety levels for our patients, especially when recovering from procedures, so please bear them in mind."
Shortly after the statement, Evans posted a video on Facebook of Alfie's hospital room, from which he said patients could only hear the noise outside if the window was opened. Car horns and cheering could be heard when Evans did so.
Alder Hey advised visitors that there would be more security inside the hospital "and a more controlled approach to access to certain areas".
Last week, the high court judge Mr Justice Hayden endorsed a detailed plan put forward by Alder Hey doctors for withdrawing life-support treatment.
He said details of that plan could not be revealed because Alfie was entitled to privacy at the end of his life.
The Christian Legal Centre, a group that fights for Christians' rights and is helping Alfie's parents, said appeal court judges would be asked to overturn at least one decision made by Hayden last week.
Alfie's parents last week said their son had improved in recent weeks and they had asked Hayden to allow a new assessment, but he refused. The judge said the unanimous view of medical experts was that Alfie's brain had been eroded by disease and further assessment was pointless. They also suggested that Alfie was being unlawfully detained at Alder Hey, but the judge dismissed that suggestion.

Appeal court officials said an appeal court judge had decided that Alfie should continue to receive treatment pending the outcome of the hearing that begins on Monday.
Judges have heard that Alfie is in a "semi-vegetative state" and has a degenerative ne urological condition that doctors had been unable to diagnose definitively.
Topics
Child protection
Health
Liverpool
Hospitals
Doctors
news
Share on Facebook
Share on Twitter
Share via Email
Share on LinkedIn
Share on Pinterest
Share on Google+
Share on WhatsApp
Share on Messenger
Source:
Google News