VIDEO: Helicopter crashes at Perth Airport

Sign up to our Daily newsletter Want to read more?Subscribe today from £1 a week
One man has been injured after a helicopter crashed at Perth Airport.
Eye-witnesses said the helicopter was left a "mangled mess" in the crash, which happened at around 10.25am.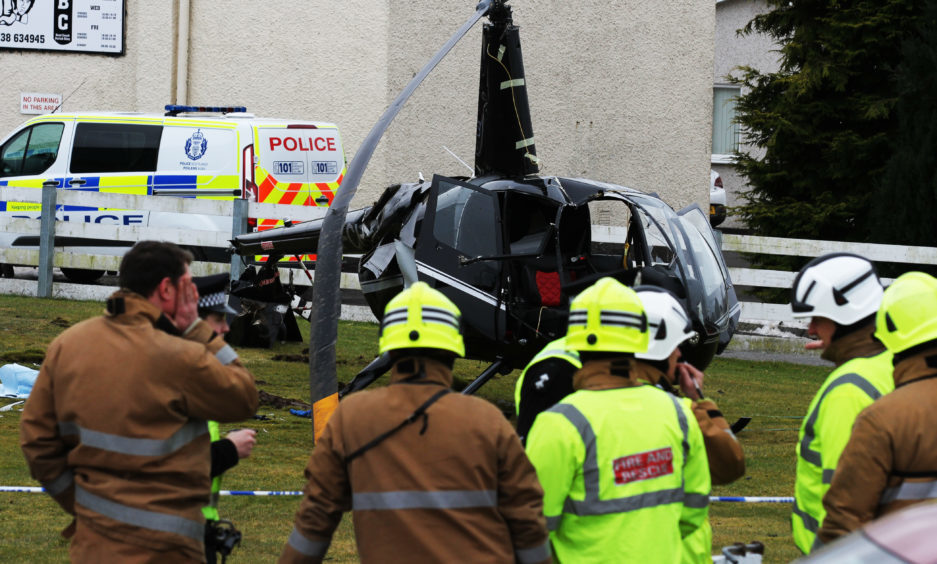 Connor Wojtowicz, 23, who lives at the airport, was among the first on the scene.< /p>
"I was sitting in my room which is 150ft from where the helicopter came down.
"I heard it take off and it didn't sound right at all â€" then there was a bang," said Mr Wojtowicz, who is a kitchen porter.
He ran out and found that paramedics from Scotland's Charity Air Ambulance (SCAA) who are based at the airport were already helping the injured pilot.
It is believed he was an engineer who had been carrying out tests on the craft when it came to grief.
Another eye witness said the helicopter was never off the ground by more than a few feet.
A tractor was used to write the helicopter as fuel was leaking out. The airfield's fire engine was quickly on the scene dealing with the spilt fuel.
Airport fire officers were joined by three units of Scottish Fire and Rescue along with their command unit. Firefighters used a fire-retardant foam to cover the stricken aircraft.
Scotland's Charity Air Ambulance tweeted: "@ScotAirAmb paramedics were first on the scene this morning when a helicopter crashed during ground checks, just 100m from the @ScotAirAmb base.
"Paramedics worked with @Scotambservice colleagues before the sole occupant was taken to hospital with leg injuries."
Police Scotland said: "There is one male casualty with a leg injury."
The man was removed and taken to hospital for treatment.
The helicopter is understood to be used for training purposes.
The area where the helicopter came down was cordoned off while police interviewed witnesses.
It is understood the helicopter will be left in-situ until air accident investigators have an opportunity to examine it.
More soon
Sign up to our
Daily
newsletterSource:
Google News