Russian spy attack: Trump supports UK 'all the way'

Foreign policy Russian spy attack: Trump supports UK 'all the way'
US president agrees Moscow must provide answers over poisoning as May prepares to act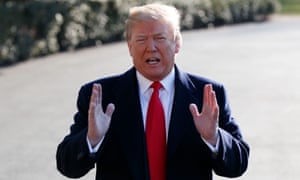 Donald Trump has given Theresa May his full support for her strategy of confronting Russia over the poisoning of double agent Sergei Skripal, saying he is "with the UK all the way".
The US president's support came in a phone call on Tuesday after he had said earlier that his support was conditional on the facts supporting the British prime minister's case. Downing Street said Trump had agreed that "the Russian government must provide unambiguous answers as to how this nerve agent came to be used".
His support came as May prepared to set out a range of reprisa ls against the Russian state, including calls for fresh sanctions, visa bans and crackdowns on Russian money in the UK. She was also expected to set out plans to build a coalition of international support â€" from the European Union, Nato and even the United Nations â€" to rein in Russia over time.
May will put her proposals to the national security committee on Wednesday before briefing MPs in a statement that could set the course for UK foreign policy for years to come.
The package of measures comes in the face of a chilling warning by Russia that the UK should not threaten a nuclear power.
May has also received strong verbal support from key European leaders and the Organisation for the Prohibition of Chemical Weapons, the body responsible for the control of chemical weapons.
As expected, the Russian embassy in London refused to comply with a British demand that it meet a deadline of midnight to set out its knowledge of the Russian state's role in th e poisoning of Skripal. Russia instead demanded access to the samples of the alleged nerve agent Novichok and claimed May's ultimatum to Moscow breached international protocols which allowed an accused nation 10 days to respond.

Russia's ambassador to the Organisation for the Prohibition of Chemical Weapons, Alexander Shulgin, accused the UK of making unfounded accusations and pumping out hysteria. He said: "We call upon them to abandon the language of ultimatums and threats and return to the legal field of the chemical convention, which allows us to resolve this kind of situation".
A spokesman for the Russian embassy in the UK, responding to speculation Britain may mount a cyber strike as part of its response, said: "Statements by a number of MPs, 'Whitehall sources' and 'experts' regarding a possible 'deployment' of 'offensive cyber-capabilities' cause serious concern.
"Not only is Russia groundlessly and provocatively accused of the Salisbury incident, but apparently, plans are being developed in the UK to strike Russia with cyber weapons."
In Moscow, the Russian foreign ministry summoned the UK ambassador Laurie Bristow and warned that "actions by the British authorities are openly provocative".
"Any threats of sanction measures against Russia will not be left without a response," the ministry said.
Russia warned that any UK move to close down the Russia Today news channel, a measure being considered by the broadcasting regulator Ofcom would lead to reprisals. "Not a single British media outlet will work in our country if they close Russia Today," Maria Zakharova the Russian foreign affairs ministry spokeswoman said.
Throughout the day the UK worked hard diplomatically in Washington to persuade Donald Trump to set aside his desire for a rapport with Vladimir Putin, and recognise that Russia was the only country that had the means or the motive to seek to assassi nate Skripal.
In his first response to the British lobbying, and before a scheduled phone call with May, Trump struggled towards a reluctant acceptance of the British case, but did not unambiguously ascribe responsibility for the attack to Russia. He said: "It sounds to me like they believe it was Russia and I would certainly take that finding as fact ...
"As soon as we get the facts straight, and we are going to be speaking with the British today â€" we're speaking with Theresa May today â€" and as soon as we get the facts straight, if we agree with them, we will condemn Russia or whoever it may be".
Later, No 10 said that during a phone call between the president and the PM "Trump told May that the US was with the UK all the way."
It is not clear if the UK has definitive, as opposed to circumstantial evidence that a Russian government agent was responsible for deploying the poison.
It would be a body blow to Anglo-US relations if Trum p refused to accept the British intelligence assessment, but since his election he has felt under siege over allegations that he colluded with Russia to win the presidency, and believes former British intelligence officers have been feeding unfounded allegations.
In a potential blow to the British, Trump earlier in the day dismissed his secretary of state, Rex Tillerson, doing so only hours after Tillerson, unaware his sacking was imminent, issued an unequivocal defence of the UK position, which contrasted with a more ambivalent White House statement issued on Monday.
In terms of rhetoric, EU leaders rallied to the UK cause, with the EU parliament's chief Brexit negotiator, Guy de Verhofstadt, calling for a common EU stance at next week's council of ministers. He said "Mrs May has said this is an attack against Britain as a country and I think that a common reaction in the next European Council is absolutely needed and counter measures should be decided by the EU ".
But privately, EU officials admit that European unity on sanctions against Russia over Ukraine has been cracking, and the latest episode will merely ensure the current range of sanctions remain.
German chancellor, Angela Merkel, has been keen to use the re-election of Vladimir Putin this weekend as an occasion to reopen a dialogue on the Ukraine peace process, and the French president, Emmanuel Macron, also does not want to close dialogue with Putin.
Topics
Espionage
Sergei Skripal
Donald Trump
Russia
Europe
news
Share on Facebook
Share on Twitter
Share via Email
Share on LinkedIn
Share on Pinterest
Share on Google+
Share on WhatsApp
Share on Messenger
Source: < a href=https://www.theguardian.com/politics/2018/mar/13/russian-spy-attack-trump-supports-uk-all-the-way target="blank">Google News