Russian spy attack: May to set out reprisals in parliament

Sergei Skripal Russian spy attack: May to set out reprisals in parliament
Midnight deadline passes for Kremlin to explain why former spy poisoned by nerve agent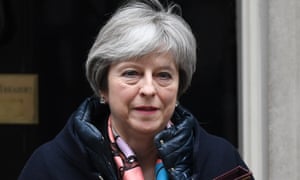 Theresa May is preparing to set out a range of reprisals against the Russian state to parliament on Wednesday, after a midnight deadline passed for the Kremlin to explain why a former spy was poisoned by a Russian-manufactured nerve agent.
Russia said there would be retali ation against any fresh measures. Maria Zakharova, the Russian foreign affairs ministry spokeswoman, said Britain must not try to threaten Moscow, pointing to Vladimir Putin's recent speech in which he presented a range of new nuclear weapons.
The prime minister will hold a meeting of the national security council on Wednesday to lay out her proposals, after a day of diplomacy during which she sought support from the US president, Donald Trump, Nato and EU states including Germany's chancellor, Angela Merkel.
May will chair the council which is attended by a select group of cabinet ministers, including the Cabinet Office minister, David Lidington, the chancellor, Philip Hammond, the foreign secretary, Boris Johnson, the home secretary, Amber Rudd, and the defence secretary, Gavin Williamson, as well as May's most senior security adviser, Mark Sedwill.
Downing Street said Trump had given his full backing to the UK in confronting Russia over the poisoning of the former double agent Sergei Skripal, after a chaotic 12 hours during which the president fired his secretary of state, Rex Tillerson.
The White House said the two leaders "agreed on the need for consequences for those who use these heinous weapons in flagrant violation of international norms".
During the day, Johnson spoke to his French counterpart, Jean-Yves Le Drian, who said France was also prepared to take concrete measures, stressing his country's concern about Russia's use of chemical weapons in Syria.
Both May and Johnson spoke to their German opposites, and the Foreign Office said Berlin supported taking further steps against Russian disinformation.
Frans Timmermans, a vice-president of the European commission, said Europe should show a united front.
"It is of the utmost importance that those who are responsible for what has happened see very clearly that there is European solidarity â€" unequivocal, unwavering and very stron g â€" so that those responsible are really punished for what they did," he told the European parliament.
In Moscow, the Russian foreign ministry summoned the British ambassador, Laurie Bristow, and warned that "actions by the British authorities are openly provocative".
Among the options being considered are fresh sanctions, visa bans as well as the possibility of action by Ofcom against the Russian broadcaster RT. The watchdog said it had written to RT warning that an "unlawful use of force" by Russia against Britain would trigger a fast-track investigation to potentially revoke its licence.
"Not a single British media outlet will work in our country if they close Russia Today," said Zakharova.
Russia's ambassador to the Organisation for the Prohibition of Chemical Weapons, Alexander Shulgin, accused the UK of making unfounded accusations and pumping out hysteria. "We call upon them to abandon the language of ultimatums and threats and return to the legal field of the chemical convention, which allows us to resolve this kind of situation," he said.
Labour is set to argue that the government should formally support amendments to the sanctions and anti-money-laundering bill to target human rights abusers, named the "Magnitsky clause", named after the Russian accountant who died after revealing state-sponsored fraud.
The shadow chancellor, John McDonnell, said the measures would "hit them in the pocket" and could be applied to human rights abusers anywhere in the world.
The Labour leader, Jeremy Corbyn, will respond to May's statement on Wednesday afternoon, having previously been criticised by some of his own backbenchers for his initial response, which attacked the Conservatives for accepting donations from Russians.

McDonnell said the response had not been ill-judged and Corbyn wanted due process to be followed. "He was very careful to say we have to have due process on this, both to give the government time, and yes even Russia time to respond," he told BBC Radio 4's Today programme.
"I think he got the tone exactly right, to make sure no one could criticise us for not having due process."
On Tuesday evening, the Metropolitan police launched a counter-terrorism investigation into the death of another Russian exile in London, Nikolai Glushkov, a close friend of the oligarch and Putin opponent Boris Berezovsky. The Met said it was "a precaution because of associations that the man is believed to have had".
Topics
Theresa May
Russia
Europe
news
Share on Facebook
Share on Twitter
Share via Email
Share on LinkedIn
Share on Pinterest
Share on Google+
Share on WhatsApp
Share on Messenger
Source:
Google News