Labour MPs attending antisemitism protest targeted for deselection

Labour Labour MPs attending antisemitism protest targeted for deselection
Social media backlash as David Lammy accused of 'stabbing party members in the back'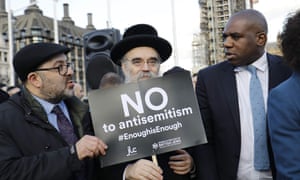 Labour MPs who attended a solidarity demonstration against antisemitism in the party are being targeted for deselection by members and attacked on social media.
David Lammy, the Tottenham MP who was at Monday night's protest to support Jewish constituents but did not speak, may face a challenge from his constituency party. Tottenham Labour Party Members Only Facebook page is carrying posts demanding that he is deselected.
Some of his party members claim Lammy has "stabbed them in the back" by attending the demonstration, which they regard as an anti-Corbyn rally. One wrote that the protest was focused on Corbyn's leadership, not antisemitism, while another said they wanted a candidate in the next election "who wants Labour to win".
Labour sources protested that the MP was a longstanding opponent of all forms of racism.
"David has spent the last two decades standing up to racism and standing up for minority communities both in parliament and outside parliament. His record speaks for itself. He is a hugely popular MP as demonstrated at the 2017 general election where he secured over 80% of the vote.⠀
Other MPs who were among the dozen or so who attended the protest are being abused on their social media feeds. One organisation, The Sqwawkbox, emailed some MPs challenging them to prove they opposed all racism in a way that implied their opposition to antisemitism was only about the party leadership.
As Jennie Formby, the new general secretary of the party, prepares to start work after Easter, Labour has acknowledged there are at least 70 allegations of antisemitism waiting to be resolved. But other sources doubt that the party's organisation knows for sure how many there are.
After an emotional meeting of the shadow cabinet on Tuesday, Jeremy Corbyn made enacting the recommendations of the Chakrabarti report â€" published in June 2016 â€" Formby's priority.
That will involve considerable party reorganisation, including recruiting special in-house legal staff capable of managing a complaints procedure in an effective and legally correct manner. < /p>
Many MPs are still shocked by the strength of feeling demonstrated on Monday night against Labour's failure to act on antisemitic conduct. Many of them want it to be a turning point for the party and the Corbyn leadership. Some believe it could be a potent symbol of the kind of government that an incoming Labour party would run â€" reminiscent of Tony Blair rewriting Clause Four as a token of his determination to run a centre-left government.
Topics
Race issues
Judaism
Religion
Jeremy Corbyn
news
Share on Facebook
Share on Twitter
Share via Email
Share on LinkedIn
Share on Pinterest
Share on Google+
Share on WhatsApp
Share on Messenger
Source:
Google News