House committee led by Trump ally says campaign did not collude with Russia

Trump-Russia investigation House committee led by Trump ally says campaign did not collude with Russia
Intelligence committee's top Democrat, however, says he cannot confirm Republicans' announcement as party plans own statement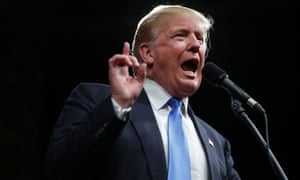 A congressional committee led by a member of Donald Trump's presidential transition team has announced that Trump's 2016 campaign did not collude with Russian operatives and that the committee was nearing the completion of its investigation of the matter.
But across the aisle, a spokesman for Adam Schiff, the top Democrat on the committee, said he could not confirm the Republicans' announcement. Democrats were planning to issue their own statement.
Separate investigations in two Senate committees into alleged collusion between Russia and the Trump camp continued apace, as did an inquiry led by the special counsel Robert Mueller. Two weeks ago Mueller secured a guilty plea from a third former Trump campaign aide on charges not directly related to collusion.
Representative Mike Conaway of Texas, a Republican member of the committee, told reporters on Monday that the House intelligence committee would not interview any more witnesses in its investigation of alleged collusion and that no collusion had happened.
Republican-led committee says Russia funded 'useful idiot' environmentalists Read more
"The bottom line: the Russians did commit active measures against our election in '16, and we think they will do that in the future," Conaway said. "We disagree with the narrative that they were trying to help Trump."
Last month, in indictments handed down by a grand jury comprised of citizens who had reviewed the evidence, Mueller described how 13 Russian citizens and three Russian organizations had allegedly sought to disrupt the 2016 election. "By early to mid-2016," the indictment reads, "defendants' operations included supporting the presidential campaign of then-candidate Donald J Trump ('Trump campaign') and disparaging Hillary Clinton."
Conaway did not indicate what evidence the committee had collected that led it to contradict the Mueller indictment, which was built on intercepted emails, witness interviews and other evidence pointing to Russia as a culprit .
On a day when the White House press secretary declined to support the British prime minister Theresa May's conclusion that it is "highly likely" that Russia was responsible for the poisoning of the former spy Sergei Skripal and his daughter, Yulia, Conaway argued vehemently against the notion that the Trump campaign had cooperated with Russia to disrupt the presidential election.
"We found no evidence of collusion," Conaway said. "We found perhaps some bad judgment, inappropriate meetings. But only Tom Clancy or Vince Flynn or someone else like that could take these series of inadvertent contacts with each other, meetings, whatever, and weave that into some sort of a fiction and turn it into a page-turner, spy thriller."
Schiff, the committee's top Democrat, said on Sunday that the committee, which is not widely regarded as being at the spearhead of the investigation into Russia and Trump, had uncovered "circumstantial evidence of collusion".
Evan McMullin, the 2016 independent presidential candidate who some Republicans hoped would lead a backlash against Trump that never materi alized, called the Republican conduct "a low point".
"House Republicans failing to perform an honest investigation into Russia's interference for President Trump marks a low point for Congress and political leadership in America," McMullin wrote on Twitter. "These congressmen are willing to protect their party and Trump at the expense of our sovereignty."

The House intelligence committee's investigation of the Russia affair has been vexed by political scandal and partisan sniping from the start. The committee chairman, Devin Nunes, who served on the Trump transition team, initially recused himself from the investigation, only to engineer the release last month of a memo bearing his name that was widely viewed as an attempt to undermine the special counsel investigation and smear the FBI. Democrats on the committee later released a competing memo of their own.
Conaway said that committee Republicans would submit a draft report on the matter t o their Democratic colleagues on Tuesday, but the Democratic side was expected to reject its findings.
Topics
Trump-Russia investigation
Donald Trump
House of Representatives
US Congress
Russia
Trump administration
news
Share on Facebook
Share on Twitter
Share via Email
Share on LinkedIn
Share on Pinterest
Share on Google+
Share on WhatsApp
Share on Messenger
Source:
Google News