Talks to restore power-sharing government in Northern Ireland collapse

Northern Ireland Talks to restore power-sharing government in Northern Ireland collapse
DUP says it will not compromise with Sinn Féin and accuses Theresa May of making 'unhelpful' visit to Belfast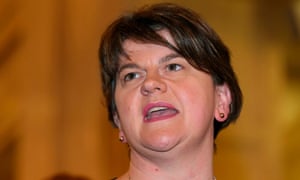 Talks to restore the power-sharing government in Northern Ireland dramatically collapsed on Wednesday, as the DUP said there was no prospect of a compromise with Sinn Féin and accused Theresa May of an unhelpf ul and distracting visit to Belfast earlier this week.
In an extraordinary broadside at the prime minister, whose Conservative party has a confidence deal with the DUP in parliament, the party's negotiator Simon Hamilton said May's visit to Stormont on Monday with Irish Taoiseach Leo Varadkar had given a false sense of progress and was not "entirely helpful".
"Regardless of the intervention, unsuccessful as it was of both prime ministers, significant and serious gaps remain between ourselves and Sinn Féin," he said.
Hamilton's sentiment echoed that of DUP leader Arlene Foster who signalled on Tuesday that talks to restore power-sharing government in Northern Ireland were in trouble. British and Irish government sources had been briefing since the weekend that a deal to narrow the gap between the parties was imminent.
On Wednesday, Foster said there was no current prospect of a compromise between her party and Sinn Féin. The former first mi nister and her party have been shaken by the level of opposition within the DUP and in the wider unionist community over any deal that would include a standalone Irish language act as demanded by Sinn Féin, party sources said on Wednesday.
Foster said there were too many significant gaps between the two main parties to reach a settlement and it was now up to central government in London to impose a budget on Northern Ireland to allow regional departments to function.
She said the DUP would continue to aim to restore devolved government but that her party would not accept a "one-sided deal".
Foster continued: "For almost four weeks, we have been engaged in intensive negotiations with Sinn Féin. We have attempted to find a stable and sustainable basis for restoring devolution. Those discussions have been unsuccessful.
"Despite our best efforts, serious and significant gaps remain between ourselves and Sinn Féin, especially on the issue of the Iri sh language."
Michelle O'Neill, Sinn Féin's leader in the deadlocked Northern Ireland Assembly, said her party "worked in good faith, we stretched ourselves" and indicated they too had believed a deal was close.
"We had reached an accommodation with the leadership of the DUP. The DUP failed to close the deal. They have now collapsed this process. These issues are not going away," she said. "Sinn Féin are now in contact with both governments and we will set out our considered position tomorrow. The DUP should reflect on their position."
Labour's Northern Ireland secretary Owen Smith said the DUP's comments about the prime minister were embarrassing. "Theresa May has been humiliated by the DUP," he said. "She turned up in Belfast on Monday expecting to cut the ribbon on a new deal but the DUP had clearly decided they weren't prepared to do a deal which would support the Irish language or marriage equality in Northern Ireland. In the twentieth year of the Good Friday Agreement, Northern Ireland is being badly let down by the Tory-DUP axis."
Downing Street played down the rift with their supply-and-confidence partners. Sources said the UK government was hopeful a deal could still be thrashed out, pointing to Foster's comments that restoring devolved government "will remain our goal".
Northern Ireland secretary Karen Bradley said the UK government now had to make some "challenging decisions" but stressed they still wanted to deliver a functional executive. "I would urge everyone to reflect on the circumstances that have led to this, and their positions, both now and in the future," she said.
"We now need to consider practical steps. In the continued absence of an executive, other challenging decisions will have to be taken by the UK government."
The leader of the smaller nationalist SDLP party Colum Eastwood said Northern Irish politicians could not allow the breakd own of talks "to be the destruction of all that we have achieved".
"Equally we can't allow this British government or this DUP to think that they are going to govern Northern Ireland on their own. That cannot be allowed to happen," he said.
Through 13 months of stop-start negotiations involving the DUP and Sinn Féin, the latter's core demand has been the drafting of an Irish language act that would give Gaelic the same legal status as English throughout Northern Ireland.
Hardline unionists have portrayed the act as forcing compulsory Irish on the unionist community, including bilingual street signs in and around pro-union areas of Northern Ireland.
The whipping up of unionist fears about their Britishness being "hollowed out" via such legislation has struck a chord with the wider unionist population, one DUP source said. The party's high command was shocked at the level of grassroots opposition to a language act.
The original rea son for the collapse of the last power-sharing executive in Belfast was a controversial green energy scheme, which saw its multimillion-pound costs to the taxpayer spiral out of control.
Because Foster and the DUP had championed the renewable heat incentive, their key partners in that government asked that she step aside temporarily from the first minister's office so an inquiry could be held into the scheme.
When Foster refused to stand down the deputy first minister at the time, the late Martin McGuinness, resigned. Under the rules of power sharing, if one main representative from the two divided communities in Northern Ireland resigns from office, then the whole devolved edifice collapses.
Topics
Share on Facebook
Share on Twitter
Share via Email
Share on LinkedIn
Share on Pinterest
< li> Share on Google+
Share on WhatsApp
Share on Messenger
Source:
Google News