NI talks collapse with 'no prospect of devolution'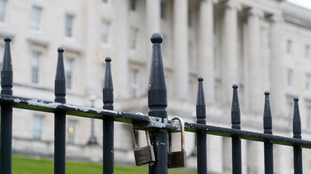 The Stormont talks process has collapsed without a deal after DUP leader Arlene Foster said there is no prospect of a return to devolved government for Northern Ireland.
Mrs Foster released a statement on Wednesday afternoon in which she called for the Westminster government to now set a budget.
The DUP and Sinn Féin have been involved in long-running negotiations aimed at ending the 13-month long political impasse.
On Monday, Prime Minister Theresa May and Taoiseach Leo Varadkar travelled to Belfast amid speculation an agreement was imminent.
However, hopes of a resolution have now been dashed.
Key issues which have proved difficult for the parties to agree on included the Irish language, dealing with the past, and same-sex marriage.
But both parties had claimed progress had been made.
In our view, there is no current prospect of these discussions leading to an Executive being formed.
â€" DUP leader Arlene Foster
However, in Wednesday's statement, Mrs Foster said: "Despite our best efforts, serious and significant gaps remain between ourselves and Sinn Féin - especially on the issue of the Irish language.
"I have made it consistently clear that unionists will not countenance a stand-alone or free-standing Irish Language Act.
"Sinn Féin's insistence on a stand-alone Irish Language Act means that we have reached an impasse."
The DUP leader added: "As far back as last summer, I outlined my party's willingness to rea ch an accommodation on language and cultural issues.
"However, I indicated that any such accommodation must be fair, balanced and capable of commanding support on all sides of our community.
"At the moment, we do not have a fair and balanced package."
Restoring a sustainable and fully functioning devolved government will remain our goal, but we will not accept a one-sided deal.
â€" DUP leader Arlene Foster
Mrs Foster claimed that she respected the Irish language, adding: "Respect for the unionist and British identity has not been reciprocated."
She further stated that Northern Ireland had been "in limbo" for too long.
"I had dearly hoped that we could have restored an Executive and local ministers could have taken those decisions," she said.
"That is not possible at this time. Northern Ireland is best governed by loc al ministers who are accountable to local people."
The DUP leader added: "Any agreement to restore the Executive must be on a sensible basis.
"We cannot and will not be held to ransom by those who have refused to form an Executive for over 13 months."
Source:
Google News