Former Education Secretary warns ministers to stop 'kicking around' tuition fees like a 'political football'


Former Education Secretary Justine Greening has called on the Government to press ahead with reforms in higher education, urging ministers to "stop kicking around student finance like a political football".
The comments from Ms Greening, who resigned from Theresa May's Government last month, come as the Prime Minister prepares to deliver a major speech on education and as Damian Hinds, her successor, indicated tuition fees should partly be based on how a degree course could benefit a student's future career.
The Education Secretary also announced that the Government will this week unveil its long-awaited review of university funding which will look at issues such as cutting or freezing tuition fees, as well as interest rates on loan repayments, which stand at up to 6.1 per cent.
In an interview with The Sunday Times, Mr Hinds said he wanted to see a system which would consider a course's value for money as a factor in deciding the level at which fees are set.
But the review received a lukewarm reception from Ms Greening on ITV's Peston on Sunday, who said that while she was in government she was "determined" not to kick the issue of university funding into the long grass and "spend time looking at things instead of taking action".
She also warned that the review might have a "challenge" in deciphering which courses are more beneficial, adding: "I think many businesses with Stem (science, technology, engineering, and mathematics) degree skill shortages will wonder whether it's the right thing to do to make those more expensive.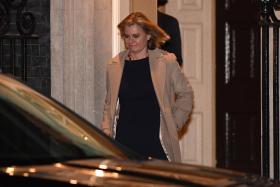 Justine Greening 'blocked ' efforts to cut tuition fees â€" PM's ex aide
"I think the most important thing now is to stop kicking around student finance like a political football and for young people really get to grips with one of the reforms that are now needed."
The former cabinet minister also called for the review to reintroduce maintenance grants â€" a policy abolished by the coalition government â€" and suggested interest rates on student loans could be set at zero.
"I think broadly you fix a solution of maintenance grants and interests rates â€" perhaps have them at zero and literally just have students paying back what they've borrowed," she said.
Ms Greening's comments follow a report from the the Commons Treasury Select Committee â€" published on Sunday â€" that said the Government must reconsider "punitive" interest rates on student loans.
It said: "The Government has justified the existing level and structure of interest rates on student loans on the grounds that it is progressive. In reality, the student loan system has complex redistributive effects that are not strictly progressive."
UK news in pictures
UK news in pictures
1/52 17 February 2018

Lizzy Yarnold of Great Britain celebrates after winning the gold medal during the Women's Skeleton on day eight of the PyeongChang 2018 Winter Olympic Games

2/52 16 February 2018

Models walk the runway at the Richard Malone show during London Fashion Week

3/52 15 February 2018

Dame Vivienne Westwood walks the runway to model in the #INEOSVTHEPEOPLE catwalk presentation outside fracking giant INEOS's headquarters in London

4/52 14 February 2018

Foreign Secretary Boris Johnson delivers his speech: Road to Brexit, a United Kingdom, as part of the Government's road map on Brexit, at the Policy Exchange, London

5/52 13 February 2018

England and Durham cricketer Ben Stokes, 26, leaving Bristol Magistrates' Court, where he was told he will face a crown court trial over an altercation outside a nightclub

6/52 12 February 2018

Labour leader Jeremy Corbyn meets with local party supporters and residents in Penicuik, Midlothian, before speaking at a campaign rally at the town's Miners Welfare Hall

7/52 9 February 2018

Volunteers create a heart shaped collection of plastic bottles littering the foreshore of the River Thames at Queenhithe Dock in central London, in an event organised by the #OneLess campaign and Thames21 to draw attention to the impact that single-use plastic water bottles are having on the environment.

8/52 8 February 2018

Florist Hank Roling poses with a Vanda orchid during a press preview of the Thai Orchid Festival at Kew Gardens, London

9/52 7 February 2018

A staff member poses behind a moon jellyfish tank during the annual stock-take at London Zoo.

10/52 6 February 2018

Prime Minister Theresa May joins female Members of both Houses at the Palace of Westminster, to mark the 100th anniversary of the passing of the Representation of the People Act, which gave certain women over the age of 30 a vote and the right to stand for Parliament.

11/52 5 February 2018

Lauri Love outside the Royal Courts of Justice after a judge ruled against extraditing him to America in a case where he was accused of hacking thousands of US government computers.

12/52 4 February 2018

A statue of suffragette Alice Hawkins being unveiled in Market Square, Leicester. Ms Hawkins, a shoe machinist, was jailed five times while leading the Suffragette campaign in the city in the early 20th Century.

13/52 3 February 2018

Demonstrators gather on Gover Street in central London ahead of a march towards Downing Street to protest against underfunding and privatisation of the NHS and demand an end to the winter crisis in the health service.

14/52 2 February 2018

Millicent Fawcett by Annie Swynnerton, newly on display at Tate Britain. Fawcett was a leading figure in the suffragist movement and campaigned relentlessly to get the vote for women in this country. The portrait of her is on display at Tate Britain to mark the centenar y of the Representation of the People Act, which gave women over 30 the right to vote.

15/52 1 February 2018

British Prime Minister Theresa May and husband Philip May visit the Forbidden City in Beijing during her three-day visit to China.

16/52 31 January 2018

A super moon rises behind blocks of flats in north London.

17/52 30 January 2018

Members of the Jarl Squad dressed in Viking suits after marching through the streets in Lerwick on the Shetland Isles during the Up Helly Aa Viking Festival.

18/52 29 January 2018

Travis Frain (left) and Dan Hett from the Survivors Against Terror Group talk to students at Manchester Enterprise Academy. Frain survived the Westminster attack in March 2017, while Hett's brother Martin was one of the 22 who died in the Manchester attack in May 2017.

19/52 28 January 2018

Members of the English Civil War Society take part in the King's Army Annual March and Parade, in London, as they commemorate the execution of Charles I. The route follows the route taken by Charles I from St James Palace on the Mall to the place of hi s death at the Banqueting House in Whitehall.

20/52 27 January 2018

Will Grigg celebrates scoring Wigan's second goal from the penalty spot during the Emirates FA Cup, fourth round match against West Ham at the DW Stadium. League One Wigan knocked out the Premier League side 2-0.

21/52 26 January 2018

US entrepreneur and co-founder of the Microsoft Corporation, Bill Gates and Britain's International Development Secretary Penny Mordaunt meet vet Andy Hopker and students Vanya Lalljee and Jennifer Hunt during an event to launch the Global Academy of Agriculture and Food Security at the University of Edinburgh.

22/52 25 January 2018

President Donald Trump meets with British Prime Minister Theresa May at the World Economic Forum in Davos.

23/52 24 January 2018

Alun Wyn Jones of Wales, Guilhem Guirado of France, Dylan Hartley of England, Rory Best of Ireland, John Barclay of Scotland and Sergio Parisse of Italy pose with the trophy during the 6 Nations Launch event at the Hilton in London.

24/52 23 January 2018

Kyle Edmund reacts after winning his men 039;s quarter-final match against Grigor Dimitrov at the Australian Open. He will play sixth seed Marin Cilic in the semi-final.

25/52 22 January 2018

US Secretary of State Rex Tillerson next to US Ambassador to Britain Woody Johnson on a visit to the new embassy in London, a discreet move after criticism of US President Donald Trump who refused to inaugurate it.

26/52 21 January 2018

Women's rights demonstrators hold placards and chant slogans during the Time's Up rally at Richmond Terrace, opposite Downing Street. The Time's Up Women's March marks the one year anniversary of the first Women's Ma rch in London and in 2018 it is inspired by the Time's Up movement against sexual abuse. The Time's Up initiative was launched at the start of January 2018 as a response to the #MeToo movement and the Harvey Weinstein scandal.

27/52 20 January 2018

Britain's Penny Coomes and Nicholas Buckland perform in the pairs ice dance free dance event at the European figure skating championships in Moscow.

28/52 19 January 2018

Sheep graze in a field in Thornhill, Scotland. Forecasters have issued a new warning of snow and icy conditions in Southern Scotland with the police advising people to leave work early in affect ed areas.

29/52 18 January 2018

French President Emmanuel Macron and British Prime Minister Theresa May look up at a military fly past at Sandhurst Military Academy in Camberley. Theresa May is expected to make an announcement as part of the Anglo-France Summit at The Royal Military Academy Sandhurst, where she will discuss Britain's strong and wide-ranging bilateral relationship with President Macron.

30/52 17 January 2018

A jackknifed lorry is recovered on the M74, following motorists spending the night stranded on the motorway in Abington, Scotland. Mountain rescue teams spent the night helping drivers following heavy snowfall in the Dumfries and Galloway region.

31/52 16 January 2018

Carillion, which has a variety of private and public service contracts in Britain and employs 43,000 staff worldwide, announced its immediate liquidation on Monday after the heavily-indebted company failed to secure a last-ditch financial rescue from the government and banks. Carillion held a £335 million contract to build the new Liverpool city hospital, the delivery of which was already delayed by the time the company went into liquidation.

32/52 15 January 2018

Dolores O'Riordan, frontwoman of the iconic Irish grunge-rock band The Cranberries , died suddenly at the age of 46. A spokesperson for O'Riordan said she died "suddenly" in London, where she had travelled for a short recording session.

33/52 14 January 2018

Glen Durrant celebrates with the trophy after victory during day nine of the BDO World Professional Darts Championship 2018 at The Lakeside.

34/52 13 January 2018

The Whittlesea Straw Bear festival in Cambridgeshire celebrates the old Fenland plough custom of parading straw bears around the town every January. This Festival happens on the first weekend after Plough Monday. The procession, led by the Straw Bear, has over 250 dancers, musicians and performers. They perform traditional Molly, Morris, Clog and Sword dancing.

35/52 12 January 2018

Workers look at the Madame Tussauds wax figure of US President Donald Trump outside the new US Embassy in Nine Elms, London, after Mr Trump confirmed he will not travel to the UK to open the new building - and hit out at the location of the 1.2 billion dollar (£886 million) project. Writing on Twitter, Trump said he thought the embassy's move from Grosvenor Square in the prestigious Mayfair district of central London to Nine Elms, south of the Thames, was a "bad deal".

36/52 11 January 2018

British Prime M inister Theresa May watches birds from inside a bird hide with school children at the Wildfowl and Wetland Trust's (WWT) ahead of a speech to launch the government's environment plan in London. Campaigners on January 11 criticised Theresa May's plan to eliminate all avoidable plastic waste within 25 years, calling it a "missed opportunity" that lacked the necessary urgency. The government will extend a charge on plastic bags to all businesses and encourage supermarkets to introduce plastic-free aisles, May said in speech.

37/52 10 January 2018

Cirque du Soleil 'OVO' dress rehearsal at the Royal Albert Hall.

38/52 9 January 2018

Prime Minister Theresa May leads her first cabinet meeting of the new year at 10 Downing street.

39/52 8 January 2018

Journalist Carrie Gracie speaks to the media outside the BBC in London after she turned down a £45,000 rise, describing the offer as a "botched solution" to the problem of unequal pay at the BBC. Gracie said she told the corporation she wanted equality, rather than more money, and was determined not to help the organisation "perpetuate a failing pay structure by discriminating against women".

40/52 7 January 2018

A man reads a newspaper as he takes part in the annual 'No Trousers On The Tube Day' (No Pants Subway Ride) at Liverpool Street Station. Started in 2002 with only seven participants, the day is now marked in over 60 cities around the world. The idea behind "No Pants" is that random passengers board a subway car at separate stops in the middle of winter, without wearing trousers. The participants wear all of the usual winter clothing on their top half such as hats, scarves and gloves and do not acknowledge each other's similar state of undress.

41/52 6 January 2018

League Two side Coventry City celebrate victory over Premier League side Stoke in the FA Cup third round.

42/52 5 January 2018

A commendation ceremony takes place at Manchester Town Hall to recognise the actions of police and rail staff following the terrorist attack at Manchester Arena in May 2017.

43/52 4 January 2018

Stuart (no surname given) with his possessions in a bus stop near Windsor Castle, Berkshire. Prime Minister Theresa May has said she disagrees with Tory council leader Simon Dudley, who called on police to clear rough sleepers from Windsor before the royal wedding.

44/52 3 January 2018

Storm Eleanor lashed the UK with violent storm-force winds of up to 100mph.

45/52 2 January 2018

Members of National Union of Rail, Maritime and Transport (RMT) hold a demonstration against rail fare increases outside Kings Cross Railway Station, London. Average rail ticket prices across Britain have risen by 3.4 percent, the biggest increase to rail fares for five years.

46/52 1 January 2018

A man takes part in the Mappleton Bridge Jump, an annual unofficial tradition where those willing jump from Okeover bridge on New Years Day into the River Dove.

47/52 31 December 201 7

Passing clouds creating beautiful colours in Wimbledon on the last sunset of the year.

48/52 30 December 2017

One person was taken to hospital after a fire broke out on the ninth floor of a building in Joiner Street in Manchester's Northern Quarter.

49/52 29 December 2017

Heavy snow, rain, thunderstorms and wind have caused disruption across much of Britain as a band of "severe" weather rolled across the country. Travelers were warned of dangerous roads conditions, with Highways England advising road users to pack shovels, food and water if they do ventur e out. The weather didn't just affect travel however, camels on a farm near Richmond, North Yorkshire and various other animals are having to deal with the cold weather.

50/52 28 December 2017

Alastair Cook celebrates after reaching his double-century during the third day of the fourth Ashes cricket test match.

51/52 27 December 2017

Sheep are driven to another field in the Cotswolds after overnight snow caused travel disruptions across parts of the UK.

52/52 26 December 2017

Harry Kane celebrates after scoring his third goal, Tottenham's fifth, during the Boxing day Premier League match against Southampton at Wembley. He broke Alan Shearer's record of 36 Premier League goals in a calendar year, scoring 39 from 36 matches. Kane also finished 2017 as Europe's leading scorer ahead of Barcelona's Lionel Messi, who has 54 goals from 63 appearances in all competitions. Harry Kane has 56 from 52.
Angela Rayner, the Shadow Education Secretary, also told BBC's Andrew Marr Show that the Government review will not solve the problems facing higher education, adding that maintenance grants for poorer students remains the biggest issue and one ministers are silent on.
She said: "We have had three announcements of reviews in the last 12 months and eight years of the Conservatives that have damaged higher educa tion and totally decimated our further education infrastructure.
"Another review isn't going to solve the problem of the hike in interest rates which this Government has done and the tripling of tuition fees.
"Most students have said that the removal of maintenance grants is one of the biggest barriers to them at the moment and the Government has said nothing on that."
Responding to the suggestion that fees could vary according to the kind of courses she said: "We are told that we need sciences and maths and therefore to make those degrees more expensive flies in the face of what our economy is going to need in the future."
More about:
education
Damian Hinds
Justine Greening
Theresa May
Angela Rayner
Reuse contentSource:
Google News