Hawaii missile alert: How events unfolded after citizens warned of imminent strike


For nearly 40 minutes, it seemed like the world was about to end on the islands of Hawaii, already jittery at the threat of nuclear-tipped missiles from North Korea.
Panic spread through the islands as terrified residents rushed to find shelter from a ballistic missile, which never was, allegedly heading towards the archipelago.
Reports tell of islanders making desperate attempts to try and contact loves ones and families trying to reassure crying children as many believed they were spending their last moments alive.
But there never was a ballistic missile and relief quickly turned to fury as Hawaiian were told the false alert had been triggered by an employee of the Hawaii Emergency Management who hit "the wrong button".
This is how events unfolded:
The false alert
At 8.07am local time on Saturday morning, Haw aiian residents received an all-caps message on their mobile phones, which read: "Ballistic missile threat inbound to Hawaii. Seek Immediate Shelter. This is not a drill."
Panic set in and people scrambled to take shelter wherever they could. One resident posted video footage of parents lifting children into storm drains.
Meredyth Gilmore, a school teacher who moved to Hawaii less than a week ago with her family from Virginia, told The Independent she had ran to a shelter to find that it was locked and eventually found refuge in part of a hotel.
Ms Gilmore, whose son is aged 17-months-old, described scenes of confusion with people running back and forth, trying to find out whether the warning was genuine.
"People were not screaming. Mums were trying to stay calm. The most heartbreaking thing was seeing these little kids with tears running down their faces. Parents were just trying to hold it together for their kids," she said.
Many people took to social media as they were waiting in fear for any piece of information and stories emerged of people trying to contact their loved ones, rushing to shelter and trying to protect their children.
Video recorded from the University of Hawaii showed crowds of people running in panic after the warning was sent out.
But 38 minutes later, people received a second mobile alert telling them there was no missile.
World news in pictures
World news in pictures
1/45 12 January 2018

Angela Merkel speaks during a joint press conference after exploratory talks in Berlin. According to reports, the leaders of CDU, CSU and SPD parties after night-long talks agreed on a plan for formal coalition negotiations.

2/45 11 January 2018

A Pakistani girl holds a picture of Zainab Ansari, an 8-year-old girl who was raped and kidnapped in Kasur, during a protest in Karachi, Pakistan. Anees Ansari, Zainab's father, accused the police of being slow to respond when his daughter went missing in the eastern Punjab province. Two people were killed and three others were wounded in clashes between angry Kasur residents and police after protesters enraged over her death attacked a police station in the city.

3/45 10 January 2018

India's Border Security Force (BSF) 'Daredevils' women motorcycle riders perform during a rehearsal for the Republic Day parade on a cold winter morning in New Delhi

4/45 9 January 2018

Members of the South Korea delegation (R) shake hands with members of the North Korean delegation (L) during their meeting at the border truce village of Panmunjom in the Demilitarized Zone dividing the two Koreas. North and South Korea began their first official talks in more than two years, focusing on the forthcoming Winter Olympics after months of tensions over Pyongyang's nuclear weapons programme.

5/45 8 January 2018

Migrants in a dinghy are rescued by Libyan coast guards off the coast of Garabulli, east of Tripoli

6/45 7 January 2018

French President Emmanuel Macron observes a minute of silence in front of the plaque commemorating late police officer Ahmed Merabet to mark the third anniversary of the Charlie Hebdo terrorist attack, in Paris

7/45 6 January 2018

Nicolaos Solis from Greece kisses the wooden cross which was thrown into the waters by Ecumenical Patriarch Bartholomew I, during the Epiphany ceremony to bless the waters at the Golden Horn in Istanbul

8/45 5 January 2018

Women mourn the death of a family member following a landslide in Kinshasa. Thirty-seven people died overnight when torrential rain and mudslides swept though shanty homes.

9/45 4 January 2018

Mourners carry the body of Palestinian Mosab al-Tamimi, 17, who was shot and killed by Israeli troops, during his funeral near the West Bank city of Ramallah

10/45 3 January 2018

People take part in pro-government rallies, Iran

11/45 2 January 2018

Indonesian bus passengers watch as Mount Sinabung spews thick smoke in Karo, North Sumatra

12/45 1 January 2018

People take part in the traditional New Year's Day swim in Scheveningen, Netherlands

13/45 31 December 2017

Fireworks explode over Sydney Harbour during New Year's Eve celebrations

14/45 30 December 2017

An Indian muslim lifts a stool with a metal rod pierced through his cheeks to commemorate the anniversary of the death of Rafai Papa Miyan Sai at the Shah-E-Alam Dargah shrine in Ahmedabad

15/45 29 December 2017

A New York apartment fire killed at least 12 people, including a baby, with four more critically injured. Mayor Bill de Blasio said at a press conference from the scene that 'it is the worst fire tragedy we have seen in this city in at least a quarter century.'

16/45 28 December 2017

Afghan women mourn inside a hospital compound after a suicide attack in Kabul, Afghanistan

17/45 27 December 2017

Pope Francis greets newlyweds during his weekly general audience at Aula Paolo VI in The Vatican

18/45 26 December 2017

Rohingya refugees walk next to a pond in the early morning at the Balukhali refugee camp near Cox's Bazar, Bangladesh

19/45 25 December 2017

Members of ice swimming club "Berliner Seehunde" (Berlin Seals) take a dip in the Orankesee lake in Berlin as part of their traditional Christmas ice swimming session, in Berlin, Germany

20/45 24 December 2017

Mourners carry the body of 19-year-old Mohamed Sami al-Dahdouh, a Palestinian youth from Jabalia who was killed in clashes with Israeli forces east of Gaza City

21/45 23 December 2017

Policemen evacuate a baby after the Cagayan River swelled caused by heavy rains brought by Tropical Storm Tembin. People have died and others are missing as the storm struck the southern Philippines unleashing floods and landslides across a region of 20 million people.

22/45 22 December 2017

Carles Puigdemont gives a thumbs up after the Catalonia Regional Election results

23/45 21 December 2017

A white SUV sits in the middle of the road as police and emergency personnel work at the scene of where it ran over pedestrians in Flinders Street in Melbourne.

24/45 20 December 2017

This combination of pictures shows Syrians covering one eye with their hands, in the rebel-held town of Douma, as part of a campaign in solidarity with a baby boy, Karim Abdallah, who lost an eye, as well as his mother, in government shelling on the nearb y town of Hammouria.

25/45 19 December 2017

South Korean and U.S. Marines take part in a winter military drill in Pyeongchang, South Korea

26/45 18 December 2017

Belgian police officers stand guard outside the trial of Salah Abdeslam, one of the suspects in the 2015 Islamic State attacks in Paris, at a courthouse in Brussels, Belgium

27/45 17 December 2017

Members of the International Space Station expedition 54/55, Roscosmos cosmonaut Anton Shkaplerov (C), NASA astronaut Scott Tingle (R) and Norishige Kanai (L) of the Japan Aerospace Exploration Agency (JAXA) during the send-off ceremony after checking their space suits before the launch of the Soyuz MS-07 spacecraft at the Baikonur cosmodrome, in Kazakhstan

28/45 16 December 2017

The former wife of the late South African President Nelson Mandela, Winnie Mandela (R), and the candidate for the African National Congress presidency and ex-wife of the incumbent South African president, Nkosazana Dlamini-Zuma greet each other as they attend the 54th ANC National Conference at the NASREC Expo Centre in Johannesburg on December 16, 2017. Thousands of delegates from South Africa's ANC party gathered on December 16, 2017 for a five-day meeting to elect their new leader in a divisive race se en as a pivotal moment in the country's post-apartheid history. he winner will be well placed to be the next president, but the ANC has lost much popularity since Nelson Mandela led it to power in the euphoric 1994 election that marked the end of white-minority rule.

29/45 15 December 2017

Palestinian protesters wave the national flag during clashes with Israeli security forces near the border fence with Israel, east of Gaza City as demonstrations continue over US President Donald Trump's declaration of Jerusalem as Israel's capital

30/45 14 December 2017

Hamas supporters take part in a rally marking the 30 th anniversary of the founding of the Islamist movement, in Gaza City

31/45 13 December 2017

Democratic candidate for US Senate Doug Jones thanks supporters as he holds his wife Louise's hand

32/45 12 December 2017

Ultra-Orthodox Jewish men gather during the funeral ceremony of prominent spiritual leader Rabbi Aharon Yehuda Leib Shteinman, who died on Tuesday at the age of 104, in Bnei Brak near Tel Aviv, Israel.

33/45 11 December 2017

A Palestinian protester kicks a flaming tire during clashes with Israeli forces in the West Bank city of Ramallah

34/45 10 December 2017

Demonstrators set US and Israeli flags on fire during a protest against Donald Trump's recognition of Jerusalem as Israel's capital, in Istanbul

35/45 9 December 2017

People gather to watch the bikers' procession during the funeral ceremony in tribute to late French singer Johnny Hallyday in Paris

36/45 8 December 2017

A Palestinian protester uses a sling to hurl stones towards Israeli troops

37/45 7 December 2017

Firefighters monitor a section of the Thomas Fire along the 101 freeway, north of Ventura, California.

38/45 6 December 2017

Palestinians burn an Israeli and a U.S. flag during a protest against the U.S. intention to move its embassy to Jerusalem and to recognize the city of Jerusalem as the capital of Israel, in Gaza City

39/45 5 December 2017

Former Georgian President, Mikheil Saakashvili, flashes a victory sign after he was freed by his supporters in Kiev

40/45 4 December 2017

A man exercises in a park on a winter morning in Kolkata, India

41/45 3 December 2017

A supporter of Salvador Nasralla, presidential candidate for the Opposition Alliance Against the Dictatorship, puts a balloon on the shield of a soldier in a protest while the country is still mired in chaos over a contested presidential election in Tegucigalpa, Honduras

42/4 5 2 December 2017

A man dressed as Santa Claus skiis down a mountain during the Saint Nicholas Day at the Alpine ski resort of Verbier, Switzerland

43/45 1 December 2017

A nurse takes blood for a HIV test for French President Emmanuel Macron as he visits the Delafontaine Hospital on World Aids Day

44/45 30 November 2017

An activist pours gasoline as an effigy of President Rodrigo Duterte and U.S. President Donald Trump burns during a protest action against Duterte's plan to set up a Revolutionary Government, along a street in metro Ma nila, Philippines

45/45 29 November 2017

South Korea's Hyunmoo II missile is fired during an exercise at an undefined location in the east coast of South Korea
What happened?
Shortly after 8am local time, a usual shift change took place at the Emergency Management Agency (EMA), authorities said.
At the start of each shift, the team carries out a routine internal test that involves the Emergency Alert System and the Wireless Emergency Alert.
Administrator Vern Miyagi later told a press conference that one of the employees had pushed "the wrong button" effectively sending a real alert for a ballistic missile, rather than initiating the intended internal test.< /p>
The alert was sent to people's mobile phones as well as television and radio channels.
Within minutes, the US Pacific Command was able to verify that there was no missile launch and the EMA cancelled the alert to those mobile phones who had not yet received the message.
Hawaii EMA's sent out a message on its Twitter and Facebook channels about 10 minutes after the initial alert saying "NO missile threat to Hawaii". But the message didn't reach Hawaiians who are not on social media platforms and many were still waiting in shelters for information.
Hawaii Governor David Ige retweeted the message to spread the word but many people remained in the dark as to what was happening.
After 38 minutes of panic, the EMA received authorisation to send out a second alert to people's mobile phones saying the incident was "a false alarm" and confirming "there is no missile threat to Hawaii".
Apologies and what happens next?
Hawaiian officials have repeatedly apologised for "the human error" which caused widespread chaos.
Emergency Management Agency Administrator Vern Miyagi took responsibility for the incident and said "we made a mistake".
The White House said president Donald Trump was briefed on the false alert at his private club in Florida. White House spokeswoman Lindsay Walters said it "was purely a state exercise." Trump is yet to issue a public response to the incident.
House Speaker Scott Saiki said the system Hawaii residents have been told to rely on failed miserably and denounced the half-hour period it took for EMA officials to issue a correction.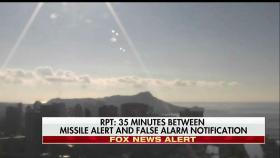 Islanders tell of efforts to contact loved ones after missi le alert
"Clearly, government agencies are not prepared and lack the capacity to deal with emergency situations," he said in a statement.
Governor Ige also said he was "sorry for the pain and confusion" the false alarm caused. In a statement, he said: "I know first-hand how today's false alarm affected all of us here in Hawaii, and I am sorry for the pain and confusion it caused. I, too, am extremely upset about this and am doing everything I can do to immediately improve our emergency management systems, procedures and staffing."
The EMA has now suspended all future drills until a full analysis of the events is completed. A formal preliminary report of findings and corrective actions is due to be issued next week.
The Federal Communications Commission chairman Ajit Pai said on social media that the commission would launch a full investigation into the incident.
FCC Commissioner Jessica Rosenworcel added the commission had to find out what went wrong. Writing on Twitter, she said: "Emergency alerts are meant to keep us and our families safe, not to create false panic. We must investigate and we must do better."
More about:
Hawaii
ballistic missile
false alarm
Reuse contentSource:
Google News