Hawaii ballistic missile threat alert was false alarm, officials say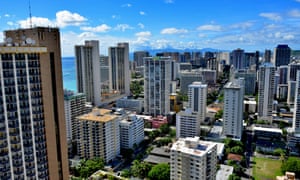 Hawaii Hawaii ballistic missile threat alert was false alarm, officials say
Alert causes panic by saying residents should seek shelter
State emergency management spokesman says cause of error unclear
Hawaii emergency officials said on Saturday an alert about an incoming ballistic missile threat was a false alarm.
Trump asked why 'pretty Korean lady' analyst wasn 't in North Korea negotiations Read more
The alert stated there was a threat "inbound to Hawaii" and said residents should seek shelter. "This is not a drill," it added.
The alert caused a panic when it went to people's cellphones on Saturday morning. Shortly afterwards, authorities said it was a mistake.
Hawaii Emergency Management Agency spokesman Richard Rapoza said it was not clear what caused the alert to go out and the agency was investigating.
Tensions between the Trump administration and nuclear-armed North Korea have increased over the past year, over fears that the regime in Pyongyang may be able to reach the US mainland with a nuclear-armed missile.
Hawaiian authorities have been preparing and testing early warning systems.
The alert on Saturday caused consternation on the island and across social media. Jamie Malapit, owner of a Honolulu hair salon, texted his clients that he was cancelling their appointmen ts and closing his shop for the day.
He said he was still in bed when the phone started going off "like crazy". He thought it was a tsunami warning at first.
"I woke up and saw missile warning and thought no way. I thought 'No, this is not happening today,"' Malapit said. He was still "a little freaked out" and feeling paranoid even after hearing it was a false alarm.
"I went from panic to semi panic and 'Are we sure?"' he said.
The US representative Tulsi Gabbard tweeted that the alert was an error, writing: "HAWAII â€" THIS IS A FALSE ALARM. THERE IS NO INCOMING MISSILE TO HAWAII. I HAVE CONFIRMED WITH OFFICIALS THERE IS NO INCOMING MISSILE."

Topics
Share on Facebook
Share on Twitter
Share via Email
Share on LinkedIn
Share on Pinterest
Share on Google+
Share on WhatsApp
Share on Messenger
Source:
Google News