UK has 48 hours to agree potential deal or Brexit talks cannot progress Michel Barnier, the EU's chief Brexit negotiator, said...
UK has 48 hours to agree potential deal or Brexit talks cannot progress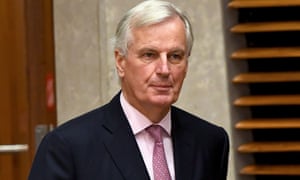 Brexit UK has 48 hours to agree potential deal or Brexit talks cannot progress
Michel Barnier, EU's chief Brexit negotiator, tells member states that British government needs to agree deal over Irish border by Friday to move talks on
Michel Barnier, the EU's chief Brexit negotiator, has told member states that the British gover nment has just 48 hours to agree a text on a potential deal or it will be told that negotiations will not move on to the next stage.
Barnier informed EU ambassadors that Downing Street had told him that a potential solution was being worked out that could possibly satisfy both Northern Ireland's Democratic Unionist party and the Republic of Ireland, but that it had yet to be signed off by any of those involved.
Another meeting of diplomats of the 27 member states has been pencilled in for Friday evening, should the UK find an agreement with the DUP on a solution to avoiding a hard border on the island of Ireland.
If the UK fails to agree a joint position with the European commission by Friday, the member states informed Barnier that they would not have time to take it back to their capitals for scrutiny ahead of next week's critical European council meeting.
Chancellor says UK will pay Brexit bill even if it fails to get free trade deal Read mo re
In that scenario, the leaders would once again rule that insufficient progress had been made on the opening issues of citizens' rights, the financial settlement and the Irish border for talks on trade and a transition period to start.
A failure to move talks on in December would mean that the terms of a transition period could potentially only be discussed after the next European council summit of leaders in March, by which key businesses in the UK will have had to make decisions over their location and investments in the country.
It is possible that the leaders would call an emergency summit in January or February to agree to move talks on and discuss the terms of a transition period. But the longer it takes the British government to offer certainty over trading terms after March 2019, firms will make decisions that will cost the British economy.
Barnier's comments came as Theresa May's hopes of getting a Brexit deal this year were put in furth er jeapordy after she failed to reach an agreement with DUP leader Arlene Foster â€" whose party is supporting May's minority government â€" over a solution to the Irish border problem.

The prime minister finally managed to secure a phone call with Foster after trying to reach her for 24 hours, but their conversation ended with the conclusion that there was "more work to be done".

Conservative and DUP officials continued to thrash out their differences on the issues late into Wednesday evening but multiple sources close to the talks sounded downbeat about the prospect of a quick consensus.
DUP sources in Belfast were the most negative, suggesting talks could "creep into January", but Whitehall officials were also ve ry cautious about predicting any breakthrough soon.
That position was echoed by Leo Varadkar, the Irish prime minister, who told parliamentarians: "We want to move to phase two but if it is not possible to move... next week because of the problems that have arisen, well then we can pick it up of course in the new year."
An end to the stalemate on the Irish border issue could come at any time if the DUP or Ireland make concessions on the wording of the proposals, which set out plans for some "regulatory alignment" between Dublin and Northern Ireland after leaving the EU.
MEPs say UK has conceded on Ireland border in Brexit talks Read more
But the DUP are currently still not satisfied that No 10 is offering enough in the way of guarantees that Northern Ireland will be treated in exactly the same way as the rest of the UK after Brexit.
In a further headache for May, senior leave-supporting Tories, including the foreign secretary, Bori s Johnson, are unhappy about the idea of the whole of the UK signing up to any "regulatory alignment" with the rest of the EU, as they believe it would defeat the point of Brexit.
Senior leave-supporting MPs, including Bernard Jenkin, warned in the House of Commons that it would be impossible to strike trade deals with other nations if the UK "remains shackled to EU regulation after we've left the EU".
However, those calling for May to walk away from the negotiating table rather than sign up to some EU regulations were criticised by 19 Tory MPs fighting for a soft Brexit.
In a letter to the prime minister, the MPs, including former cabinet ministers Nicky Morgan, Ken Clarke and Stephen Crabb, said: "We are disappointed that, yet again, some MPs and others seek to impose their own conditions on these negotiations. In particular it is highly irresponsible to seek to dictate terms which could lead to the UK walking away from these negotiations."
< p>DUP sources said they did not expect a solution this week to the question of the border and suggested the creation of a "working group" that would deal with all the issues related to what is going to be the EU's only land frontier with the UK. DUP senior figures would be part of this working group, the sources said.
A Downing Street source said: "We're working towards the European Council: that is our goal." But privately senior officials admitted that "we need the agreement of other people" to hit the commission's deadline.
Another source close to the talks said it was difficult to predict when a breakthrough would come but added: "I think it's ambitious to meet the Brussels schedule."
Additional reporting by Heather Stewart and Henry McDonald
Topics
Michel Barnier
Theresa May
Leo Varadkar
Arlene Foster
Democratic Unionist part y (DUP)
news
Share on Facebook
Share on Twitter
Share via Email
Share on LinkedIn
Share on Pinterest
Share on Google+
Share on WhatsApp
Share on Messenger
Source:
Google News