Stepfather pleads guilty over boy's water park drowning

Stepfather pleads guilty over boy's water park drowning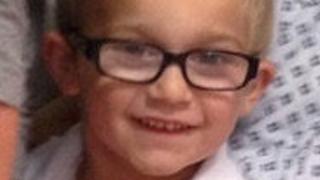 The stepfather of a five-year-old boy who drowned in a pool at a water park has pleaded guilty to manslaughter by gross negligence.
Charlie Dunn, who could not swim, was pulled from the water at Bosworth Water Park in Leicestershire on 23 July 2016.
Paul Smith, 36, had denied letting the boy wander off alone for more than two hours but changed his plea during the trial at Birmingham Crown Court.
Charlie's mother, Lynsey Dunn, 28, has had the same charge dropped.
Updates on this story and more from the East Midlands
She did admit a charge of neglect in connection with Charlie after an incident between July 2014 and July 2016, in which she failed to supervise him near a busy road.
Dunn also pleaded guilty to a second charge of neglect in relation to another youngster, who cannot be named, after an incident in the summer of 2015.
It can also now be reported that prior to the trial Smith admitted witness intimidation in connection with another incident relating to Charlie.
Both defendants, of Glascote Heath, Tamworth, Staffordshire, will be sentenced on 20 December.
Charlie was found submerged in a 1.4m-deep lagoon at the busy attraction, in Market Bosworth, and pulled from the water by other children.
A paramedic carried out CPR, before he was taken to hospital where he was pronounced dead.
'Exposed to danger'
The court had previously heard he had been allowed to play unsupervised in the park.
Opening the Crown's case on 30 November, prosecutor Mary Prior QC said: "This case is not about parents turning the ir back for a minute whilst a tragedy occurs.
"We don't prosecute parents for unavoidable tragedies nor do we expect perfection in parenting.
"This is a gross failure to supervise not for seconds, and not for a few minutes, but for protracted periods of time in circumstances where the child was exposed to danger."
Acting Det Insp Nikki McLatchie, of Leicestershire Police, who worked on the case, said there were about a thousand people at the park on the day Charlie drowned.
"Witness testimony showed that Charlie was left alone on numerous occasions, despite him not being able to swim," she said.
"Smith was looking after Charlie at the park, and his failure as a parent came with the most tragic consequences and ultimately lead to his death."
Source:
Google News