Sector-by-sector Brexit impact forecasts do not exist, says David Davis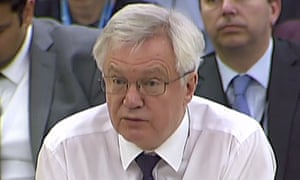 Brexit Sector-by-sector Brexit impact forecasts do not exist, says David Davis
Brexit secretary also tells MPs government did not carry out study of economic impact before decision to leave EU customs union
The UK government has produced no economic forecasts on the likely impact of Brexit on various sectors of the economy, the Brexit secretary, David Davis, has t old a committee of MPs who have attempted to examine the studies.
Answering questions from the Brexit select committee, Davis also said there had been no economic impact study undertaken before the cabinet decision to leave the EU customs union, and no assessment had been made of the possible economic effect of a no-deal Brexit.
David Davis: we haven't assessed impact of Brexit for different sections of economy - Politics live Read more
"There's no systematic impact assessment," Davis told the committee, which had summoned him to explain why it had not received more information from the studies following a House of Commons vote calling for their release.
Hilary Benn, the Labour MP who chairs the committee, asked Davis if the government had carried out any forecasts on the possible impact of Brexit on the automotive, aerospace, or financial services sectors.
Davis replied: "The answer's going to be no to all of them."
Asked by Benn whether there had been any economic assessment of the impact of leaving the customs union, he replied: "Not a formal, quantitative one".
Benn said Davis's admission was "quite extraordinary". Davis said it wasn't, arguing that there were a "phenomenal number of variables" to take into account.
The government has been under intense pressure to release its impact assessments on Brexit since a Labour motion demanding their publication was passed unanimously in October; Conservative MPs opted not to vote.
Two files of information were passed to the Brexit committee, but some members said they appeared incomplete and limited.
On the impact assessments, a sometimes incredulous-sounding Benn asked Davis how they could not exist when he had told MPs in September last year there were sectoral analyses for "about 50 cross-cutting sectors, [for] what is going to happen to them".
Benn said: "Now that sounds very clear to me that the government has been looking at the impact on individual sectors. And yet you've told us a moment ago you haven't done that yet. Which is it? Either it has happened or it hasn't."

Davis said: "Do not draw the conclusion that because you use the word impact you have written an impact assessment." The studies conducted, he said, were not a "quantitative economic forecast of outcome. That is not there. We haven't done that."
Davis argued that there was a misunderstanding over what the government had done. These were, he said, sectoral analyses, started in 2016, which were "essentially looking at what the industries consist of, looking at the size of them in terms of revenue and capital and employment and so on".

"That's all very useful and it's the underpinning of a lot of policy, but it's not a forecast of the outcome of leaving the European Union, or indeed various options thereof," Davis said.
The documen ts passed to the committee contained information compiled "as best we could", and left out information that could undermine the UK's negotiating position or commercial confidentiality and sensitivity.
Benn asked: "Just to be clear, has the government undertaken any impact assessments on the impact of leaving the EU for different sectors?"

"Not in sectors," Davis said, adding that the Treasury had produced a "pretty crude" forecast of overall possible economic impact of Brexit.
Benn pressed: "The answer to the question is no?"
"No," Davis replied, explaining that such models were "not as straightforward as people imagine" due to the many variables. The sector-by-sector studies were begun when it was thought the talks with the EU might go ahead on this basis, he added.
Impact assessments would begin "a little closer to the negotiating timetable", Davis told the committee. "We will at some stage â€" and some of this has been initiated â€" do the best we can to quantify the effect of different negotiating outcomes as we come up to them."
Asked later about what work the government had done to plan for the possibility of leaving the EU without a trade deal, Davis said this also did not include any impact assessment.
"The contingency planning will look at, for example, how in [a no-deal scenario] one facilitates customs traffic with minimum inconvenience if we don't have a customs arrangement; how one ensures we have bilateral aviation deals that are in place on the day that we leave so there's no hiccup there," he said.

"All of those things, they don't have numbers attached to them, they have actions and practical facts. This is why I keep on saying to you: don't conflate this with some sort of forecast."
Topics
David Davis
European Union
Foreign policy
Share on Facebook
Share on Twitter
Share via Email
Share on LinkedIn
Share on Pinterest
Share on Google+
Share on WhatsApp
Share on Messenger
Source:
Google News