Engineers work to repair Storm Caroline damage

Engineers work to repair Storm Caroline damage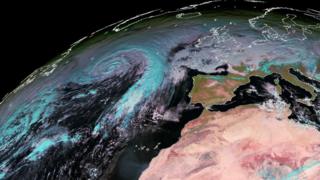 About 500 homes were left without power overnight after damaged wreaked by Storm Caroline.
The storm caused widespread travel disruption in northern Scotland with gusts in excess of 90 mph recorded.
Scottish and Southern Electricity Networks (SSEN) stood down repair teams for safety reasons overnight, leaving 500 homes still w ithout supplies.
Passengers had to spend a night aboard the Orkney ferry Hamnavoe after it was unable to berth in Stromness.
Snow and ice warning after Storm Caroline
The Northlink Serco vessel was escorted by a tug to Scapa Flow and it was expected to make another attempt to berth on Friday morning.
SSEN said it had restored electricty supplies to more than 14,000 customers on Thursday.
The main areas affected were the Western Isles, north-west Highlands, Caithness, Moray, north-east Aberdeenshire, Orkney and Shetland.
Director of customer operations Dale Cargill said: "I would like to thank all our customers who have experienced a power cut for their continued patience as our teams battle against the elements to restore power.
"We would also like to apologise to any customers who remain off supply and would like to reassure them that we are well prepared and resourced to carry our repairs to our net work and will resume efforts first thing tomorrow morning."
Scottish Water said its staff had to clear a water intake pipe at a treatment plant on Lewis which was blocked by debris, threatening supplies in the north of the island.
The Met Office has issued a yellow "plan ahead" warning for snow and ice for much of Scotland for Friday and Saturday.
Forecasters said it would remain windy and bitterly cold for the next few days.
Source:
Google News