Boris Johnson: 'I apologise to Nazanin Zaghari-Ratcliffe and her family' â€" video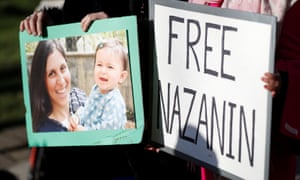 Nazanin Zaghari-Ratcliffe Boris Johnson visits Iran to push for release of Nazanin Zaghari-Ratcliffe
Exclusive: Foreign secretary's Tehran visit will also explore sanctions and the payment of compensation for non-delivery of Chieftain tanks
Boris Johnson will travel to Tehran this weekend in a bid to win the release of Nazanin Zaghari-Ratcliffe, as well a s settle a long-running £400m dispute that could help secure the British-Iranian mother's freedom.
Iran is claiming compensation for the non-delivery of Chieftain tanks first ordered by Tehran in the 1970s. The level of the compensation is largely settled, following a lengthy court case. Ahead of the foreign secretary's visit, the Foreign Officewas understood to be actively seeking creative advice on how to overcome the issue of sanctions in order to finally release the funds.
Britain can still help Nazanin Zaghari-Ratcliffe â€" if Boris Johnson does his job | Malcolm Rifkind Read more
Sources close to the negotiations pointed to the release of Washington Post reporter Jason Rezaian, who was freed by Iran when the US released $400m in funds frozen since 1981, as well as $1.3bn in interest, as part of a settlement of a longstanding Iranian case at the Iran-US claims tribunal.
It is not certain a solution will found by next week, but advice is being sought for a breakthrough which would not be in breach of sanctions still in place against the Iranian Revolutionary Guard Corps (IRGC).
The UK has made a payment into court, but unresolved issues over the method of payment, possibly using the Bank of England, and the lawfulness of payments to the Iranian ministry of defence remain obstacles. It is possible the Iranians are seeking interest on the money that should have been paid to them.
Johnson, making his first visit to Tehran as foreign secretary, will also seek to put Anglo-Iranian relations on a new footing, pointing to the UK's strong defence of the Iranian nuclear deal signed in 2015. It is understood there are no plans for Richard Ratcliffe, Zaghari-Ratcliffe's British husband, to join the delegation as he had requested in a meeting with Johnson last month.
The foreign secretary has played down expectations of an immediate breakthrough in the case. Progress may depend on the success of his co nversations over two days of talks with senior Iranian figures including the foreign minister, Javad Zarif.
The UK will be coming with ideas on how UK banks, with the help of the Bank of England, can operate across Iran with less fear of being subjected to mainly US-imposed sanctions and fines. Iran believes the nuclear deal has not led to the flourishing of trade or interconnection with the western banking system it had been promised.
Zaghari-Ratcliffe, said to be close to a mental breakdown, had been due to make an appearance in court on Sunday facing new charges relating to espionage that could see her five-year sentence extended by as much as 10 years. It is not clear if the hearing will still go ahead while the foreign secretary is still in Tehran. There have been suggestions it may be delayed.
In a sign that an immediate breakthrough is not imminent, Johnson said on Thursday that her case was "extremely difficult". Iran does not recognise dual-national status so the UK has a problem at the outset in lobbying on her behalf.
Hopes for her early release rose last week when it was revealed that an Iranian government health commissioner was to make checks on her mental health. It has been claimed she has been suffering panic attacks, insomnia, bouts of depression and suicidal thoughts.
Zaghari-Ratcliffe was arrested at Tehran airport two years ago with her daughter who has stayed in in the Iranian capital with her grandmother.
Johnson has insisted that the second set of charges laid against her are not related to his error last month in telling the foreign affairs select committee in Westmins ter that she had been in Iran to train journalists.
The possible coincidence of his visit and her reappearance in court had not been planned since details of his visit were agreed between the two sides before the court date was set. The additional evidence is believed to include a BBC pay stub and an email dating from 2010 that she had trained journalists in Iran.
After some delay, Johnson met Zaghari-Ratcliffe's husband last month and apologised if his remarks in parliament could have been construed by the Iranian judiciary as a sign that she had been in Tehran on anything other than a holiday.
Johnson claimed he had meant to say the worst offence of which she had been accused by the Iranian government was training journalists, not that he personally knew she had been offering this training.
The separation between the Iranian diplomatic service and the more politicised state courts makes the task of influencing the regime's thinking more complex.
Although Johnson said that what Iran was doing in the region was entirely separate to consular cases, the possibility of her release is inevitably interwoven with broader Anglo-Iranian relations.
Johnson has been a strong defender of the Iranian nuclear deal signed in 2015, personally travelling to Washington to urge US Republican congressmen not to follow Donald Trump's lead and abandon the deal. No independent body has found Iran in breach and the UK insists the deal is ringfenced from any wider criticism of Iran's ballistic missile programme or its wider behaviour in Syria, Yemen and Lebanon.
At a press conference on Thursday, Johnson said he would be raising with the Iranians "the supply of rockets to Hezbollah in Lebanon and helping the Houthis to launch missiles against Riyadh. This is causing fear. This is causing terror in parts of the middle east. This is disruptive and dangerous behaviour. That is the message I will be taking".
Iran will wa nt to hear British ideas to ease banking restrictions imposed largely due to US sanctions. The continued threat of US sanctions, or action by the US Treasury Office of Foreign Assets Control, has created a wariness by many large UK banks against funding substantial commercial deals in Iran. Smaller, and less US-orientated banks, in Germany have shown fewer inhibitions.
Most UK banks fear they will face swingeing fines by US federal authorities if it emerges they funded a commercial deal between firms and an Iranian entity banned under US sanctions, such as the IRGC.
Ownership laws in Tehran are opaque, and determining whether an IRGC firm has only a minority stake in a company is hard. There has been discussion of whether the Bank of England could indemnify some deals, but the risk to the UK taxpayer, and the level of commitment to the Bank may prove too large.
The impasse has even left the Iranian embassy in the London unable to set up a bank account in this co untry and the five major Iranian banks in the UK struggle to operate.
Iran will also want to know if Johnson supports US calls for an extension to limits on Iran's uranium enrichment that are due to expire in 2025 and 2030.
Topics
Nazanin Zaghari-Ratcliffe
Iran
Middle East and North Africa
Foreign policy
Boris Johnson
news
Share on Facebook
Share on Twitter
Share via Email
Share on LinkedIn
Share on Pinterest
Share on Google+
Share on WhatsApp
Share on Messenger
Source:
Google News