August Ames dead: 23-year-old adult entertainment actor's body found after homophobia row


An adult film star who starred in almost 290 movies has died at the age of 23.
August Ames, who was from Nova Scotia in Canada, reportedly died in Camarillo, California on Tuesday morning.
The exact cause of death currently remains unknown but police have said there is no indication of foul play.
The Ventura County Medical Examiner's Office confirmed Ames, whose real name is Mercedes Grabowski, had passed away but did not give a cause.
Close friends have said the actress was suffering from long-term depression and fear she could have taken her own life.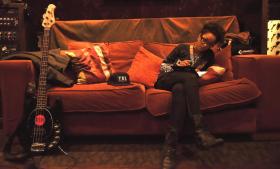 Conversations with porn stars: Life after leaving the industry
Her husband, Kevin Moore, express ed his sadness and asked for privacy.
He said: "She was the kindest person I ever knew and she meant the world to me. Please leave this as a private family matter in this difficult time."
Ames' death took place just days after she came under heavy criticism for saying she refused to work with men who have also appeared in gay pornography, someone she described as a "crossover" performer.
Ames was accused of homophobia on Twitter but sought to defend herself, saying she needed to have autonomy over her body.
"I don't have anything to apologise for! Apologising for taking extra steps to ensue that my body stays safe? F*** you guys attacking me when none of my intentions were malicious. I f**king love the gay community! What the f*** ever! I CHOOSE who I have inside my body. No hate," she tweeted.
She posted her last tweet the next day which simply read "f*** y'all."
Ames has amassed more than 270 film credits since 2013 and was a nominee for this year's female performer of the year for the forthcoming 2018 Adult Video News Awards in January.
World news in pictures
World news in pictures
1/40 6 December 2017

Palestinians burn an Israeli and a U.S. flag during a protest against the U.S. intention to move its embassy to Jerusalem and to recognize the city of Jerusalem as the capital of Israel, in Gaza City

2/40 5 December 2017

Former Georgian President, Mikheil Saakashvili, flashes a victory sign after he was freed by his suppor ters in Kiev

3/40 4 December 2017

A man exercises in a park on a winter morning in Kolkata, India

4/40 3 December 2017

A supporter of Salvador Nasralla, presidential candidate for the Opposition Alliance Against the Dictatorship, puts a balloon on the shield of a soldier in a protest while the country is still mired in chaos over a contested presidential election in Tegucigalpa, Honduras

5/40 2 December 2017

A man dressed as Santa Claus skii s down a mountain during the Saint Nicholas Day at the Alpine ski resort of Verbier, Switzerland

6/40 1 December 2017

A nurse takes blood for a HIV test for French President Emmanuel Macron as he visits the Delafontaine Hospital on World Aids Day

7/40 30 November 2017

An activist pours gasoline as an effigy of President Rodrigo Duterte and U.S. President Donald Trump burns during a protest action against Duterte's plan to set up a Revolutionary Government, along a street in metro Manila, Philippines

8/40 29 November 2017

South Korea's Hyunmoo II missile is fired during an exercise at an undefined location in the east coast of South Korea

9/40 28 November 2017

People fall as police fire tear gas to try control the crowd trying to force their way into Kasarani Stadium to attend the inauguration of President Uhuru Kenyatta in Nairobi

10/40 27 November 2017

Rohingya refugee Amina Khatun, 55, rests at the bank of the Naf river after crossing it on an improvised raft to reach Bangladesh, in Teknaf. Two of her sons were killed by gun fire when her village was attacked by Myanmar military, she says

11/40 26 November 2017

Mount Agung volcano is seen spewing smoke and ash in Bali

12/40 25 November 2017

A Pakistani protester throws a tear gas shell back towards police during a clash in Islamabad

13/40 24 November 2017

Zimbabwe's former vice president Emmerson Mnangagwa arrives ahead of his inauguration ceremony to be sworn in as president in Harare

14/40 23 November 2017

Comrades of missing crew members express their grief after the Argentine Navy announced that the sound detected in the missing submarine search is consistent with an explosion

15/40 22 November 2017

Former Bosnian Serb military chief Ratko Mladic shouts at the presiding judge during the verdict hearing in his genocide trial, in The Hague, Netherlands

16/40 21 November 2017

People and soldiers celebrate after the resignation of Zimbabwe's president, Robert Mugabe

17/40 20 November 2017

Israeli security forces carry away an Ultra-Orthodox Jewish demonstrator as they disperse a protest against Israeli army conscription in Bnei Brak, a city near Tel Aviv

18/40 19 November 2017

Participants crossing the Jiaozhou Bay Bridge as they compete in the 2017 Qingdao International Marathon on the Sea in Qingdao, in China's eastern Shandong province

19/40 18 November 2017

Women shout pro-freedom sloga ns as people carry the remains of Mugees Mir, a suspected militant who according to local media was killed in an encounter with the Indian security forces in Zakura, during his funeral in Srinagar

20/40 17 November 2017

Riot police use stones to disperse the convoy of Kenyan opposition leader Raila Odinga as they attempt to access the Uhuru Park grounds upon his return

21/40 16 November 2017

Donald Trump has awkward water bottle moment at the White House while talking about his latest overseas trip in Asia

22/40 15 November 2017

Military vehicles and soldiers patrol the streets in Harare, Zimbabwe

23/40 14 November 2017

An Iranian boy rides a bicycle through the rubble from damaged buildings in the town of Sarpol-e Zahab. A 7.3-magnitude earthquake left hundreds killed and thousands homeless two days before.

24/40 13 November 2017

Gianluigi Buffon reacts during Italy's World Cup qualification match against Sweden. He retired from international duty after the Azzurri failed to go through.

25/40 12 November 2017

Pepole hold placards demanding the return of Lebanese Prime Minister Saad Hariri from Saudi Arabia during the annual Beirut International Marathon

26/40 11 November 2017

Polish nationalists light flares as they take part in the March of Independence 2017 in Warsaw

27/40 10 November 2017

Protesters rally near the U.S. Embassy in Manila to protest this weekend's visit of President Donald Trump

28/40 9 November 2017

Shiite faithful pilgrims gather between the holy shrine of Imam Hussein and the holy shrine of Imam Abbas for Arbaeen

29/40 8 November 2017

A woman wearing a scarf to cover her face looks on as she waits for a passenger bus on a smoggy morning in New Delhi, India. Air pollution reached unprecedented levels in the city, prompting the government's Central Pollution Control Board to recommend emergency free public transport

30/40 7 November 2017

Russian solider stands in line at a military parade, tha t marks the anniversary of the 1941 parade, when Soviet soldiers marched towards the front lines of World War Two, at Red Square in Moscow, Russia

31/40 6 November 2017

A Houthi follower emerges from a gap in a flag as he attends a rally to show support to the Palestinians in Sanaa, Yemen

32/40 5 November 2017

Riot police run past an excavator, during a demonstration against open-cast brown coal mining of Garzweiler, northwest of Cologne, Germany

33/40 4 November 2017

Protesters at a climate demonstration prior to the UN Climate Change Conference COP23 in Bonn, Germany

34/40 3 November 2017

The first customer shows his new iPhone X after buying it at an Apple Store in Beijing, China

35/40 2 November 2017

South African opposition Party Economic Freedom Fighters (EFF) members dance during a demonstration to express their solidarity with the Palestinians in front of the Embassy of Israel in Pretoria. Today is the 100th anniversary of Britain's Balfour Declaration, which helped lead to Israel's creation and the Israel occupation of Palestine

36/40 1 November 2017

Near the parliament building in Athens, Greece, a girl holds a placard reading, "Where is my mother, where is my father?" Some refugees have announced a hunger strike, as they seek reunification with family members in Germany

37/40 31 October 2017

Authorities investigate the pickup truck and scene of a terror attack in downtown New York

38/40 30 October 2017

An officer carries a school girl away from continuing battles with police and protesters in Kenya

39/40 29 October 2017

A Rohingya woman washes clothes in a stream at Palong Khali refugee camp near Cox's Bazar, Bangladesh

40/40 28 October 2017

'Day of the Dead' parade, Mexico City
Fellow adult entertainers have expressed their sadness at the news of her death on social media.
Abella Danger said: "She was the most kind-hearted person ever."
Nikki Benz said: "Another beautiful soul taken too soon. RIP @AugustAmesxxx I'm still in disbelief."
Producer and director Jules Jordan said: "Rest In Peace to August Ames, one of the best, nicest people I ever knew in the business."
Brazzers, a porn production based in Montreal in Canada, also paid tribute to her and chose to postpone a previously planned Ames scene.
"In light of today's tragic news Brazzers has decided to postpone the release of tonight's scheduled August Ames scene," it said. "The scene will be posted at a more appropriate time, as we come to terms with this devastating loss. Thank you for your understanding."
For confidential support on mental health call the Samaritans on 116 123, email jo@samaritans.org or attend a local Samaritans branch
More about:
august ames
adult film industry
Reuse contentSource:
Google News