Sorry really is the hardest word for Boris Johnson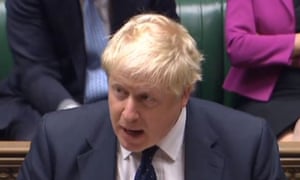 Boris Johnson The politics sketch Sorry really is the hardest word for Boris Johnson
John Crace
Challenged over imprisoned Briton Nazanin Zaghari-Ratcliffe, the foreign secretary took nearly half an hour to admit he had been wrong
It took a w hile, but Boris Johnson finally got around to saying sorry. Or as close to it as a narcissist can hope to get. "I apologise," the foreign secretary said as he was dragged to the house for the second time within a week to face an urgent question about his mishandling of the imprisonment of Nazanin Zaghari-Ratcliffe by the Iranian authorities.
Though what he was initially apologetic for was that his comments to the foreign affairs select committee could have given people the wrong impression. "My comments were unclear and should have been clearer," Boris bumbled. As he had specifically told the foreign affairs committee that Zaghari-Ratcliffe had been training journalists in Iran, it was hard to see how how anyone could have interpreted that as meaning she had been on holiday with her family. But Boris moves in mysterious ways.
The shadow foreign secretary, Emily Thornberry, wanted him to go a bit further than that and admit he had been wrong. W-R-O-N-G. Boris lo oked horrified by the idea. Has he ever readily admitted to anything? Even how many children he has? "I apologise for the impression I gave," he said, once again using the same unhelpful words he has been trotting out for the past 10 days.
Britain can still help Nazanin Zaghari-Ratcliffe â€" if Boris Johnson does his job | Malcolm Rifkind Read more
"He still sounds like he is wriggling," Labour's Yvette Cooper observed. Sometimes it pays to state the obvious. Could he clear things up once and for all by having another go at admitting he was wrong? Boris opened his mouth. This time he tried â€" he really tried â€" to say it. But nothing came out. He just couldn't do it. Old habits die hard and he was hot-wired to evade. He got as far as saying Zaghari-Ratcliffe had been on holiday before once again apologising for the anguish caused by the wrong impression he may or may not have given.
This therapy aimed at breaking the foreign secretary's s tate of denial went on for the best part of half an hour before Boris finally cracked. "It was wrong to say that," he muttered, his voice cracking as his eyes remained fixed at his shoes. He couldn't bring himself to say what he was wrong about.
It all felt too little and too late â€" he sounded far more upset that his carelessness and psychological fragility might cost him his job than Zaghari-Ratcliffe might get an extra five years banged up â€" but that was as much as anyone was going to get out of him for one day. The effort of just saying the words "I" and "wrong" in the same sentence had left him an emotional wreck.
David Davis also had a non-apology apology to make in his latest statement to the Commons following the latest round of failed Brexit talks. After mumbling his way though the new dynamic of non-dynamic progress over the "few outstanding issues", AKA nearly everything â€" Dopey David appeared to want to get through the whole session b y talking without moving his lips â€" the Brexit secretary just happened to mention in passing that the government would be introducing new primary legislation to allow parliament a meaningful vote on the final deal.
It was no biggie, he shrugged. And it certainly had nothing to do with the fact the government faced losing crucial amendments at the committee stage of the EU withdrawal bill later in the week. Take it more as a sign of his largesse. His munificence. That he was a caring, sharing, listening kinda guy.
As Davis is also the kinda man who is more than capable of confusing even himself with one of his statements. Several MPs wanted clarity on just how meaningful a meaningful vote would be. Dopey David started to get a bit narked. Why were people so unwilling to take him at his word. He had said there would be a meaningful vote and there would be a meaningful vote. End of.
At this point, several Brexiteers started having palpitations. But we would still be leaving the EU on 29 March 2019 regardless, they enquired breathlessly. "Oh yes," said Dopey David. While it was the government's principal aim to allow parliament to have a meaningful vote on the final deal, it would at worst be a "take it or leave it" vote and at best take place long after we had left the EU.
So there was nothing for the Eurosceptics to worry about. Once he had failed to reach an agreement â€" an inevitability given that Davis doesn't even know what he can agree to himself â€" we could crash out of the EU with no deal just as they hoped. Sure parliament could have a nice chat about the wreckage afterwards, but in all probability the only meaningful vote it would be getting was a non-meaningful one.
John Crace's new book, I, Maybot, is published by Guardian Faber. To order a copy for £6.99, saving £3, go to guardianbookshop.com or call 0330 333 6846. Free UK p&p over £10, online orders only. Phone orders min. p&p of £1.99.
Topics
Boris Johnson
The politics sketch
David Davis
Brexit
European Union
Foreign policy
Europe
comment
Share on Facebook
Share on Twitter
Share via Email
Share on LinkedIn
Share on Pinterest
Share on Google+
Share on WhatsApp
Share on Messenger
Source:
Google News