Roy Moore: second woman says Senate nominee sexually assaulted her as a minor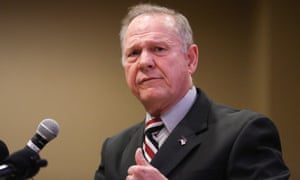 US politics Roy Moore: second woman says Senate nominee sexually assaulted her as a minor
Woman says Moore attacked her when she was 16, following report he had sexual contact with 14-year-old girl and prompting Republican backlash

A second woman has come forward to accuse Alabama GOP Sena te nominee Roy Moore of sexual misconduct when she was a minor, as national Republicans continued to flee from the controversial candidate.
Beverly Young Nelson, speaking Monday at a news conference in New York with women's rights attorney Gloria Allred, said Moore sexually assaulted her when she was 16.
Nelson said that Moore physically attacked her in a car, grabbing her breasts and trying to force her head down on to his crotch.
"I thought he was going to rape me," said Nelson, who at one point broke down in tears.
Roy Moore allegations: bipartisan politicians call Trump's response too weak Read more
Moore called the allegations a "witch hunt" in a statement shortly before the press conference.

Nelson's statement follows a Washington Post report that the 70-year-old Moore had sexual contact with a 14-year-old girl and pursued three other teenagers decades earlier.
Immediately after the press conferen ce, Cory Gardner, the chair of the National Republican Senate Committee, said that if elected on 12 December, Moore should be expelled from the Senate.
"I believe the individuals speaking out against Roy Moore spoke with courage and truth, proving he is unfit to serve in the United States Senate and he should not run for office. If he refuses to withdraw and wins, the Senate should vote to expel him, because he does not meet the ethical and moral requirements of the United States Senate."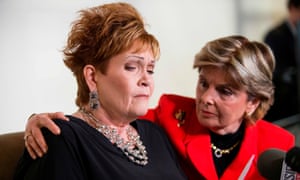 His statement followed remarks by Senate majority leader Mitch McConnell, who said earlier on Monday that Moore "should step aside" from the race and added of his accusers: "I believe the women."
In response, Moore said McConnell was "the person who should step aside".
Moore had no immediate comment about the most recent allegations. He has dismissed the Post story as "fake news" and denied the reports.
The Washington Post last week quoted four women by name, including one who alleged sexual contact with Moore at 14, and had two dozen other sources.
Moore has insisted he will stay in the race. Dean Young, a top adviser to the Alabama Republican, pledged on Monday to the Guardian: "He's going to run, he's going to win and he's going to be seated or there will be in trouble in this nation."
Young viewed the attempt to pressure Moore to step down as a "coup" and described the allegations as "two worlds colliding, elitist Republicans and the establishment which includes the Democrats and the fake news" versus "the good solid people of Alabama".
Young went on to deride those Republicans who have called for Moore to step down. "Nobody in Alabama cares what Lindsey Graham thinks, what Mitch McConnell thinks," he said. "No one in Alabama cares what Pat Toomey thinks or John McCain."
Moore has long called for McConnell to step down, for example telling a cheering crowd at an election eve rally in September: "Mitch McConnell needs to be replaced."
McConnell actively supported the appointed incumbent Luther Strange against Moore in the runoff to fill the Senate seat that was vacated by Jeff Sessions' confirmation as attorney general.
Moore is a hardline conservative who has the backing of former White House strategist and Breitbart News executive chairman Steve Bannon in his drive against candidates from the Republican establishment.
Moore told supporters on Sunday night in Huntsville, Alabama that neither Democrats nor Republicans want to see him win on 12 December . The Post story, he said, was "fake news" and "a desperate attempt to stop my political campaign".
Moore said the allegations were "untrue" and said the Post "will be sued", drawing applause. He also questioned why such allegations would be leveled for the first time so close to the special election, despite his decades in public life.
"Why would they come now? Because there are groups that don't want me in the United States Senate," he said, naming the Democratic party and the Republican establishment and accusing them of working together. He added: "We do not plan to let anybody deter us from this race."
Moore has tried to raise money from the controversy, writing in a fundraising pitch on Sunday that he was counting on supporters "to stand with me at this critical moment by chipping in a donation to help me bust through the vicious lies and attacks and get the truth out to as many voters as possible before 12 December".
O n Sunday another Republican senator, Pat Toomey of Pennsylvania, said Moore's explanations regarding the Post piece were inadequate and that Republicans should consider Strange as a write-in candidate.
Even if Moore were to step aside, his name would probably remain on the ballot. Any effort to add Strange would probably divide the Republican vote and give the Democratic candidate a greater chance of winning. On Monday morning, the realclearpolitics.com average gave Moore a two-point lead, putting the race in a deep red state into unlikely toss-up territory.
Republicans have also mooted that Sessions would run for his old seat and step down as attorney general. However, a source close to Sessions told the Guardian that "he has been telling folks in Alabama he isn't interested".

Toomey did not rule out the possibility that Senate Republicans might refuse to work with Moore if he wins against Democrat Doug Jones.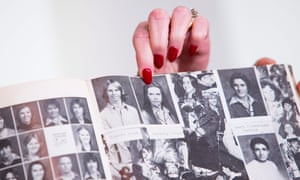 "You know, this is a terrible situation, nearly 40-year-old allegation, we'll probably never know for sure exactly what happened," Toomey said on NBC. "But from my point of view, I think the accusations have more credibility than the denial. I think it would be best if Roy would just step aside."
The White House, pointedly noting that Trump did not back Moore during the primary â€" after it deleted tweets in sup port of Strange and made favourable comments about Moore â€" said the president would probably weigh in when he returns from Asia later this week.
On Air Force One on Saturday Trump referred reporters to press secretary Sarah Huckabee Sanders' original statement on Moore, which said he should step aside if the allegations were proven to be true. The president also claimed he did not know about Moore's case because he did "not watch much television".
White House legislative aide Marc Short told NBC on Sunday: "I think there's a special place in hell for those who actually perpetrate these crimes. But, having said that, he hasn't been proved guilty. We have to afford him the chance to defend himself."

Republican panic builds as Roy Moore defiant over sexual abuse allegations Read more
Trump himself has been accused by least 16 women of sexual misconduct or assault. He has denied the allegations and Sanders said last month all t he women were lying.
Moore is an outspoken Christian conservative who has said "homosexual conduct should be illegal" and who claimed the 9/11 attacks were a case of divine retribution. He was removed from the Alabama supreme court in 2003, for refusing to remove a biblical monument from the state judicial building, and in 2016, for refusing to follow the US supreme court ruling that legalised same-sex marriage.
The Post reported last Thursday that he had sexual contact with a 14-year-old girl and pursued three other teenagers, decades earlier. While he called the allegations "completely false and misleading" in an interview with conservative radio host Sean Hannity, Moore did not wholly rule out dating teenage girls when he was in his early 30s.
Asked if that would have been usual for him, he said: "Not generally, no." He added that he did not "remember ever dating any girl without the permission of her mother".
Losing the Alabama electi on would imperil the slim Republican majority in the Senate, which is hoping to pass legislation to cut taxes later this year.
Topics
Alabama
US Senate
Donald Trump
news
Share on Facebook
Share on Twitter
Share via Email
Share on LinkedIn
Share on Pinterest
Share on Google+
Share on WhatsApp
Share on Messenger
Source:
Google News