David Davis's Brexit vote offer fails to win over Tory rebels Dominic Grieve said he would not remove his amendment to the E...
David Davis's Brexit vote offer fails to win over Tory rebels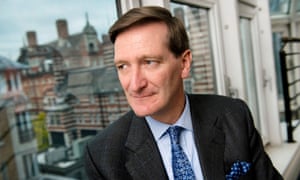 Brexit David Davis's Brexit vote offer fails to win over Tory rebels
Rebels make clear they will not back down after Brexit secretary's concession of a 'take it or leave it' vote on any exit deal
A key parliamentary battle over crucial Brexit legislation will recommence in parliament, as Conservative MPs suggested a concession by David Davis to give MPs a "take it or leave it" vote on any exit deal would not be enough to stave off rebellion.
Speaking in the House of Commons on Monday, before eight days of debate over the EU withdrawal bill, the Brexit secretary pledged to introduce legislation to parliament that will allow MPs to vote on the final Brexit deal, either to accept or reject it and crash out with no deal in place.
Conservative rebels who met the chief whip, Julian Lewis, overnight are understood to have made clear they have no intention of backing down over the bill's most contentious points, including enshrining a meaningful vote in law.
Crunch votes on the most contentious point in the bill were not expected to take place this week, but debates were likely to see MPs signal which issues and amendments have the most potential to inflict defeat on the government.
Former attorney general Dominic Grieve suggested Davi s's verbal commitment on Monday would not be enough to persuade him to remove his amendment to the bill, which calls for a meaningful vote on the final deal.
His amendment will be voted on in the coming weeks as the existing EU withdrawal bill goes through its committee stage.
Others, including MP Antoinette Sandbach, said Davis's words were "not a concession" because they gave no indication of the timing of the vote and would not give MPs the opportunity to mandate the government to go back to the negotiating table. "It is meaningless because of the attempt to hardwire a hard Brexit," Sandbach said.
Nicky Morgan, the chair of the Treasury select committee, added that it was a concession "in name only".
MP Heidi Allen tweeted the concession was "pointless if we have enshrined a drop dead date in the Bill, & get a deal at 11th hour! There'd be no time! And also offers no safeguard if no deal is reached. Unacceptable."
MP Anna Soubry told the Guardian that she believed that the government was "preparing for a hard Brexit â€" no deal", adding that she would still back Grieve's amendment and was ready to rebel on the issue of the exit day.
On Tuesday, Brexit minister Robin Walker said the government was focused on securing a deal that MPs could support. "The UK will be exiting the EU at the end of March 2019. What we want to ensure is that we do so with a deal that works, with a strong trade agreement between the UK and the EU and an implementation period in place," he told BBC Radio 4's Today programme.
"What we announced this week is new legislation to ensure we can write that implementation period into UK law, legislation that will need to be approved by parliament."
MPs are also concerned about the government's proposal to change the bill to state that the UK's membership of the EU formally ends at 11pm GMT on 29 March 2019.
Walker said the deadline still gave the government enough time to complete negotiations. "All businesses are used to dealing with deadlines and in this case we have a deadline set by the article 50 process. It's a two-year period," he said.
"What we have done is to reflect that in the legislation because a number of MPs from different parties, from across the House of Commons were raising concerns that an exit date … wasn't specified. And so we 've responded to that and we've listened and engaged and put that out on the face of the bill."
In the Commons on Monday, Davis said his "principal policy aim" was for the EU deal to be ready by October 2018, giving time for MPs to scrutinise and debate it before 29 March 2019, but he would not guarantee that would be the case.
Jeremy Corbyn will say in a speech on Tuesday, when the EU withdrawal bill returns to the Commons, that it is an undemocratic government power grab.
The Labour leader will say: "Nearly 17 months since Britain voted to leave the EU, we are still none the wiser as to what our future relationship with our biggest trading partners is going to look like.
"The government can't give a lead because the cabinet is split down the middle. Ministers spend more time negotiating with each other than with the EU. That gives the whip hand to grandstanding EU politicians."
The SNP's foreign affairs spokesperson, Stephen Gethins, said his party had put forward an amendment to the bill that would prevent a "no deal" scenario so that the UK could remain in the EU if negotiations fail.
"We know there is concern across all parties about this Brexit bill, and the government knows it will have to compromise," he said. "I call on all parties to back this SNP reset amendment to ensure we have a safety net should negotiations fail."
Topics
Article 50
European Union
Europe
Foreign policy
David Davis
news
Share on Facebook
Share on Twitter
Share via Email
Share on LinkedIn
Share on Pinterest
Share on Google+
Share on WhatsApp
Share on Messenger
Source:
Google News