British forces no longer fit for purpose, former UK service chiefs warn Cuts to the defence budget have raised doubts about the ...
British forces no longer fit for purpose, former UK service chiefs warn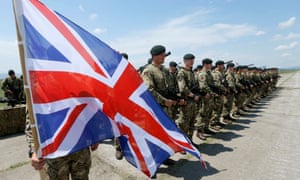 Defence policy British forces no longer fit for purpose, former UK service chiefs warn
Armed forces near breaking point with navy underfunded and air force at edge of capacity, Commons committee told
Former UK service chiefs have launched a devastating critique of the state of British forces, saying they were no longer fit for purpose and that the army was 20 years out of date.
Gen Sir Richard Barrons, who retired last yea r as commander of joint forces command, said the armed forces were close to breaking point, with the navy underfunded and the air force at the edge of its engineering capacity.
Barrons, speaking alongside counterparts from the navy and air force, was giving evidence to a House of Commons defence committee investigation into the latest defence review, which is scheduled to announce its findings next month and which will almost certainly mean more cuts.

Although the defence budget is £38bn a year and the Treasury has promised above-inflation annual rises, the Ministry of Defence has been hit hard by a sharp rise in the cost of US planes and other equipment. The army has already fallen in size and the navy has many fewer surface ships.
The review presents an early headache for the new defence secretary, Gavin Williamson.

Proposals being floated for further cuts include ending the ability to mount amphibious landings and reducing the number of marines.
Barrons described a cut in the marines as "madness", a view echoed by Adm Sir George Zambellas, former first sea lord, who also retired in 2016.
Zambellas said that while the marines, which he described as a "Premier League fighting force", made up only a small proportion of the total number of troops they contributed up to half of the special forces.
He said the services had been under-resourced for years and the choice being offered to service chiefs amounted to whether to cut o ff a right arm or a left one.
Also giving evidence was Air Marshall Sir Barry North.
Service chiefs traditionally complain that budgets are never high enough but the warnings at the defence committee come against a backdrop of cuts that raise doubts about the UK's ability to fight a major conventional war. The problem is exacerbated by spending on the renewal of the Trident nuclear submarine fleet and two aircraft carriers.
Barrons, the most outspoken of the three, said the government faced hard choices but the security environment had changed, with threats posed by Russia, North Korea and groups such as Islamic State.

"So the first discussion should be in government: 'How much risk are we running in the world and what do we need to do to fix it?' We don't seem to want to have that discussion.
"So you end up with risk of a ridiculous, zero-sum discussion both within the service â€" the nonsense of culling marines to buy more sail ors â€" and between the services, which is why you end up generally with a current navy structurally underfunded, air force that is holding together with a bunch of very good equipment but at the edge of their engineering and support capacity, and an army that, broadly speaking, is 20 years out of date."
He cited the example of a Ukrainian force destroyed in two hours by drones and Russian artillery and suggested a British force, too, would struggle to put up a reasonable fight in a similar setting.
Barrons estimated there was a £2bn gap between the defence budget and the programme the forces were being asked to carry out.
Topics
Ministry of Defence
Royal Navy
British army
Royal Air Force
Military
news
Share on Facebook
Share on Twitter
Share via Email
Share on LinkedIn
Share on Pinterest
Share on Google+
Share on WhatsApp
Share on Messenger
Source:
Google News