Theresa May sets out Brexit options including 'no deal'

Theresa May sets out Brexit options including 'no deal'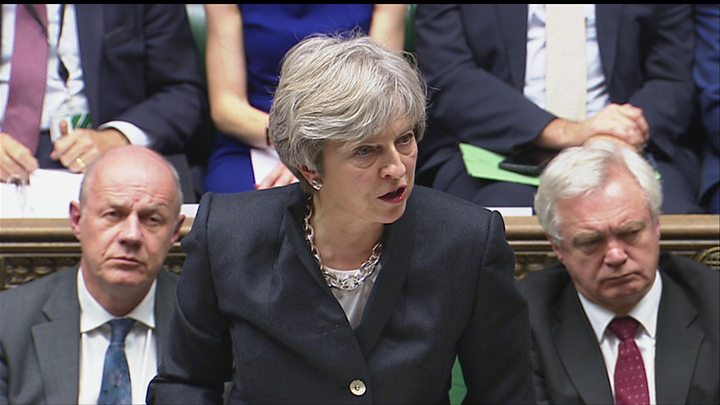 The UK has set out how it could operate as an "independent trading nation" after Brexit, even if no trade deal is reached with Brussels.
Prime Minister Theresa May told MPs "real and tangible progress" had been made in Brexit talks.
But the country must be prepared for "every eventuality," as the government published papers on future trade and customs arrangements.
Labour said "no real progress has been made" since last June's referendum.
"The question has to be asked - what on earth has the government been doing all this time?," said Labour leader Jeremy Corbyn, suggesting the cabinet had spent the time "squabbling amongst themselves".
'No deal' Brexit planning 'is under way'
What are the Brexit options?
MEPs urge Brexit trade talks delay
In her first address to parliament since last month's speech in Italy, in which she said the UK would honour its financial obligations to the EU budget, Mrs May described the government's ambition for a "new, deep and special partnership between a sovereign United Kingdom and a strong and successful European Union".
"Achieving that partnership will require leadership and flexibility, not just from us but from our friends, the 27 nations of the EU," she said.
"And as we look forward to the next stage, the ball is in their court. But I am optimistic we will receive a positive r esponse."
The White Papers cover different scenarios for the implementation of customs, VAT and tax regimes after Brexit including a "no deal" scenario.
In her statement, Mrs May rejected existing models for economic cooperation, such as membership of the European Economic Area or the Canadian model, calling instead for a "creative" solution that would be "unique" to the UK.
On Northern Ireland, she said: "We have now begun drafting joint principles on preserving the Common Travel Area, and associated rights and we have both stated explicitly we will not accept any physical infrastructure at the border.
"We owe it to the people of Northern Ireland and indeed to everyone on the island of Ireland to get this right."
Mrs May's statement comes as the fifth round of negotiations began in Brussels. It is the final set of talks before EU leaders meet on 19 October to decide if enough progress has been made to talk about post-Brexit relations with the UK, including trade.
After a difficult week for the prime minister following her chaotic Tory conference speech and renewed questions about her leadership, the BBC's assistant political editor Norman Smith said she was determined to seize the initiative and adopt a more assertive, bullish tone about Brexit.
The talks between UK negotiators and Brussels officials will be lower profile this week, with neither David Davis or his EU counterpart Michel Barnier attending the start.
European Commission president Jean-Claude Juncker has said it will take miracles for the necessary progress to have been met before the summit, whilst the European Parliament made its voice heard with a non-binding motion saying that more needed to be done.
A European Commission spokesman said there was a "clear sequencing" to how talks would unfold.
"This is not exactly a ball game," Margaritis Schinas sa id. "There has been so far no solution found on step one, which is the divorce proceedings, so the ball is entirely in the UK court for the rest to happen."
After her speech in the House of Commons, Mrs May will meet with leading industry figures to try and reassure them about the Brexit process.
Companies including Aston Martin, HSBC, Morgan Stanley and Vodafone will attend the meeting of the Business Advisory Council in Downing Street, alongside Chancellor Philip Hammond and Mr Davis.
Source:
Google News