Spanish PM asks Catalonia: have you declared independence or not?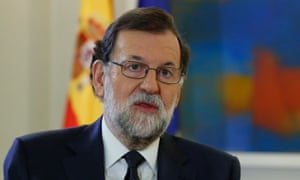 Catalonia Spanish PM asks Catalonia: have you declared independence or not?
Mariano Rajoy accuses Catalan president of deliberately sowing confusion as he considers suspending region's autonomy
The Spanish prime minister, Mariano Rajoy, has asked the Catalan government to clarify whether or not it has declared independence, as he considers the unprecedented step of suspending the region's autonomy and imposing direct rule from Madrid.

On Tuesday evening, the Catalan president, Carles Puigdemont said that, while the referendum earlier this month had given his government a mandate to create a sovereign republic, he would not immediately push ahead with independence from Spain.
Although he signed a declaration of independence, he proposed that its effects be suspended for a few weeks to allow for dialogue.
Rajoy, who has refused to rule out invoking article 155 of the Spanish constitution to take control of Catalonia, was quick to seize on the ambiguity of Puigdemont's position, accusing him of deliberately sowing confusion.
"The cabinet has agreed this morning to formally require the Catalan government to confirm whether it has declared independence after the deliberate confusion created over whether it has come into effect," he said in a television address on Wednesday.
"This request, which comes before any of the measures that the government could adopt under article 155 of our constitution, is meant to offer our citizens the clarity and security that such an important issue requires."

Rajoy said the ball was now firmly back in Puigdemont's court.
"The Catalan president's answer to this questions will inform what happens over the next few days," he said. "If Mr Puigdemont demonstrates a willingness to respect the law and re-establish institutional normality, we could bring a close to a period of instability tension, and the breakdown of co-existence.
"That is what everyone wants and expects; it's what they've been demanding. We must put an urgent end to the situation in Catalonia. There must be a return to normality and calm as swiftly as possible."
Rajoy, who will address parliament at 4pm on Wednesday afternoon, would be the first Spanish prime minister to take the drastic step of invoking 155. The article, part of Spain's 1978 constitution, allows the central government to take control of an autonomous region if it "does not fulfil the obligations imposed upon it by the constitution or other laws, or acts in a way that is seriously prejudicial to the general interest of Spain".
However, its invocation could provoke civil unrest in Catalonia, where tensions are still running hight after the Spanish police's violent crackdown on the referendum.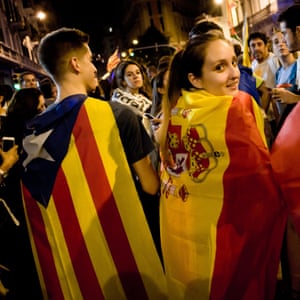 Rajoy has repeatedly pointed out that the referendum and the laws underpinning it are a violation of the Spanish con stitution, which is based "on the indissoluble unity of the Spanish nation, the common and indivisible homeland of all Spaniards".
His government insists the Catalan question is a Spanish matter, and has promised to use all the legal and constitutional means at its disposal to try to stop the regional government's manoeuvres. It has also deployed thousands of Guardia Civil and national police officers to Catalonia.
Puigdemont's proposal to suspend a declaration of independence to allow for negotiations pulled the region back from the brink of an unprecedented showdown with Madrid, but it also drew criticism from the leader of the opposition in the Catalan parliament and some independence campaigners.
Inés Arrimadas of the Ciudadanos, or Citizens, party described the president's assertion that he had a mandate for independence as a "coup" that would find no support elsewhere in Europe.
Puigdemont's junior coalition partner, the far-left CU P, had been hoping for an unequivocal gesture. "We believed that today was the day to solemnly declare a Catalan republic, and we probably missed an opportunity," the CUP MP Anna Gabriel said on Tuesday night.
The move came nine turbulent days after the independence referendum, in which 90% of participants voted in favour of splitting from Spain. The poll was marred by violence after Spanish police acting on court orders attempted to stop the vote by raiding polling stations, seizing ballot boxes, beating voters and firing rubber bullets at crowds.
Although Puigdemont had originally promised to make a unilateral declaration of independence within 48 hours of a victory for the yes campaign, he has instead chosen to seek international help for mediated negotiations with the Madrid government.
Puigdemont speech gives no clarity on Catalan independence Read more
Hours before the announcement, Donald Tusk, the president of the Euro pean council, appealed to Puigdemont to step back from a unilateral declaration of independence and begin dialogue with Rajoy.
"Today, I ask you to respect, in your intentions, the constitutional order and not to announce a decision that would make such dialogue impossible," he said.
The long push for independence has riven both the wealthy north-eastern region and Spain itself, leaving the country facing the greatest threat to national unity since it returned to democracy after the death of the fascist dicator, Francisco Franco, in 1975.
It has also prompted a series of banks and businesses to announce plans to move their bases out of the region amid the continuing uncertainty.
Topics
Barcelona
Spain
Mariano Rajoy
Europe
news
Share on Facebook
Share on Twitter
Share via Email
Share on LinkedIn
Share on Pinterest
Share on Google+
Share on WhatsApp
Share on Messenger
Source:
Google News