Serving Border Force officer arrested on suspicion of smuggling guns and drugs into UK


A serving Border Force officer was among a dozen people arrested on suspicion of smuggling guns and drugs into the UK.
The 36-year-old officer, from Dover, was detained by French police near Calais along with three other British citizens last Friday, the National Crime Agency (NCA) said.
They remain in custody.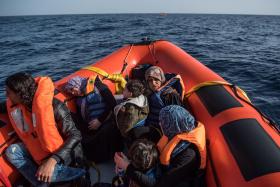 Anti-smuggling efforts in Mediterranean 'fail to tackle problem'
Authorities seized 11 guns - along with magazines and suppressors - alongside around 34kg of cocaine and 7kg of heroin.
Following the raid, eight men were arrested across Kent by Metropolitan Police detectives, the NCA said.
Six were charged with conspiracy to i mport firearms and class A drugs, and remanded in custody to appear at Barkingside Magistrates' Court on Monday October 9.
They are:
Christopher Hendra, 29, of Dunlin Walk, Sittingbourne, Kent;
Liam Attwell, 18, of Becketts Close, Ashford, Kent;
Terry Willett, 31, of Long Meadow Way, Canterbury, Kent;
Daniel Duvall, 36, of Coldharbour Lane, Maidstone, Kent;
Craig Brabon, 36, of Hazebrouck Road, Faversham, Kent;
Christopher Whitehead, 40, of Orpington, Kent.
The remaining two men were released under investigation.
UK news in pictures
UK news in pictures
1/30 6 October 2017

An order of service is carried ahead of the funeral service for Coronation Street actress Liz Dawn, real name Sylvia Ann Ibbetson, outside Salford Cathedral. A former Woolworths shop girl from Leeds, who first set foot on Weatherfield's famo us cobbles in 1974, Dawn, who had four children, died peacefully last week at home with her family around her.

2/30 5 October 2017

Melanie Kramers of Oxfam poses while wearing a mask of Foreign Secretary Boris Johnson, with assorted props used in political campaigns, in the store room at Oxfam's headquarters in London. The props have all been used in the charity's campaigns over the years to raise awareness of issues affecting people in poverty. Today marks 75 years since Oxfam's founding in the middle of the Second World War

3/30 4 October 2017

A visitor poses in front of an art work by Czech Repblic arti st Anna Hulacova entitled 'Ascension Mark I' during a photocall for the Frieze Art Fair in London

4/30 2 October 2017

Britain's Chancellor of the Exchequer Philip Hammond arrives to speak at the Conservative Party's conference in Manchester

5/30 1 October 2017

Protesters holding flags and placards demonstrate along Oxford Street during the annual Ashura march in London. Thousands of protesters march through London today to mark Ashura and celebrate the defeat of the Islamic State in Iraq and Syria. Ashura is a Muslim festival of remembrance that falls on the tenth day of Muharram in the Islamic calenda r

6/30 30 September 2017

Protesters hold up placards during the London March for Choice, calling for the legalising of abortion in Ireland after the referendum announcement, outside the Embassy of Ireland in central London

7/30 29 September 2017

Former UKIP leader Paul Nuttall (C) speaks with delegates at the UKIP annual conference being held at the The Riviera International Centre in Torquay

8/30 27 September 2017

England and West Indies fa ns enjoy themselves during the 4th Royal London One Day International between England and West Indies at The Kia Oval in London

9/30 26 September 2017

Labour Leader Jeremy Corbyn takes photographs during Shadow Secretary of State for Business, Energy and Industrial Strategy Rebecca Long-Bailey's speech in the main hall, on day three of the annual Labour Party Conference in Brighton

10/30 24 September 2017

Naked bathers enter the water as they take part in the North East Skinny Dip at Druridge bay in Druridge, England. The popular annual event takes place around the autumn equinox at Druridge Bay as the sun rises. Pa rticipant registration fees have been pledged to the mental health charity MIND.

11/30 23 September 2017

Rollo Maughfling, Archdruid of Stonehenge and Britain (R) conducts a ceremony as druids, pagans and revellers gather in the centre at Stonehenge, hoping to see the sun rise, as they take part in a autumn equinox celebrations at the ancient neolithic monument of Stonehenge near Amesbury in Wiltshire, England. Several hundred people gathered at sunrise ar the famous historic stone circle, a UNESCO listed ancient monument, to celebrate the equinox which is a specific moment in time that occurs twice a year when the Earth tilts neither towards (summer) or away (winter) from the sun in either the northern or southern hemisphere. Although yesterday marked the actual meteorological calendar change from sum mer to autumn, for druids, the following dawn is when they celebrate 'the dawning of the new season' following the day of equal night, which it is named after.

12/30 22 September 2017

Britain's Prime Minister Theresa May delivers her Brexit speech at the Complesso Santa Maria Novella in Florence, Italy. British Prime Minister Theresa May will seek to unlock Brexit talks on September 22, after Brussels demanded more clarity on the crunch issues of budget payments and EU citizens' rights

13/30 21 September 2017

People protest against the actions of the Spanish government in front of the Spanish consulat e in Edinburgh. Spanish police stormed ministries and buildings belonging to Catalonia's regional government yesterday, in an attempt to try and put a stop to the region's independence referendum

14/30 20 September 2017

One of the final 55m turbine blades is manoeuvred into position. The last of 116 wind turbines have been installed at the Rampion Offshore Wind Farm 13 kms off the Brighton Coast. It will provide enough electricity to supply the equivalent of half the homes in Sussex

15/30 16 September 2017

An armed police officer patrols in Horse Guards Parade in London. An 18-year-old man has been arrested in D over in connection with yesterday's terror attack on Parsons Green station in which 30 people were injured. The UK terror threat level has been raised to 'critical'

16/30 13 September 2017

Demonstrators hold banners during a protest to lobby MPs to guarantee the rights of EU citizens living in the UK, after Brexit, outside the Houses of Parliament

17/30 12 September 2017

Rupert van der Werff, Summer Place Auctions' Natural History specialist, moves a one-year-old baby mammoth skeleton at Summers Place Auctions on September 12, 2017 in Billingshurst. A family of four mammoths, found together during buil ding works near the Siberian city of Tomsk in 2002, will be on sale on November 21, 2017, and are expected to sell in the region of £ 250,000 - 400,000

18/30 11 September 2017

Members of the Royal Navy carry supplies on board the amphibious assault ship HMS Ocean at the Naval Base in Gibraltar before leaving to provide humanitarian assistance and vital aid to British Overseas Territories and Commonwealth partners affected by Hurricane Irma. Britain has pledged £32 million (35 million euros, $42 million) in aid and sent hundreds of troops, supplies and rescue equipment on several flights to the British territories in the Caribbean since the disaster

19/30 10 September 20 17

His Holiness The Dalai Lama holds the hand of Richard Moore as he gives a public talk on the theme of 'Compassion in Action' to celebrate 20 years of the Children in Crossfire initiative in Londonderry, Northern Ireland. The Dalai Lama is the patron of the Children in Crossfire charity which was founded by Richard Moore. Mr Moore was blinded by a plastic bullet fired by a British Soldier during the Troubles in Derry.

20/30 9 September 2017

Participants in the annual Jane Austen Regency Costumed Parade dance on the lawn of the historic Georgian Royal Crescent before they walk through the city centre in Bath, England. This year, the annual event coincided with the 200th anniversary of 19th century author's death and saw hundreds of peop le parade through city centre streets dressed in regency costume. The event marks the start of a 10-day Jane Austen festival that celebrates the 19th century author who lived in the city from 1801 to 1806 and set two of her six published novels, 'Northanger Abbey' and 'Persuasion', in Bath.

21/30 8 September 2017

Festival goers brave the wind and the rain at Bestival festival on the Lulworth Estate in Dorset

22/30 7 September 2017

Conservators and museum staff pose as they inspect the Manchester suffragette banner hanging in the conservation department of Manchester People's History Museum. For ne arly 50 years the banner lay undiscovered in a Leeds charity shop. It will go on public display next year to mark the centenary of women gaining the vote

23/30 6 September 2017

Protesters wave placards in Parliament Square during a protest against a Government pay cap in London. Thousands of protesters made up of nurses and supporters hold a demonstration in Westminster today calling on the Government to end the 1% cap on public sector pay

24/30 5 September 2017

U Soe Win, the great-grandson of Burma's last King, visits Buckingham Palace

25/30 4 September 2017

Protestors demonstrate in support of workers at British McDonalds restaurants striking over pay and other industrial relations issues, near the Houses of Parliament in London

26/30 3 September 2017

World War II veteran from the Auxiliary Territorial Service Betty Webb (R) joins other veterans who worked at Bletchley Park and its outstations for a group picture in front of Bletchley Park Mansion during an annual reunion in Milton Keynes, England. Bletchley Park was the Government Code and Cypher School's (GC&CS) main codebreaking centre during World War II and the site where codebreakers famously cracked the German's Enigma and Lorenz cyphers.

27/30 2 September 2017

50,000 people making the foot crossing over new Queensferry road bridge

28/30 1 September 2017

Britain's Prime Minister, Theresa May, is greeted by Emperor Akihito of Japan during her visit to the Royal Palace in Tokyo, Japan. Mrs May is on the third and final day of her visit to Japan where she has discussed a number of issues including trade and security

29/30 31 August 2017

Well-wishers and Royal 'enthusiasts' gather out side the gates of Kensington Palace where tributes continue to be left, on the 20th anniversary of the death of Princess Diana

30/30 30 August 2017

Prime Minister Theresa May takes part in a tea ceremony in Kyoto, during her visit to Japan.
Dave Hucker, head of the NCA's anti-corruption unit, said: "This operation has brought together law enforcement from both sides of the Channel, and we believe we have prevented the importation of a significant quantity of class A drugs and firearms to the UK.
"Our investigation is ongoing, both in the UK and in France."
PA
More about:
S muggling
UK Border Force
guns
Drug trafficking
Reuse contentSource:
Google News