Morning mail: Catalonia delays independence push


Good morning, this is Eleanor Ainge Roy bringing you the main stories and must-reads on Wednesday 11 October.
Top stories
The Catalan government has suspended its declaration of independence, after hundreds of thousands of people took to the streets across the region and Spain to oppose the move. The Catalan president, Carles Puigdemont, says he will pursue negotiations with Spanish government in the hope of resolving the conflict, pulling the region back from the brink of an unprecedented showdown with Madrid and the worst political crisis to shake Spain for 40 years. The appeasement from Catalonia comes nine turbulent days after the referendum poll, in which 90% of participants voted in favour of splitting from Spain. The referendum was marred by violence after Spanish police acting on court orders attempted to stop the vote, raiding polling stations, seizing ballot boxes , beating voters and firing rubber bullets at crowds.
Addressing the Catalan parliament on Tuesday evening, Puigdemont said that while the referendum had given his government a mandate to create an independent republic, he would not immediately declare unilateral independence from Spain. "We propose the suspension of the effects of the declaration of independence for a few weeks, to open a period of dialogue," he said. "If everyone acts responsibly the conflict can be resolved in a calm and agreed manner." Hours before the announcement, Donald Tusk, the president of the European Council, appealed directly to Puigdemont to back down. "Diversity should not and need not lead to conflict, the consequences of which would obviously be bad for the Catalans, for Spain and for the whole of Europe," he said.
The allegations against the Hollywood producer Harvey Weinstein have intensified, with three women accusing him of rape, and Gwyneth Paltrow and Angelina Jolie saying he sexually harassed them when they were young actors. Asia Argento, an Italian actress and director, Lucia Evans, a former aspiring actor, and one unnamed woman accused Weinstein of forcing them to engage in sex or sex acts in a New Yorker piece written by Ronan Farrow. A spokeswoman for Weinstein said he "unequivocally denied" the allegations of rape. A raft of Hollywood celebrities have now publicly condemned and cut ties with Weinstein since the scandal broke last week, including Dame Judi Dench, Meryl Streep and Kate Winslet.
Cometh the hour, cometh the man. Tim Cahill,so often the Socceroos' saviour, again stood up to be counted when it mattered, scoring twice in a draining 2-1 extra-time win over Syria last night that keeps alive Australian hopes of reaching a fourth consecutive World Cup finals. One last two-legged playoff, likely against Honduras or Panama, awaits Ange Postecoglou's side.
The Coalition' s decision not to extend NBN fibre connections to people's homes is continuing to blight the scheme. Emergency coordinators around the country are warning executives that households could be cut off from the communications network for days in the event of disasters. The cheaper copper wire connection that Tony Abbott and Malcolm Turnbull insisted should be used instead of fibre will not be robust enough to withstand damage from floods or wildfires, they say.
Extending the life of Liddell power station would only increase the cost of energy, while expanding the Snowy hydro scheme would only partially offset the resulting increase in prices. That is the conclusion of analysts at Reputex who also note that spending $900m to prolong the life of coal-burning Liddell would jeopardise 4000MW of new renewable projects.
Sport
Liverpool's Sadio Mané has been ruled out of play for six weeks after injuring his hamstring. It is hoped Alex Oxlade-Chamberlain can begin to repay some of Liverpool's £35m investment in poaching him from Arsenal and take up the slack of mid-field in Mané absence.
The International Cricket Council is trying to impose some sort of order on a system that has been growing wild for more than 100 years, with their top executives meeting in Auckland this week to discuss the launch of a World Test Championship, with the league slated to start in 2019. The idea was first mooted in 1997. After 22 years of glacial progress, has this latest burst of action come too late?
Thinking time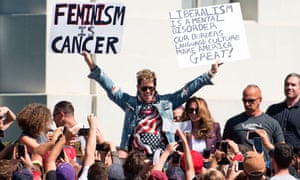 What do we do about Milo? The controversial ex-Breitbart writer and "alt-right" darling Milo Yiannopoulos is touring Australia later this yearand Jeff Sparrow says he can't be ignored â€" and that protest is the best reaction to his radical ideas. "In general, bad things don't disappear when we close our eyes," Sparrow writes. "Historical experience shows that, if they're not confronted, rightwing extremists flourish, using their meetings and marches to recruit and intimidate."
America's 2 million truck drivers have been mythologised in popular culture, with their instantly recognisable caps and bottomless coffee consumption at roadside diners. But as self-driving, automated trucks inch ever nearer to American roads, what will become of the American trucker, when this di stinctive way of life is no more? "I'm scared to death of that [automation]," says Jeff Baxter, an Iowa truck driver. "I can't operate a pocket calculator!"
Tony Abbott's controversial speech in London, in which he compared climate science to pagan sacrifice, was the definition of climate denial mythology and scare-mongering, Graham Readfearn writes. He says the former prime minister's speech was "chock-full of internal contradictions", including Abbott's suggestion there may be a conspiracy to tamper with temperature readings while admitting that the globe was warming.
What's he done now?
Donald Trump has challenged his secretary of state, Rex Tillerson, to an IQ test and suggested the outcome is a foregone conclusion. Responding to the allegation that Tillerson called the president "a moron" earlier in the year, Trump told Forbes magazine: "I think it's fake news. But if he did [say] that, I guess we'll have to compare IQ tests. And I can tell you who is going to win."
Media roundup
The Courier Mail reports on ex-Ipswich mayor Paul Pisasale, who is facing allegations of corruption, fraud and perjury. Is Pisasale a "hardened crim", asks the Mail on its front page. The Australian splashes with a story on top economic reformers urging the government to scale back its commitment to the Paris emission agreement.
And former mushroom pickers who were allegedly underpaid more than $500,000 have taken their case to the Brisbane court, reports the ABC. The former workers received money for the amount they picked, rather than an hourly rate, a common form of payment in the horticultural industry. But former picker Ying "Alice" Lui said employees weren't paid for picking "bad mushrooms" at the end of each day.
Coming up
The high court in Canberra will enter its second day of hearings to decide on the eligibility of federal MPs who may hold dual citizenship. Join Amy Remeikis later this morning to follow all the arguments with the Australian politics live blog
The chief executives of Westpac and ANZ banks are also due to face three hours of questioning from the House of Representatives economic committee.
Supporting the Guardian
We'd like to acknowledge our generous supporters who enable us to keep reporting on the critical stories. If you value what we do and would like to help, please make a contribution or become a supporter today. Thank you.
Topics
Guardian Australia's morning mail
Share on Facebook
Share on Twitter
Share via Email
Share on LinkedIn
Share on Pinterest
Share on Google+
Share on WhatsApp
Share on Messenger
Source:
Google News