Harvey Weinstein's wife to leave him as she condemns 'unforgivable actions'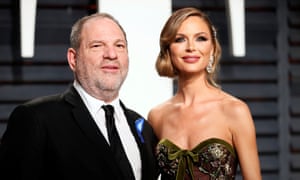 Harvey Weinstein Harvey Weinstein's wife to leave him as she condemns 'unforgivable actions'
Georgina Chapman, founder of the Marchesa luxury brand, expresses sympathy for 'all the women who have suffered tremendous pain'
Harvey Weinstein's wife is leaving him, she announced in a statement on Tuesday night, saying: "My heart breaks for all the women who have suffered tremendous pain because of these unforgivable actions."
Georgina Chapman, who married the Hollywood producer in 2007 and has two children with him, also said in the statement to People magazine on Tuesday night: "I have chosen to leave my husband. Caring for my young children is my first priority and I ask the media for privacy at this time."
Hollywood men silent over Weinstein allegations as women speak out Read more
Chapman founded the luxury brand Marchesa, known for feminine, dramatic red carpet gowns, with design partner Keren Craig in 2004, the year Chapman met Weinstein at a party in New York City.

The announcement came on the same day as an avalanche of allegations poured out against Weinstein in on-the-record reports that detailed claims of sexual abuse and included testimonies from Gwyneth Paltrow and Angelina Jolie, further intensifying the already explosive collapse of the disgraced movie mogul.
Three women accused Weinstein of raping them in a story published online by the New Yorker, including the Italian actor Asia Argento and a woman who was an aspiring actor in college when she caught Weinstein's eye. A representative for the mogul vehemently denied the allegations in a statement to the magazine.
In a follow-up to an earlier story, the New York Times also reported Tuesday that many other actors have in recent days added to the chorus of accusations surrounding Weinstein. Paltrow described Weinstein's attempt to lure her, then 22, into giving him a massage in a hotel room.
Both reports significantly ratcheted up the unfolding scandal surrounding Weinstein, who was fired Sunday from the Weinstein Company, the studio he co-founded.
The stories thoroughly document allegations of systematic harassment, abuse and intimidation of women by Weinstein, almost always against young actors trying to succeed in movies.
Attorneys for Weinstein, 65, did not immediately return messages Tuesday. The New Yorker quoted a Weinstein representative, Sallie Hofmeister, responding that "any allegations of non-consensual sex are unequivocally denied by Mr Weinstein".
"Mr Weinstein has further confirmed that there were never any acts of retaliation against any women for refusing his advances. Mr Weinstein obviously can't speak to anonymous allegations, but with respect to any women who have made allegations on the record, Mr Weinstein believes that all of these relationships were consensual," said Hofmeister. "Mr Weinstein has begun counseling, has listened to the community and is pursuing a better path. Mr Weinstein is hoping that, if he makes enough progress, he will be given a second chance."
Weinstein was fired three days after a bombshell New York Times report alleged decades of crude sexual behavior on his part toward female employees and actors, including Ashley Judd.

Since his firing, much of Hollywood has reacted with disgust and outrage, including Meryl Streep, Lena Dunham, Jennifer Lawrence and George Clooney.
Congressional Democrats, including the Senate minority leader, Chuck Schumer, and the Massachusetts senator Elizabeth Warren have given charities thousands of dollars in donations they had received from Weinstein.
In a statement on Twitter on Tuesday, Hillary Clinton said she was "shocked and appalled" by the revelations about Weinstein. She praised the women coming forward: "Their courage and the support of others is critical in helping to stop this kind of behavior."
Barack and Michelle Obama released a joint statement Tuesday evening expressing disgust with Weinstein.
"Any man who demeans and degrades women in such fashion needs to be condemned and held accountable, regardless of wealth or status. We should celebrate the courage of women who have come forward to tell these painful stories," the statement said.
The University of Southern California's School of Cinematic Arts is rejectin g a $5m pledge from Harvey Weinstein to fund an endowment for female film-makers.
The School of Cinematic Arts said in a statement Tuesday that it would not proceed with Weinstein's pledge to fund the endowment. It did not offer additional details.
Topics
Share on Facebook
Share on Twitter
Share via Email
Share on LinkedIn
Share on Pinterest
Share on Google+
Share on WhatsApp
Share on Messenger
Source:
Google News