Brexit: David Davis aims to make EU talks progress

Brexit: David Davis aims to make EU talks progress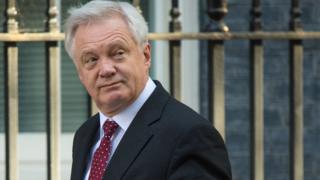 Brexit Secretary David Davis is aiming to make progress with the EU as he heads to Brussels for the crucial fifth round of Brexit negotiations .
It is the last round of talks before EU leaders meet to decide if sufficient progress has been made to open talks on the UK's future trade relations.
And it comes after ministers sought to ease disquiet among Brexit-backing MPs about the UK's strategy.
Prime Minister Theresa May is currently hosting her cabinet at Downing Street.
'No deal' Brexit planning 'is und er way'
What are the Brexit options?
MEPs urge Brexit trade talks delay
On Monday the PM told MPs "real and tangible" progress had been made in negotiations so far. But the EU has signalled it is not prepared to agree to move on from the initial phase of talks, covering the financial settlement, Northern Ireland and citizens' rights.
The final decision on this will be taken at a European Council summit on 19 October, with the UK keen to move on to discussing what its future relationship with the EU will look like.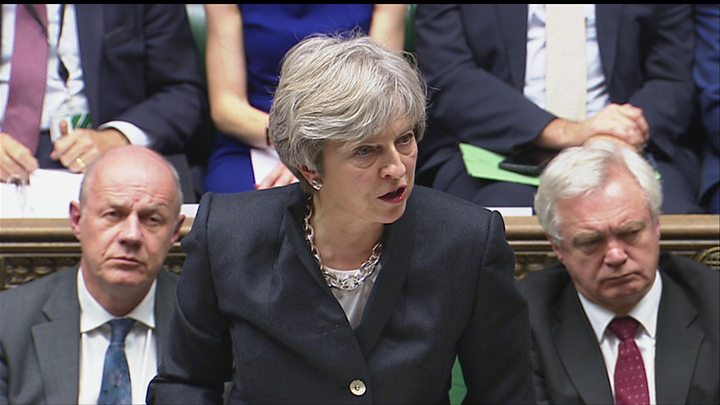 Taking questions from MPs on Monday, Mrs May also confirmed that the UK could remain subject to the rulings of the European C ourt of Justice during a planned two-year transition period after Britain leaves the EU in March 2019.
This was criticised by some pro-Leave campaigners, with backbencher Jacob Rees-Mogg telling the BBC he was "troubled" by the PM's statement.
"If we're remaining under the jurisdiction of the ECJ then we haven't left the European Union or the date of departure is being delayed," he said.
Foreign Secretary Boris Johnson and Environment Secretary Michael Gove - two key figures in last year's Leave campaign - both issued statements backing Mrs May's comments.
BBC assistant political editor Norman Smith said their intervention underlined the government's nervousness about the reaction of Tory Brexiteers over the European Court of Justice's jurisdiction - which for many of them is a "red line".
Mr Johnson, who has been accused of undermining the PM with his recent interventions on Brexit strategy, issued a statement backing her "powerful vision".
On Twitter, Environment Secretary Mr Gove said: "Strong statement from PM on Brexit - let's be pragmatic over implementation to secure maximum freedom to diverge from EU in end state."
Mrs May also said the UK would be ready for a failure to strike an exit deal, insisting the government was "preparing for every eventuality", but added it was in the interests of both sides to secure an agreement.
Source:
Google News