Boris Johnson urges 'so-called friends' to stop briefing against May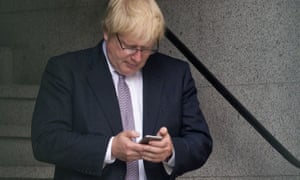 Boris Johnson Boris Johnson urges 'so-called friends' to stop briefing against May
Foreign secretary's message to WhatsApp group of Conservative MPs says he is 'fed up to the back teeth' with briefings against PM
Boris Johnson has called on his "so-called friends and allies" to stop briefing news papers against Theresa May, saying he does not know who the people are, and insisting they do not speak on his behalf.
SNP conference: Sturgeon says Brexit 'developing disaster' and case for 2nd referendum getting 'difficult to resist' - Politics live Read more
The foreign secretary's intervention, in a message to a WhatsApp group of Conservative MPs, follows an article in the Telegraph on Monday in which unnamed backers of Johnson said he might refuse to move if May tries to demote him in a reshuffle.

One supposed ally told the paper that moving Johnson would go down "like a bucket of cold sick" with pro-Brexit voters, with one saying there was now a "stench of death" from Downing Street.
But in his message, a copy of which was passed to the Guido Fawkes website, Johnson said he did not support such briefings.
"Folks I have seen yet more stuff in the Telegraph and the Sun purporting to come from so-call ed friends and allies of mine," the message reportedly read.
"I am frankly fed up to the back teeth with all this. I do not know who these people are. I do not know if they are really my friends and allies or if they represent some sinister band of imposters.
"I heartily disagree with the sense, tone and spirit of what they are quoted as saying. Whoever they are they do not speak for me."
It follows a Conservative party conference in Manchester last week partly overshadowed by tensions over Johnson's supposed disloyalty, some of which came from his own direct actions, such as a 4,000-word Brexit manifesto he wrote for the Telegraph.
On the eve of the Tory conference Johnson intervened again, telling the Sun that any transition period for Brexit should not last "a second more" than two years, and that the UK should not abide by any new EU rules during this period.
But since May's disastrous speech on the final day of the conference, Johnson has sought to join other ministers in rallying round the prime minister, and dismissing calls from former party chairman Grant Shapps and a handful of backbench Tory MPs for her to face a leadership contest.
While ostensibly a call for loyalty, Johnson's message nonetheless risks again overshadowing May before a statement to the Commons by the prime minister about the progress of Brexit on Monday, in the wake of her speech in Florence last month.
May is expected to warn that Britain has made sufficient concessions in the Brexit negotiations for now. "The ball is in their court. But I am optimistic we will receive a positive response," she is to tell MPs.
She will add: "So while of course progress will not always be smooth, by approaching these negotiations in a constructive way â€" in a spirit of friendship and cooperation and with our sights firmly set on the future â€" I believe we can prove the doomsayers wrong."
The latest round of B rexit talks begins on Monday, amid expectations that European leaders are unlikely to decide later this month that sufficient progress has been made to move discussions towards a future trading relationship.
May is facing pressure from her more hardline pro-leave MPs to offer nothing extra to the EU in exchange for trade talks.
Bernard Jenkin, a leading pro-Brexit backbencher, told BBC Radio 4's Today programme that May should take a tougher line with the EU.
He said: "She would be cheered to the echo if she was to say: 'Look, I've had enough of this. We're going to get ready to leave in 2019, we're going to spend the money we need to be ready to leave in 2019, and if the European Union wants to come back to the table and talk to us about what kind of relationship they want with us in the long term then we're ready to talk.'
"They're just stringing us along, and there comes a point where you've got to say: look, if you want to talk, we'll talk, but otherwise we're going to get ready to leave."
Topics
Theresa May
Conservative leadership
Conservatives
news
Share on Facebook
Share on Twitter
Share via Email
Share on LinkedIn
Share on Pinterest
Share on Google+
Share on WhatsApp
Share on Messenger
Source:
Google News