Unidentified missile launched by North Korea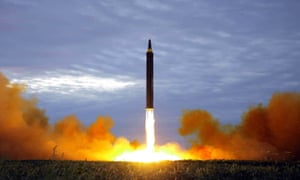 North Korea Unidentified missile launched by North Korea
Details of the launch are being analysed by the South Korean and US militaries
North Korea launches missile over Japan â€" live updates
North Korea fired an unidentified missile eastward from the Sunan district in its capital, Pyongyang, South Korea's military said.
The South Korean and US militaries were analysing details of the launch, South Korea's joint chiefs of sta ff said.
Japan's public broadcaster NHK said the missile passed over the northern island of Hokkaido and landed in the Pacific about 2,000 km east of Japan. The government said there was no danger to people or shipping from missile debris. The country's chief cabinet secretary Yoshihide Suga told reporters : "These repeated provocations on the part of North Korea are unpermissible and we protest in the strongest words."
South Korea's presidential Blue House has called an urgent meeting of its national security council.
The launch comes a day after Pyongyang threatened to sink Japan and reduce the United States to "ashes and darkness" for supporting a UN security council resolution imposing new sanctions against it for its 3 September nuclear test.
North Korea previously launched a ballistic missile from Sunan on 29 August which flew over Japan's Hokkaido island and landed in the Pacific Ocean.
A White House spokesman said President Trump had been briefed on the launch.
The US dollar fell sharply against the yen and Swiss franc in early Asian trading hours in response to the launch, though losses were quickly pared in very jittery trade.
Australia quickly condemned North Korea's action. "This is another dangerous, reckless, criminal act by the North Korean regime, threatening the stability of the region and the world and we condemn it, utterly," Australia's prime minister Malcolm Turnbull said in an interview with Sky News. "This is a sign, I believe, of their frustration at the increased sanctions on North Korea, recently imposed by the Security Council. It's a sign that the sanctions are working."
Earlier on Thursday the US general who oversees America's nuclear forces said he was making the assumption that North Korea did in fact test a hydrogen bomb on 3 September crossing a key threshold in its weapons development efforts.
Although Pyongyang immediately claime d that it had successfully tested a hydrogen bomb, the US had previously declined to characterise it.
Air Force Gen John Hyten, head of the US military's strategic command, however, said he had a responsibility, as a military officer responsible for responding to the test, to assume that it was a hydrogen bomb based on the size of the blast.
"I'm assuming it was a hydrogen bomb. I have to make that assumption as a military officer," Hyten told a small group of reporters who were accompanying defence secretary Jim Mattie on a trip to Hyten's headquarters in Nebraska.

Topics
Share on Facebook
Share on Twitter
Share via Email
Share on LinkedIn
Share on Pinterest
Share on Google+
Share on WhatsApp
Share on Messenger
Source:
Google News