Parsons Green tube bomb: police arrest second man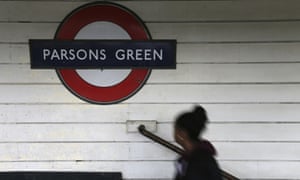 UK news Parsons Green tube bomb: police arrest second man
Suspect, 21, was arrested in Hounslow, west London, at 11.50pm on Saturday, the Met's counter-terrorism command said
A second man has been arrested by detectives investigating the terrorist attack that injured 30 people on a London Underground train on Friday.

The 21-year-old man was arre sted in Hounslow, west London, at about 11.50pm on Saturday in connection with the explosion at Parsons Green station, the Metropolitan police said.
He was detained under section 41 of the Terrorism Act and taken to a police station in south London where he remained in custody on Sunday, the force said.
An 18-year-old man was arrested in the departure area of Dover port earlier on Saturday in connection with the attack. Armed police launched a raid on a property in Sunbury-on-Thames, Surrey, on Saturday in relation to the bombing. As many as 60 homes in the area were temporarily evacuated as a precaution, police said.
Residents said the property being searched by police was occupied by a couple who were known for fostering many children and young people over several decades and in 2010 were made MBEs.
The couple, Ronald Jones, 88, and his wife Penelope, 71, who were honoured for services to children and families, are said to be staying with friends follow ing the police raids.
One friend, Alison Griffiths, told the Press Association the couple had been foster parents for almost 40 years and had taken in up to 300 children, including eight refugees, and had an 18-year-old and a 22-year-old staying with them recently.
After the improvised device exploded at 8.20am on Friday, 30 people received medical treatment, many for flash burns.
Counter-terrorism officers are leading the investigation supported by MI5. A key strand of the investigation has focused on CCTV to establish where, when and by whom the device, which is understood to have been fitted with a timer, was placed on the train.
Amber Rudd, the home secretary, said it appeared the bomber was not a lone wolf but it was "too early to reach any final conclusions on that".

Asked if she could give any information on claims by Islamic State that there were other unexploded devices, she told BBC1's Andrew Marr Show: "It is inevitable t hat so-called Islamic State, or Daesh, will reach in and try and claim responsibility. We have no evidence to suggest that yet."
Rudd said £24m of new government money was going towards counter-terrorism operations across the country.

Asked if police cuts had hit anti-terror operations, she said: "I think it is too simple to approach it like that. What we have is an onslaught of attacks from Daesh trying to radicalise people."
The terror threat remains at critical â€" the highest level. The Met's senior national counter-terrorism coordinator, Neil Basu, said on Saturday police were "keeping an open mind around whether more than one person is responsible for the attack".
He said 121 witnesses had been identified, of which 100 had been spoken to by officers by Saturday afternoon. Officers were continuing to trawl through many hours of CCTV footage and more than 180 videos and photographs sent to them by the public following an appeal, p olice said.
Topics
Share on Facebook
Share on Twitter
Share via Email
Share on LinkedIn
Share on Pinterest
Share on Google+
Share on WhatsApp
Share on Messenger
Source:
Google News